After scaling the heights as player, Jerry Flannery is poised to embark on the next rung up the coaching ladder as lineout coach at English side Harlequins.
The former Munster and Ireland hooker believes making a successful ascent in the world of coaching is every bit as competitive as the challenges he faced as an aspiring player, and he paid tribute to a much-missed Munster legend for giving him an early opportunity.
Speaking on RTÉ 2fm's Game On, Flannery told listeners: "I would say it's difficult to break into.
"I was very, very fortunate. Anthony Foley gave me a shot. I don't think it's because I showed any potential as a coach, or anything in my playing career, but I did take time to study coaching when I retired.
"I think it is difficult, but the IRFU are trying to really cement a pathway for indigenous Irish coaches to come through.
"You look at the likes of Nigel Carolan, who has come through the academy set-up and is now the attack coach in Connacht, Jimmy Duffy is the forwards coach there.
"In Leinster you've got Leo Cullen there, Hugh Hogan has come up, Girvan Dempsey has gone over to Bath, Felix Jones has won a World Cup medal with South Africa, Dan McFarland is up in Ulster and they would have brought Jared Payne in and incorporated him in the coaching set-up.
"The reality is there are only four professional teams here for you to be involved with. A lot of people have to make the choice that if they're not in with one of those teams, they probably have to move abroad.
"But I think the union do a good job of maintaining connections with foreign coaches. The IRFU have been on to me already with coaching support saying, 'listen, you're not working in Ireland, but we'll still provide coaching support'.
"Matt Wilkie has reached out to me - he's been a huge, huge support to me.
"It is a difficult path to get into, but I think if you're determined enough you'll get there. I think it's just how long you're willing to stick at it."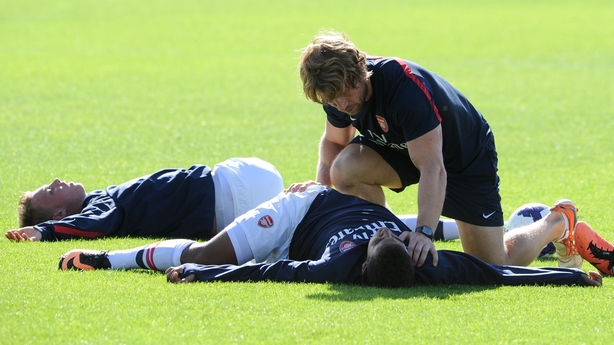 Flannery was on the coaching staff at Munster between 2014 and 2019, but spent a season with Arsenal in 2013-14 as a strength and conditioning coach.
The regime and physical forms of the players may have been very different, but the St Munchin's alumnus gleaned valuable knowledge of the human condition from his time with the Gunners.
"Football and rugby are completely different, but you're still dealing with humans, you're still dealing with players," he said.
"Your ability to connect with a player, to build an informal relationship, and for that player to see you'll treat him consistently and to give him clarity around what your expectations are from him, then he knows that 'if I do A or B then that will be good enough'. You build trust with the players and that's how you develop them.
"Technically, the things I did with Arsenal versus the things that I look to do in rugby are quite different, but you still have to get the players onside and create a high-performance environment where people are looking to be excellent in everything they do."
Returning to the subject of his appointment at Harlequins, who are currently seventh in the Premiership, which is provisionally set to resume on 15 August, Flannery said: "It's difficult when you're leaving a club like Munster to plan what your next step is going to be because there are very few clubs with the same stature as Munster.
"But the fact they have the likes of Alex Dombrandt, Marcus Smith, they've got real good young players coming through, they've added in a good blend of experience with the likes of Ashton, Mike Brown, Danny Care, Marler. Then in their coaching staff Paul Gustard has a huge reputation. He's very passionate about coaching and there's good scope for me to develop there as a coach myself.
"You look at certain things, like a real strong supporter base, a real strong rugby tradition. They have all those things. All those factors came in and I was excited about going over there.
"From my partner's point of view, Katie, she's from Guildford as well. So straight away we can settle in, her family will be around. It allows me to focus 100% on the job."