We are living through extremely strange times, and for many of us there is a huge void left which sport usually fills. We miss the games, the match day experience, the drama, and the debate, but for me, I miss the connection most of all. It's a pretty special feeling, and life is just not the same without it.
Sport has always been very good to me, in fact, I just don't know what I would have done without it.
We all have heroes in our lives, maybe it's a family member, a friend, a teacher, a coach or even the famous sportsperson, and the influence and impact these people have on a life can be life changing. I believe sport has a higher power, one that goes beyond winning and losing and we don't always recognise it. But maybe now is a good time to reflect on that, to draw strength from the experience and actions of others. 
A life lesson from defining moments, that is the inspiration for the interview series, My Hero, on Sunday Sport on RTE Radio 1. First up, Ireland and Ulster scrum-half John Cooney, who has had more ups and downs than your average sportsperson.
LISTEN TO FULL INTERVIEW 
We need your consent to load this SoundCloud contentWe use SoundCloud to manage extra content that can set cookies on your device and collect data about your activity. Please review their details and accept them to load the content.Manage Preferences
The 30-year-old from Dublin has spent his entire career bouncing back from setbacks. Over the course of our interview, he talks about blossoming at Leinster, to finding out he was surplus to requirements under a new coach. The challenges of recovering from long term injury, to missing out on the World Cup.
And then international redemption, until Covid-19 comes along.
In an honest and frank interview, Cooney pinpointed the time he needed help to deal with "issues he was struggling with outside of rugby".
His rugby colleagues pointed him in a certain direction. He continued: "You're struggling and you find yourself drinking alcohol when those issues come to the fore. I got exhausted with that and I knew I had to change something.
"Through Rugby Players Ireland, they provided a counsellor for me - Derval O'Reilly from Galway. I went to see her and she flipped everything on its head and gave me a different perspective and broke down my personality.
"I miss kicks in front of the post and the John Cooney of old would have walked off the pitch feeling sorry for himself"
"It's easy to think you are quite self-aware and understand yourself, but when somebody else breaks you down there's a lot more to what I see within myself.
"I called Derval again, slowly but surely things come back into your life that you struggle with. You have to control your own life, you can't keep papering over the cracks. Watching SAS: Who Dares Wins, you see Tony Bellew, world champion boxer struggling with incredible signs of anger. I can't understand how somebody like him has never gone to speak to somebody.
"I put a lot down to it. Obviously, my career has got better and better for myself. The mental aspect has made me tie it all together a little better. I miss kicks in front of the post and the John Cooney of old would have walked off the pitch feeling sorry for himself.
"I know I missed a kick against Bath earlier this season for us to go 10-6 up but then I thought what will the fans think of me If I come out sulking for the second half. I had a kick late on to put us ahead which I got." 
After the disappointing news of not making the squad for last year's World Cup, Cooney did not feel sorry for himself. He is the leading points scorer so far in this season's Champions Cup and wore the green shirt of Ireland in the Six Nations.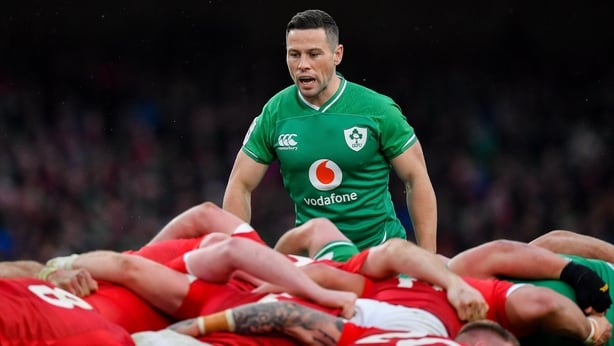 "When I got dropped from the World Cup it was either going to be one of those moments. It's a disappointment. What can I do next? I told myself I was going to come back and make them regret their decision. I went back to Ulster, a team I was glad to be back playing with, and a coaching staff who enjoy my presence.
"Dan (McFarland) is a coach that knows me well, he's big on psychology. It was good to get back into that environment, Dan set me a goal to score more tries and I have been doing that."
John Cooney is an ambassador for Tackle Your Feelings, an initiative from Rugby Players Ireland which is encouraging people to take control of their mental well-being.