Former Ireland captain and team manager Donal Lenihan believes the nature of rugby means it will be one of the last contact sports to resume and that spells trouble for the IRFU.
Provisional Government guidelines indicate that coronavirus restrictions on certain sports may be lifted on a phased basis with rugby slated for a 10 August return, if all goes to plan.
"Rugby, more than any sport, will suffer most until a vaccine is found for this Covid-19," Lenihan told RTÉ Sport.
"The thing with rugby, if you think about a scrum: 16 players, all bound together in a very confined space."
Ireland played three Guinness Six Nations games in February: home wins over Scotland and Wales followed by defeat in Twickenham to England.
The matches at home to Italy and away to France fell victim to the Covid-19 pandemic.
With no prospect of the provincial teams coming back to collective training before June, the two-Test trip to Australia in July looks certain to be postponed or cancelled.
Depending on what restrictions are lifted and when, if Ireland's home autumn Tests against South Africa, Australia and Japan go ahead they may be played behind closed doors.
World Rugby yesterday released a return-to-play proposal that stated that "large traditional crowds are unlikely in the absence of an effective and freely available vaccine for Covid-19," but also clarified that such decision will be made based on Government directions.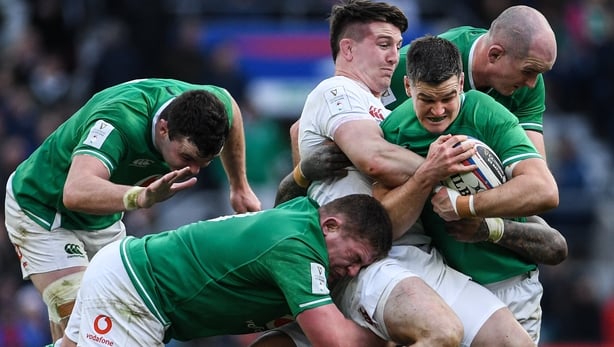 The English Rugby Union say they could lose £107m in revenue should their autumn schedule be cancelled.
"The international game is the engine that drives rugby as a professional sport," Lenihan added.
"[The IRFU] are already down €8m because of the cancellation of the Italian game. There is absolutely no way that [Ireland can go to Australia] in July.
"I can't see the [November games] happening either. It leaves a massive hole in the finances of the IRFU, which in turn, causes question marks over their ability to keep the four provinces going."
Lenihan says he believes that the IRFU are aiming to play a series of behind-closed-doors inter-provincial games in July, having built up moderated training regimes in May and June.
The purpose of which would be to get their players ready in the event that international games get the go-ahead.
"It's a very difficult time for the players, there are a lot of jobs at stake but in the overall context of what's happening, [sport] pales into insignificance," Lenihan added.