There is one adage permanently embedded in Michael McDonald's head from his childhood days at Cooley Kickhams GAA field in Carlingford, Louth; an instruction repeated over and over that stands to him now in his burgeoning Super Rugby career.
"Use both feet!"
He has just spent an hour and a half practising kicking with a streetlight pole in Coogee Park as his target. All the while that familiar refrain is still ringing in his ears. The 20-year old is quick to credit his upbringing in the Wee County for honing one valuable skill.
"That is 100% down to Gaelic football. I am lucky that it stands to me now. Growing up it was just drilled into you: kick off both feet, solo off both feet. Wall and a ball. Practice," he recalls.
The Waratahs half-back is in the midst of a prolonged break after Super Rugby suspended their season last month due to the coronavirus pandemic. Significant upheaval for a player in the first year of his professional contract. Admittedly a strange feeling, but he is well able to take it in his stride. The modern mantra is to be comfortable in chaos; McDonald has lived with it.
At 13, the McDonald family left Ireland for Perth due to the recession. Having established himself as an exciting prospect and excelling as Junior Wallabies captain, he made his way into the Western Force academy only for them to be axed from Super Rugby in 2017. Last year, Rob Penney's Waratahs came calling.
#WARvCHI | 68' | 14-32
??ON - Pat Tafa *debut*
??OFF - Tom Staniforth

??ON - Siosifa Lisala *debut*
??OFF - Jack Maddocks

??ON - Michael McDonald *debut*
??OFF - Mitch Short

??https://t.co/KTFytmA445#fortheloveofrugby ????

— NSW Waratahs (Tweets from??) (@NSWWaratahs) March 6, 2020
He played in two of the Sydney-based outfit's six league games. Then it all came to a halt.
"Right now, it is hard to stay on top of training," he admits. "It is really strange. Getting into a completely different rhythm. Being at home, doing gym work, doing skills, all by yourself. I have played rugby my whole life. You are programmed to be around people, this is completely different.
"The opportunity was so close. I was given such a great chance and suddenly it just stops. I suppose now you try and stay on your toes, so you are ready when it comes back again."
This week Rugby Australia announced drastic financial measures were required to reduce their wage bill by 83%. On average, each player faces a 60% reduction in salary.
Rugby could be back in three weeks and all these pay cuts will be over. Or it could get harder
It means McDonald has had an unusual amount of contact with the Rugby Union Players' Association and the club's personal development officer. Support he is immensely grateful for.
His only security is knowing how to deal with this insecurity.
"It is a really weird situation. This is basically my first year and you have to take it as it comes. You can't really plan for anything. We get updates every day, but it is hard to figure out a plan because you don't know what is going to happen.
"Rugby could be back in three weeks and all these pay cuts will be over. Or it could get harder. This could go one way or the other."
A career as a professional player was just a pipedream when he first encountered the game with Dundalk rugby club. It fostered a love and showed him a pathway. McDonald played his fair share of sports in the town: golf, GAA and rugby. Every one of them revered two local icons leading the way with Leinster and Ireland.
"It was great. That's where I learned to love rugby. They play junior rugby; it is a country club. The culture in that club is phenomenal. My dad played there, my uncle was president, we had a rich connection.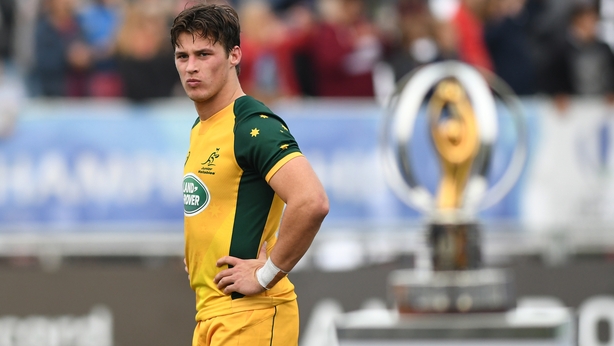 "Going out there on Saturday mornings, playing in the muck and freezing cold while having the craic with your mates. The best thing was travelling all around Leinster. Down to Naas which is two and a half hours away. Those journeys forged it. You'd look forward to it all week.
"The first time you think about what it would be like to be a pro was the Kearneys. Around the community, Rob was always the name. No matter what sport really, they talked about the Kearney brothers. Idolised them."
After they left for Australia, McDonald's father kept his friend Dave Kearney senior up to date with his son's sporting prowess. When Michael made the junior Wallabies squad, Rob and Dave junior both reached out with well wishes and advice. A small token that meant a great deal.
The Carlingford native has since swapped Perth for Sydney. Situated in the heartland of the eastern suburbs, the birthplace of Bob Dwyer, Eddie Jones, Michael Cheika and the 'Randwick way'.
They are devoted to expansive, attacking play, something Penney is currently trying to embed with the Waratahs. Yet this parish also has an unmissable Irish presence. The perfect combination for a freewheeling scrum-half from Louth.
"There were a few Irish in Perth, but when I came to Sydney, I could not believe it. Nearly every street you walk down a fella has a hurl in his hand or is wearing a GAA jersey. A friend said to me the other day Bondi is like the 33rd county of Ireland.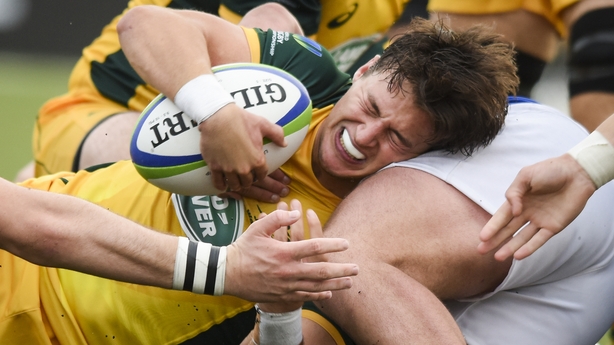 "They do play rugby differently. It is hard at the start to transition because it is such an expansive game. When you get it right it is so much more enjoyable. Instead of kicking the ball out, lineouts, stoppages. Obviously, you do need both in your arsenal. I am trying to build that now."
In times like these, that is all he can do. Embrace the uncertainty and practice what he knows. It is impossible to predict when and where this all ends. Someday, could it include a trip back home?
"It is always in the back of your mind. You think it would be pretty cool one day to play for one of the provinces. The standard currently is through the roof. That thought is there.
"But at the moment I have to develop myself here. You take it day by day."
Left, right. One step at a time. Carlingford wouldn't have it any other way.