Paul O'Connell believes much of his success with Munster and Ireland came from the "GAA mentality" that exists in Irish rugby.
The legendary lock forward played from 2001 until 2015 and picked up two Heineken Cup medals with Munster, as well as three Six Nations championships with Ireland.
It was a period of unprecedented success for the provinces and the country.
While the clubs and indeed the national team have always had a number of foreigners in their ranks, O'Connell felt that the relationship between the teams and the fans compared with the unique bond that exists in Gaelic games, where players, for the most part, represent their home clubs and counties.
"I grew up in the nineties when we won nothing," O'Connell, a Barnardos ambassador, told RTÉ's Late Late Show.
"[When I was playing] it was a very pure time to be involved.
"I think in Irish rugby, in particular, we have the GAA mentality but you're a professional sportsperson.
"So you're playing for the team you dreamed of growing up playing for in front of your family and friends, in the city [Limerick] you grew up in.
"But you're a professional sportsperson. It was an incredible scenario to be involved in."
"I don't miss the big games, I don't miss the training or the routine, I miss the sense of purpose"@Barnardos_IRL Ambassador @Paul_OConnell chats to Ryan about life after rugby #LateLate pic.twitter.com/Qxi4F6VSa2

— The Late Late Show (@RTELateLateShow) April 17, 2020
O'Connell retired following an injury in 2015 after amassing 115 international caps, including seven for the Lions, a team which he captained in 2009.
He revealed that he doesn't miss the "big games" but rather the sense of purpose that being involved with so many elite teams brings.
"I don't miss the big games," said the 40-year-old.
"I don't miss the training or the routine. I miss the sense of purpose that I had when I was playing.
"I'm probably in pursuit of that [a purpose] at the moment. Family is probably the main thing that I enjoy the most - I've a ten-year-old, a five-year-old and a two-year-old.
"It's pretty busy, it's very enjoyable and the last few weeks of that has been incredible - difficult at times but it's been great fun."
The former second row also keeps himself occupied through his work with the children's charity.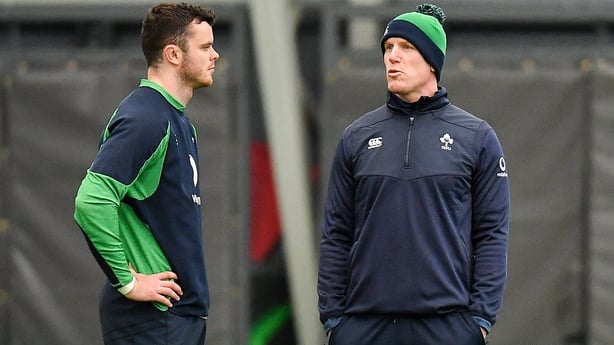 He added: "Barnardos cannot advertise their services because they're at such capacity they can barely take more people in the door.
"They've a waiting list of about 600 families for the meals they are delivering at the moment.
"We get asked to do stuff for charity all the time... I always get really embarrassed doing stuff, because you've people that are doing this absolutely monstrous amounts of work behind the scenes raising money or providing a service.
"We come along to give the event profile, speak and take a photo, and I always find it really embarrassing.
"When I played in my career... I just probably didn't use my profile enough when I was playing to help Barnardos and that's what I'm doing now."
Listen to the RTÉ Rugby podcast on Apple Podcasts, Soundcloud, Spotify or wherever you get your podcasts.