Ireland rugby international Leah Lyons only had to wait a day for a response to her job application at Tesco.
The Cork-born prop is based in the Guildford area of London for the duration of the Covid-19 lockdown, not far from where she plays her club rugby with Harlequins.
With their domestic season now over - and the Six Nations on pause since their last outing against England - Lyons is using this time to effectively prepare for next season. She has some gym equipment at home where she's clocking up the sessions alongside her housemates who also play for Harlequins.
"We got someone to make us a squat rack so we're flying around the place," Lyons tells RTÉ Sport of their alternative training regime.
But there's only so many reps and drills that Lyons can complete to fill her days. With no club or international games to look forward to in the immediate future, she knew she had to find another project at the outset of the coronavirus epidemic.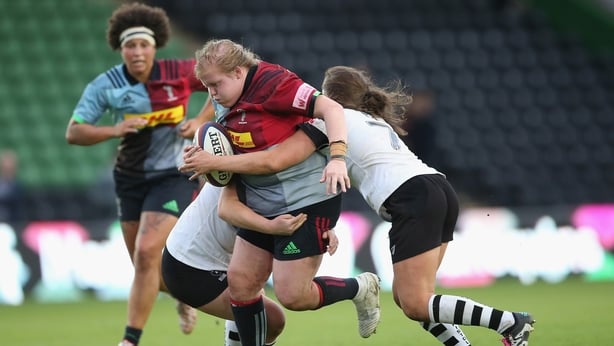 She applied for seven jobs in shops around Guildford before Tesco contacted her to fill a position.
"I needed to get work this year after [the] Six Nations finished," she explains.
"It was going to happen, I was going to have to get work to keep myself ticking over on my financial side.
"They [Tesco] were looking for a lot of people so I basically put in a CV one day and the next day they rang and asked if I could come in. I was delighted. It keeps me ticking over and gives me something else to do while we're all in lockdown and in isolation."
Lyons is stationed in Tesco's click and collect service. This mode of online shopping mainly serves elderly customers and those who are more vulnerable to coronavirus, and therefore can't come into the shop to pick up their groceries.
They select the items they want on the Tesco website, and Lyons's job is to gather them all up in time for collection.
"It's [the shopping] picked in the morning and put on baskets," she says, elaborating on her working day that can start as early as 6am. 
"They give us a name when they come to the shop and we'll go find their shopping. They put it in their car and we take the baskets away so it's a continuous cycle of people per day."
Little things are sometimes a lot
Supermarkets and other grocery shops are among the few businesses that are still open at the moment. Maintaining social distance measures can be challenging as shoppers drift in and out of the premises, but similar to the precautions taken in Ireland, Lyons's Tesco branch has two-metre distancing marks throughout the shop and hand sanitiser for everyone.
Lyons is essentially a front-line worker, and she understands the responsibility that comes with that. That sense of compassion and diligence has not gone unnoticed either. A shopper even left a tip for her and a colleague after availing of the click and collect service recently.
"Little things are sometimes a lot," she said in a tweet about the kind gesture.
But there's no room for bonding with the shoppers. Even in the company of their more vulnerable customers, the health and safety of everyone takes priority.
"We've been instructed to take every precaution possible," says Lyons about obeying social distancing rules at work. 
"You stay away from even asking their names. You can have a chat with them [but] you do keep your distance obviously. Everyone is trying to keep themselves safe and well so everybody does the best themselves.
Started working last week in tescos, something that put a smile on my face, a man after collecting his shopping from us, told us he left a tip in a basket he took his shopping from for my co worker and I. Little things are sometimes a lot #workingtogether #greatful pic.twitter.com/g5IgPRnGvN

— Leah Lyons (@LEAH__LYONZ) April 9, 2020
"But people do appreciate it and as I said [in that tweet], that man really appreciated it and left us a tip which was kind of crazy, but it's nice to see. They do appreciate it. People who say 'thank you' and 'you're doing such a great job.' But at the end of the day, we're just doing work.
"Them coming to us might be their only face-to-face interaction per day. For some people, it could be the best thing they have if they don't have anyone around.
"I think everybody is doing their bit at the moment to help this pandemic try and settle."
Like many other athletes, the coronavirus has come at an inconvenient time for Lyons. Having come through some injury struggles, she was getting back to match fitness and looking forward to picking up some game time for Harlequins.
She's enjoyed her time at the club since joining their ranks ahead of the 2019 Tyrrells Premier 15s season. The London-based side is one of the top teams in the competition. They reached the Premier 15s final last year and were second on the table before the season was cancelled recently, sitting just two points off the holders Saracens.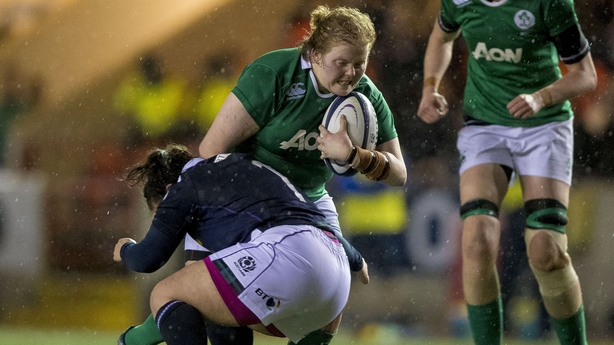 Lyons is joined by other Irish representatives at the club including her housemate, and 2013 Six Nations Grand Slam winner, Gill Bourke. Anna Caplice is also with Quins having previously played for Richmond.
Everything related to sport has been stalled for the moment but Lyons is happy to wait for normality to return in time. Training at home and staying in regular contact with her family in Ireland keeps her occupied. 
And her job in Tesco has brought balance to her life when it was needed most.
"It gives you something else to focus on."
"I didn't know anyone going into it so it's just kind of finding new people to be around, different places to work and just have a different environment. They're a good crowd in there, it's a good environment.
"Everybody does their bit and keeps it running smoothly. I think that's something massive too. I have my time there, my time at the house with the three other girls and it's a break from everything."