In February 2019, just before his 32nd birthday, Seán O'Brien announced he would be leaving Leinster after 12 years to join London Irish following the season-ending World Cup.
He knew the move would likely signal the end of his time in the Irish jersey but what he didn't expect was for a hip injury sustained in the Champions Cup final loss against Saracens to bring his international career to a grinding halt and threaten his future on the pitch altogether.
O'Brien underwent hip resurfacing surgery, a serious procedure made famous in the sporting world by tennis star Andy Murray - though O'Brien's involved less muscle scarring - and 10 long months of rehab followed before he made his London Irish debut against Sale last month.
Speaking to RTÉ 2fm's Game On, the 61-Test international said that the desire to be the first rugby pro to play after such an operation, and the frustration of his injury-disrupted campaigns in 2018 and '19 inspired him to keep going.
"I was very pleased to get back on the field," he said of his return in March. "It was long and a lot of work went into it. Some people said I was mad doing it but [I'd] no pain or soreness after the game.
"If I was happy with the way the last two years went for me rugby-wise, I probably would have just packed it in but I wasn't satisfied.
"I've nothing to prove to anyone but I wanted it for myself. The other thing was that no-one had ever come back from this injury and played a professional rugby game so I had that in the back of my head as well.
Is that....Is that @SeanOBrien1987 back out on the training pitch? 👀🤔

Yes, yes it is 😉 You just love to see it 👊

🎟 👉 https://t.co/iSTJ3R54MO pic.twitter.com/LT2KMKnhgj

— London Irish (@LiRFC) February 26, 2020
"I wasn't going to be stupid, if it wasn't going to work it wasn't going to work. But as I got back on the field I got more and more confident and the hip became better as I got more into rugby stuff rather than just running and strength.
"It has given me a new lease of life. I can sleep well at night with no pain in my hip and there's a lot to be said for small wins like that.
"I was looking forward to getting more games in the coming weeks but there are more important things in life now to be considering than rugby and sport."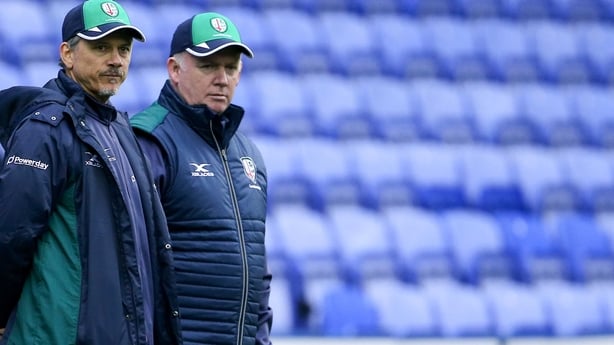 Although the Covid-19 pandemic has stopped his comeback on the field, O'Brien has taken to life with the Exiles, whose players are currently keeping busy by helping to supply hundreds of meals per week to local hospitals.
"It's a great environment to be in," said O'Brien. "Deccie (Kidney) is very good at creating that good mood in the camp.
"It's running throughout the whole club. There's lots of craic to be had and people are very open and willing to help.
"That's exactly what's happening now. People are rowing in to give a hand as best they can."
We need your consent to load this Instagram contentWe use Instagram to manage extra content that can set cookies on your device and collect data about your activity. Please review their details and accept them to load the content.Manage Preferences
O'Brien also made headlines over the weekend when it emerged he had given his apartment in Dublin to two nurses rent-free as they worked on the frontline of the Covid-19 pandemic.
"Myself and @alannahmariaxo just want to give @seanobrien678 a huge shoutout for loaning us his house rent free during this pandemic," wrote nurse Lydia Caslin on Instagram.
"We are staff nurses working together in Dublin. Alannah had to leave her rented accommodation due to working on the frontline and I have moved out of my own home for the safety of a family member being immunocompromised.
"It's people like Sean we need during this crisis. His kindness and generosity has blown us away. There's a light at the end of this tunnel friends."
O'Brien told Game On that after a week at home in Carlow, he is isolating in Mayo with girlfriend Sarah Rowe, the Mayo and AFLW star having recently returned home from Australia.
His house in Dublin was vacant, and he had been inspired by being familiar with the difficult working conditions nurses face through friends.
He said: "I was questioning apartment blocks or student accommodation that were half empty. Why haven't they stepped in and done something?
"I just threw it out there because it might as well be going to some use.
"The two girls who are in it now are very appreciative. Their families have a few difficulties in terms of health so I can't imagine them going home with the fear of spreading this virus."