On we go with the task of picking the definitive XV for each province, today it's the turn of the Conancht half-backs.
The views of players, pundits and the public will all be canvassed to give you the definitive selection.
Those of you who have already voted for the Leinster backs or Connacht team to date (it's not too late) will be aware of criteria, but for the rest here is our defence (explanation).
Should selection be based on achievements with a respective province in terms of caps, points or trophies won or should it simply be who was the best player to wear the jersey?
For example, there is no doubt that peak Christian Cullen was the best player to wear the Munster, or any other, 15 jersey but selecting him in a best Munster XV seems ridiculous.
This is, though, a fantasy exercise, so the criteria will be peak performance during a player's time with their given province unless another candidate for the spot's longevity and/or achievements make them impossible to ignore.
Clear? No? Good, let the games continue.
OUT-HALF
Connacht's out-half cupboard has been well stocked in the professional era.
From favourite son Eric Elwood to current incumbent Jack Carty, they have consistently been well equipped at number 10.
A lot of this has been the product of some seriously savvy recruitment both from within Ireland and abroad.
Paul Warwick and Miah Nikora were great southern hemisphere acquisitions, Ian Keatley and Mark McHugh came west from Leinster and all played their part in green.
When attempting to narrow the list to three contenders, the first caveat is that Elwood is a certainty for any shortlist.
With 168 Connacht appearances to go with his 35 Ireland caps, as well as a highly successful spell as Head Coach, no one individual has played a bigger role in Connacht's professional evolution.
The question of who should join Eric on the shortlist is difficult with very little separating a lot of the other candidates.
The amount of time he spent at 12 and 15 is a convenient excuse to omit Mark McHugh. AJ Macginty's time with the province was hugely successful but confined to just one season.
That leaves Warwick, Keatley and Jack Carty battling for two remaining slots.
Carty actually trumps the other two in terms of longevity at this point so he takes his place alongside Elwood.
My final nod goes to Ian Keatley. While I'm sure many would opt for Paul Warwick, and indeed the Australian is probably the more naturally gifted footballer, I personally identify Keatley more with Connacht's emergence from being a province on the margins to genuine competitiveness. Not very scientific but there you go...
RTÉ selection: Eric Elwood
SCRUM-HALF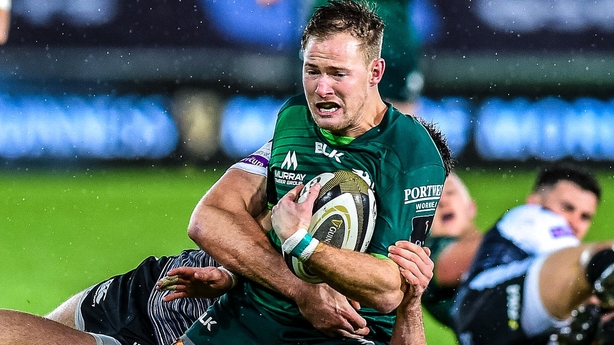 It's tempting to select Eoin Reddan and have him feature in the best pro era XV for two provinces, and he has probably been the best scrum-half to feature for Connacht, but his time in Galway was limited to just a couple of years and 18 appearances.
It was probably during his spell at Wasps that Reddan began to be appreciated by the wider public. On that basis, we will exclude him from contention.
With apologies to Steve Mcivor, Tom Tierney and John Cooney - Kieran Marmion and Frank Murphy have been the dominant Connacht scrum-halves of the professional era.
In looking for a final candidate to join them, I will opt for Conor McGuinness.
McGuinness was poised for a long and successful career until injury intervened, that he still managed to shoehorn in 14 Ireland caps is testament to his talents.
RTÉ selection: Kieran Marmion
It's not too late to vote for your own half-backs, or the other positions here, or get in touch at teamselection@rte.ie, if you want to make a more considered contribution. We will be discussing these teams at length across RTÉ platforms in the coming weeks.