Taoiseach Leo Varadkar may be keen to avoid the term 'lockdown', but for most of us it is one. Especially from a sporting point of view, there is very little to say otherwise.
As with any conversation surrounding Covid-19, I should preface these thoughts with the fact that this is the right thing to do, regardless of whether you call it a lockdown or a shut down or just a simple self-isolation.
However, you still have to think of some of the effects of these actions on the general public and how we should try to deal with them. It isn't the isolation that we need to be focusing on, it's what we can do within it to stay sane and stay connected in the groups that we might be currently missing.
The mental toll that this must be taking on team sport athletes is something that we have to be conscious of. These people are used to going to training and sitting in a closely confined dressing room with their team-mates, all with the same goal of winning something special with that group this year. For some of these elite sports people they are still in limbo, with regards to their competition. The GAA is still hoping to have a competition towards the end of the summer in a more traditional structure of potential knockout championship games. That means the players must train for the collective good as individuals and keep the show on the road to the best of their ability.
Trying to get the same amount of work done for competition within the 2km radius or on a pitch on your own is no easy achievement, not while trying to keep up the same standards at least. There's nobody to compete with, no words of encouragement, no kit men or other characters that keep morale up at certain times. Nobody at all, actually.
For the coaches, they must trust that players are doing their due diligence with their training programmes while the coaches themselves can't have much of a say in how the team comes out of these uncertain times. Group positivity and motivation is the priority now and less game plans, playing structures and analysis.
For individual athletes, they may be more used to the isolation that comes with their territory. However, even at that, athletes may still find a training group to push them on to achieve their own individual targets.
With the one-year delay of the Olympics, a lot of elite individual athletes have had to adjust their sights and take a potential in-season break in the hope of adjusting their peaking period for another year down the line.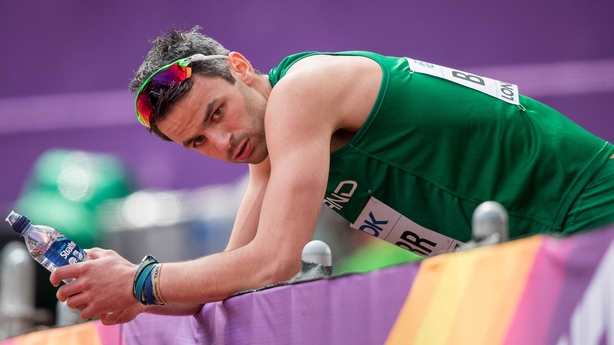 Listening to Thomas Barr on 2FM's Game On last week, he explained the ramifications for these athletes when something that you put every single hour into falls by the wayside for at least a couple of weeks. One day you know what the goal is and then overnight you suddenly have no routine to live by as a result of a forced break from training.
The AIL rugby fixtures were cancelled quite suddenly also, by way of a press release, which I read on Twitter. In the space of a few minutes of reading, you go from still having a purpose and something to focus on, regardless of the difficulty of the situation, to not having something to distract you.
It's the uncertainty that is difficult. It would bring you back to a time of injury or prolonged injury rehab where one day you know what the goal is and all of a sudden there is a lay-off and you are unsure what the future holds. Will you get back to the same level, will there still be the same faith in you, will everything go back to the way it was?
It is the very same for workplaces and employees that work as part of a team. These people will have gone from working closely with others and having conversations about other aspects of life, getting to know each other personally, sharing troubles and jokes in the day to day running of their lives, to working from home in compromised working conditions or being laid off temporarily.
What do we do now that a lot of this interaction is gone from our daily routine? It is important to identify what keeps you going from a mental point of view. Does some movement release enough endorphins for you to feel good throughout the day? Maybe go for a walk at lunch time or before you sit down to the laptop in the morning. Get some exercise done in the garden afterwards and make use of the sun that has appeared in the last week or so.
Maybe it is staying connected with those that you miss. There's no reason why we can't FaceTime our family, have a video meeting with work friends, or have a general chat with close friends from the comfort of your own home. Apps such as Houseparty and Zoom have become increasingly popular in the last couple of weeks, which is great for our sanity but also for our mental health and strength.
A lack of conversation with other people could make this situation worse for us all. Speaking to others helps, whether it is just to forget how confined we are at the moment compared to our usual routine, to get away from the same messages on our social media or to help another person out if they are on their own.
Try to ensure that sure you are eating nourishing healthy food that allows you to feel better. Snacking is lovely and comforting at times, but try to mostly eat foods that add to your energy and mood, your digestion and good health and that generally add some positivity to your life.
No matter what your background, sporting or otherwise, this is a massive change for us all. Something that we won't have lived through before and possibly will never see again in our lifetime, hopefully. It's a time to stick together and be innovative around our physical and mental health and wellbeing for the unforeseeable future.