Both Bernard Jackman and Eddie O'Sullivan argue that Ireland have altered their style of play and shown a willingness to adopt a more expansive and less prescriptive approach in the 2020 Six Nations.
While some observers from outside - notably former England centre Mike Tindall - insist that Ireland have merely offered 'more of the same' in the wins over Scotland and Wales, Jackman insists there are clear signs that the team's attacking shape is changing under the new coaching ticket.
Speaking on Against the Head on RTÉ2, Jackman argued that if Ireland lose in Twickenham on Sunday, whilst maintaining a commitment to this more expansive approach, this should not result in a negative backlash.
"There's been a transformation in how we're trying to play. We're going back to a holding shape. We trying to put more width on it," Jackman said.
"The World Cup report said we weren't skillful. I don't think any team when they scouted Ireland said they weren't skillful. It was basically how we were being set up to play.
"The skill-set is coming from guys being comfortable with what they're being asked to do. There's been a lot more willingness to get to the edges (of the pitch), there's offloads in contact, there's definitely been a transformation.
"I think there's been a sign of how we want to play. And even though against Scotland, we got ourselves into a dogfight, there were plenty of positive aspects. It was probably our set-piece and our breakdown which we didn't have enough possession (against Scotland).
"I do think there's clear signs of what we're trying to do. I would say if we lose this weekend in Twickenham but we're trying to perfect our style of play, I can understand that and it shouldn't be a negative."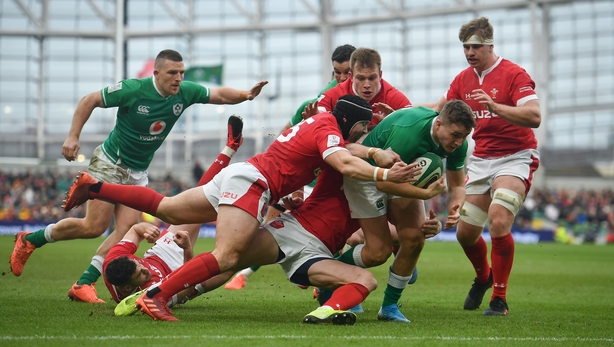 O'Sullivan said there was a limit to the changes that Andy Farrell and his coaching staff - citing attack coach Mike Catt - could implement in such a narrow time-frame.
But he agreed that Ireland seemed to be playing with greater freedom than they did last year, both before the World Cup and during.
"Skill isn't something you pick up overnight. There's no way Mike Catt comes in - with all due respect to Mike Catt - and in a matter of two weeks we're suddenly a more skillful team than we were.
"Skill takes a long time to get right.
"What it is is giving them a different focus, giving them more attacking shapes, and giving them more latitude to make decisions on the run. And being less prescriptive. That's not a big change but it's gives them more breathing space to play.
"I think we saw that. We saw that against Scotland where we tried to do it, not terribly successfully. We were certainly better against Wales for other reasons.
"But we will be under a lot more pressure next weekend. So, can we take another incremental step down the road in our development against a better team away from home.
"We are kind of where we thought we'd be at this stage of the tournament. Two home wins, this is probably the fulcrum of the season and if it goes wrong on Sunday, everybody will be back on their knees crying again.
"But there needs to be a broader picture."
O'Sullivan did caution against the narrative that Ireland are now at last being granted freedom after the allegedly stodgy and restrictive Joe Schmidt years.
Ireland had, according to O'Sullivan, played terrific rugby in 2018 en route to becoming one of the best teams in the world but their game had become inhibited and too narrow in 2019.
"There was a change in the way we played in '19 to '18. We did go very narrow in 2019, we went very attritional. We played a low-risk game, we backed our precision around the breakdown, our physicality to bully teams. And it did work quite a bit but when we met the big guns it never worked for us.
"We got too far down that rabbit-hole in 2019. But let's not forget where we came from in 2018, we were playing phenomenal rugby - and credit to Joe Schmidt for that. We just didn't follow through in '19 in the same way."
Follow England v Ireland (kick-off 3pm) on Sunday via our live blog on RTE.ie/Sport and the News Now app or listen live on RTÉ 2fm. Highlights on Against the Head, Monday at 8pm on RTÉ2 and RTÉ Player.