Ireland have made a strong start to the 2020 Women's Six Nations and one of the key influences in the pack thus far has been Linda Djougang.
The prop weighed in with the fourth Irish try as Adam Griggs' side put distance between themselves and Wales at Energia Park on Sunday, making it two wins from two in the tournament.
On this week's The W Podcast on RTÉ Sport, Djougang joined Marie Crowe to talk about Ireland's progress in recent weeks and her own status as a rising star.
She began by discussing her early life where her mother played a key role in her interest in sport.
"I came here when I was really young and I had a really amazing childhood in Cameroon," she said.
"I was living there with my mum and my family. I remember every Saturday the mothers would have a match where my mum and other kids' mothers would [play soccer].
"Football is really famous in Cameroon, it's our main sport, so all the mums would play football and all kids would be handing out water at half-time.
"I really got into sport through my mum and she was phenomenal. All the kids were so jealous of me because my mum kept scoring all the goals."
Meanwhile, her father resided in Ireland and Djougang made the move aged nine while her mother remained in Cameroon.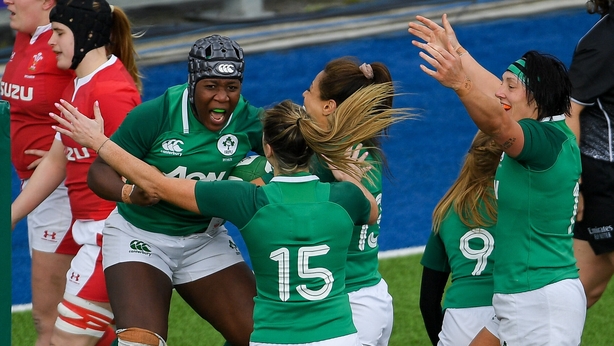 "My dad lived here for years so my mum just thought of having a better opportunity for education and life really.
"It was good because I hadn't really lived with my dad so it was good that I got to come here and live with my dad too.
"It was the hardest thing I had to do to leave my mum behind. But in fairness, I have an amazing life here and I wouldn't have the opportunity to represent Ireland so everything happened for a reason."
After adjusting to the weather, language and culture, the 23-year-old began to make a mark in sport, although shot put, football, GAA, athletics and volleyball initially came first.
Rugby came into her life much later, about three years ago.
"I love the physicality of it," the blinside flanker-turned prop said of a sport that puts a premium on having that physical edge.
"It's the perfect sport for me. I wanted to do judo. Anything physical was really my thing so rugby was a perfect sport for me. I'm so grateful for falling into that."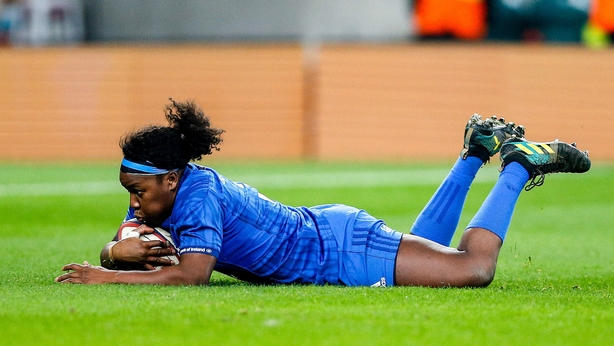 Having fallen into the sport in her own words, she has now climbed up the ranks and now has six Ireland caps to her name.
And as Ireland start off with two wins from two in the Six Nations, Djougang has been pleased with the team's progress this year.
"There has definitely been a lot of work done behind the scenes. We have a new management team which has been really great," she said.
"We have Steven [McGuinness, forwards coach] and Kieran [Hallett, defence coach] who have been phenomenal additions to the team.
"I'm really happy. Everything is set. We just need to perform now."
And whilst her rugby career goes from strength to strength, she has been juggling sport with her nursing studies.
"I'm doing my nine month internship at Tallaght hospital so everything is going well so far," she added.
"A few of the patients recognise me but at the same time, when I'm there, I'm not a rugby player. I'm getting focused on what I do and try to improve because I'm learning too like I'm learning in Irish camp too."