Ireland took another step in the right direction in their development under Andy Farrell with a bonus-point win at home against Wales.
It wasn't a perfect performance by any means. Ireland had a lot of visits into the Welsh 22 and owned the territory and possession for large parts of the game, aside from a pivotal spell in the second half that resulted in Hadleigh Parkes missing his opportunity to get the visitors back into the game.
Coaches are all about the little details and Ireland's back-room team will be annoyed about the missed opportunities, with mauls being turned over and scrum penalties going against them.
These can be technical areas but they're also times to impose yourself physically on the opposition. Wales turned Ireland over too many times for Farrell to be completely happy about the game as a whole.
However, it is much better to come away from a game believing you left a lot of opportunities out there as opposed to feeling like you struggled to create any.
If Ireland can start to take one or two more of these then they will get to a very strong position.
They will need to take them in Twickenham if they are serious about winning though because England won't afford them as many chnaces.
Under Farrell you get the feeling that the players are really out there to help each other; let's face it, rugby is rarely a game in which the individual flourishes without the help of the players around him.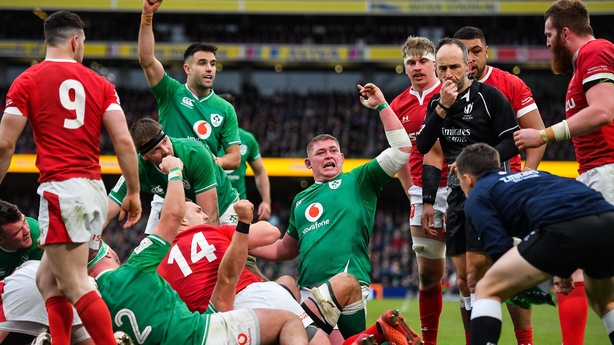 You could look at Tadgh Furlong's try and think that the man is a beast, which he is, but he had Rob Herring and Peter O'Mahony pushing him over the line to get the ball down for his fifth try for his country.
The same can be said about CJ Stander's poaching opportunities. In at least two of those turnover penalties O'Mahony had executed a perfect chop tackle to get the attacker to the ground early so someone else could have an opportunity for a big play.
These are some of the things that go unnoticed. If O'Mahony decided to opt out of the tackle and go slightly higher it would have created more of a wrestle, allowing the attacking support more time to get to the ruck to protect the ball.
Stander would have had to wait for another chance while Ireland continued defending.
There was another poach where Josh van der Flier shared the impact but we generally only look at the guy that comes up with the ball.
Both teams were more ambitious in attack than what we've seen recently, evident from a deft offload by Alun Wyn Jones for the Williams try.
It was the movement and play before this that was so effective by the Welsh. After going through some phases, Dan Biggar knew they were on the front foot and that they had taken Ireland's line speed away in defence so he went harder towards the tackle line before hitting Jones on a short line.
There was an attacker out the back of the second row to draw Irish eyes away from the front line which gave Jones an easier carry.
He could then get his hands free on the other side because he was going forward in the tackle while Biggar stayed alive for the offload which came from the experienced forward and Williams continued his upfield support line to get Wales back into the game.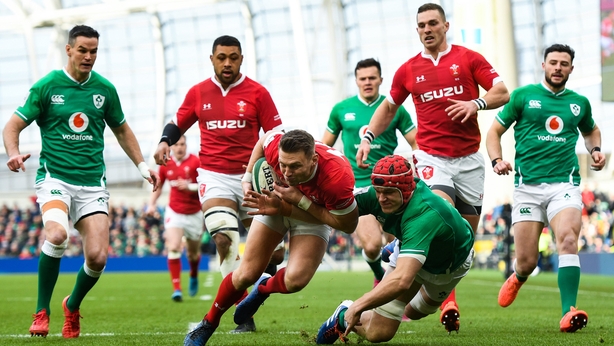 It is a simple and straight forward method of attack from Wales but how they executed it was impressive.
Ireland were happy to kick the ball in behind Wales to turn them even when they were in positions high up the pitch.
A lot of teams would try to focus on keeping possession but when you play against a team like Wales, who often end up with only Leigh Halfpenny in the back field. That means they have a very aggressive and well-stocked front line of defence.
It is very difficult to attack against that considering this is international rugby and you can't hope that the opposition will turn up not wanting to make their tackles in the middle of the pitch.
The only way to deal with such a full front line of defence is to bully your way through, but Ireland aren't going to be a team that can constantly steamroll the opposition.
When they get on the front foot it can happen with ball carriers like Iain Henderson and Tadgh Furlong but in this case they pushed the ball slightly outside Wales' narrow defence and kicked it through when the outside backs had to close up the space.
Andrew Conway's hard work on the right wing was rewarded with a try in the corner after some nice passing from Cooney and Byrne.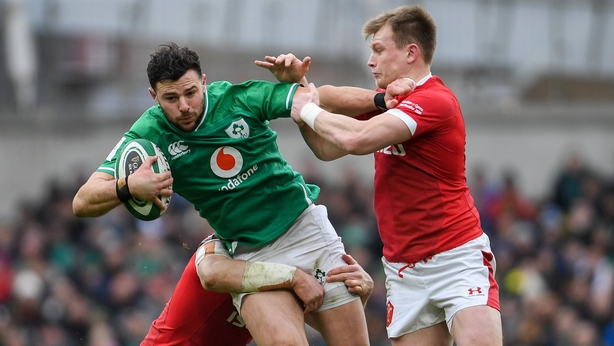 It was refreshing to see Robbie Henshaw back in good form at the weekend. His last game of that quality was probably the World Cup warm-up against Wales in Cardiff where he looked dangerous.
Unfortunately, himself and Biggar clashed and both had to go for HIAs but before that he was taking control of the game and offloading at the other side of contact which resulted in faster Irish ball against a scrambling Welsh defence.
Someone with the ability to get through the defence and get their hands free at Test level is vital for a team.
He also has the physicality to mix his game up going into contact so he is a very dangerous attacking player for Farrell once he can stay fit.
Ireland are building nicely and their star players are coming back to good form while others are driving their standards to another level.
Conway and Jordan Larmour added some footwork and flair while the more experienced players like Furlong, O'Mahony, Conor Murray and Johnny Sexton took steps towards the heights that we've seen from them previously.
A performance in Twickenham is the next stepping stone in this new cycle. A result away from home against England would be even better but if Ireland can perform well and put it up to their hosts while building something new then I think we would take that.
This strikes me as a Six Nations that won't have a Grand Slam winner, with everyone will be beaten by someone.
If Irish people really care about going further in a World Cup then maybe that will have to be good enough to develop the style of play under new management.