Those of you that read my articles during the World Cup will have been introduced to Bill, our fabulous seven-year-old, who along with his equally fabulous sisters, Sally and Roisin, loves his rugby and sport in general.
Well this afternoon Bill will attend his first Six Nations game. His sisters have been to quite a few, both men's and women's, over the years.
Up until last year's tournament Bill had little interest in it but midway through, as the girls were going to the odd game, his passion for rugby was growing out on the pitches at Kilballyowen Park in Bruff.
It truly is a wonderful club based in the country that encourages boys and girls of all ages. Well tomorrow he will go to the Aviva with his dad. The fact that his dad is John Hayes and 20 years ago in this fixture he earned is first cap is of no relevance to Bill.
It is actually of no relevance to John either. His concern lies with how to keep him fed without appearing like the "Tipperary supporter" he constantly teases; as she always over prepares and literally brings the 'sangwitches' and the tea to almost every occasion.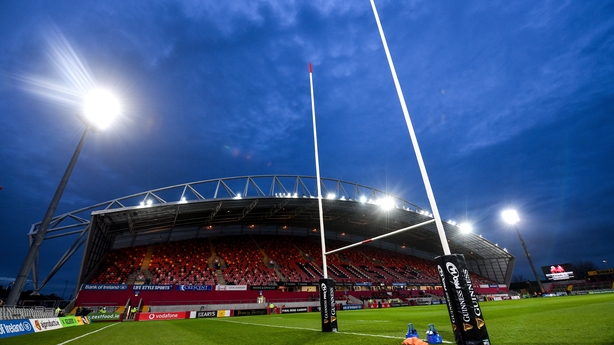 Bill is a joy to have at matches. I brought him and his sisters to the warm-up game in August and recently to the Munster-Saracens match in Thomond Park. He sits there enthralled in the game, shouting on his team and bemoaning loudly the dropped ball or missed tackle. He watches without prejudice or preconceived ideas and absorbs all that he sees like a sponge.
My wish for this weekend is that both of Ireland's senior teams do the same. I am hoping that the men's team will play, not quite with abandonment, but with a freedom to express themselves and execute a planned move if it is on but do something off the cuff if it is not.
Playing what is in front of you is something we were always told as players and coaches and Steve Aboud and Colin Moran always encouraged the free thinker amongst us.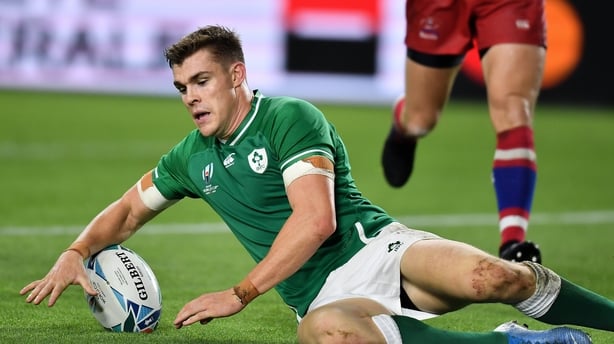 In Garry Ringrose (above) we have one of the most exciting centres in world rugby and one that will hopefully go on to produce stellar displays for years to come not too dissimilar to one of the previous occupants of the green 13. We need to get him and Jordan Larmour on the ball as soon as possible and as often as possible with good quality possession.
Our pack should be reenergised with the addition of Rob Herring and Caelan Doris and players on the bench champing at the bit to get on and pushing those in current possession of the jersey all the way.
Anything less than a comprehensive victory over Scotland this afternoon will have the warning bells ringing. I'm hoping that there will be no bells rung for quite a while.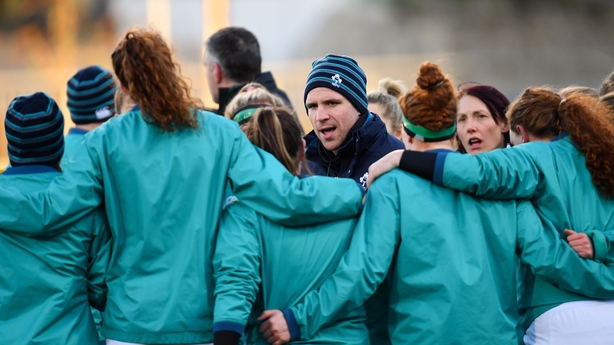 Tomorrow Ireland's women will take on Scotland in Energia Park at 1pm. Two years ago Scotland took away the spoils and last year beating Scotland away was the only light in an otherwise dark Six Nations.
This is the third tournament for Adam Griggs (above) and I hope that we now see the fruits of his and the squad's labour.
Things have certainly improved off the pitch for the squad with enhanced training weekends at the new high performance facility in Abbotstown and additions to the coaching ticket with Kieran Hallett, an elite player development manager now with Leinster and formerly of Exeter Chiefs, and Steve McGuinness, who is the IQ, national Talent ID Manager who has come over from Nottingham Rugby.
The lack of competitive Tests in the lead up is still a concern to me but I know plans are in place for a comprehensive series in the lead up to the World Cup qualifiers next September.
Much like their male counterparts the women's pack is full of experience and I expect the likes of Lyndsey Peat and Cliodhna Moloney to lead from the front and the back row, even without the legendary Claire Molloy, is formidable and the battle between Anna Caplice and her Harlequins team mate Jade Konkel should be one to behold.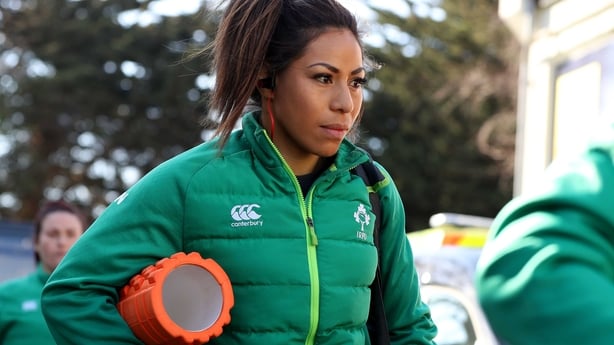 We will be looking to the outstanding Sene Naoupu (above) to lead the attack from 13 as she slots in beside yet another partner in the centre, the returning Michelle Claffey starting at 12.
The additional return of Aoife Doyle on the right wing after a few years away with sevens and injuries is also a welcome sight and will surely add to the depth of Grigg's squad with Beibhinn Parsons on the left wing bringing all her youthful exuberance and undoubted talent into her second full international season.
Then there's the Philip Doyle factor. Philip, or Goose as he prefers to be called, has had a profound influence on the women's game in Ireland both at club, provincial and International level. He will have his Scottish charges well primed and ready from the off. I just hope they won't be too primed and the Irish women get the victory that their efforts deserve.
Arguably the match of the weekend will take place in the south of France where the French women take on their English counterparts in front of what promises to be the biggest crowd for a women's international this weekend if not this year.
The Six Nations champions will likely be the winners of this match.
To sign off, just in case there's any question of favouritism or bias in this household, Sally and Roisin will get their chance to attend the Six Nations this year too.
Roisin will probably come on Sunday with me while Sally will rightly stay at home to travel to Killarney RFC with her Bruff Under-14 team mates (minus half the coaching ticket) and just like Bill they don't mind whether it's to the men's or the women's.
As long as they are going they are happy.
Follow Ireland v Scotland (kick-off 4.45pm) on Saturday via our live blog on RTE.ie/Sport and the News Now app or listen live on RTÉ Radio 1's Saturday Sport. Highlights on Against the Head, Monday at 8pm on RTÉ2 and RTÉ Player. 
Follow Ireland v Scotland live from Energia Park (12.30pm, RTÉ2 and RTÉ Player) when Niamh Briggs and Fiona Steed will join presenter Daire O'Brien alongside Eddie O'Sullivan while Fiona Coghlan joins Des Curran on commentary. Or follow via the RTÉ.ie/sport and RTÉ News Now app live blog.