After last year's disappointing Women's Six Nations campaign, the only direction has to be up when it comes to aims of the Irish team for 2020's edition.
Six years on from the famous grand slam triumph and four after another Championship win, 2019 saw Ireland suffer their lowest finish since then, trailing home fifth in the table with just one win.
This year is crucial given that qualifiers for the 2021 World Cup are just around the corner, with the upcoming results having a determining factor on Ireland's chances.
With those big targets on the horizon, former Ireland grand slam-winning captain Fiona Coghlan believes results are more paramount than ever in the 2020 Six Nations.
"The squad in the last couple of years has been in a transition," she said at the launch of RTÉ's Six Nations coverage.
"New coaches, new players and now there's a bit of stability. But now they have to bring performances and get the wins under their belt.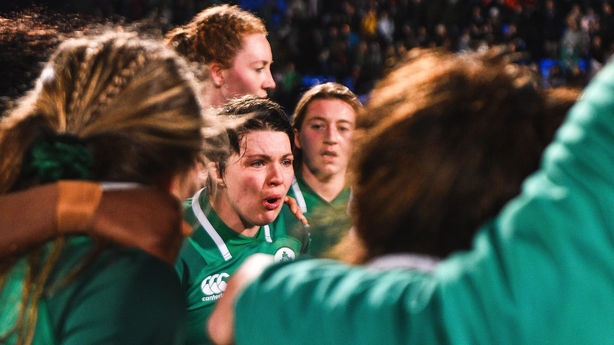 "Particularly this year is an important year for them."
Coghlan gave her take on the factors that led to 2019's downturn in form.
"I think there was probably a lack of everybody being on the same page at times," she said.
"You had people moving in and out of the ten position. I don't think there's been a consistent ten since Nora Stapleton retired.
"So if that player is not getting enough game-time, it's very hard for them then to slot into international level, particularly if they're not playing at club level at ten."
She added that there appears to be a greater "cohesiveness" from the noises emanating from camp as the team become accustomed to new members of head coach Adam Griggs' backroom team like forwards coach Steven McGuinness and defence counterpart Kieran Hallett.
"I hope to see those improvements that as units they're on the same page, whether that's a forwards unit, back unit or defence unit," Coghlan continued.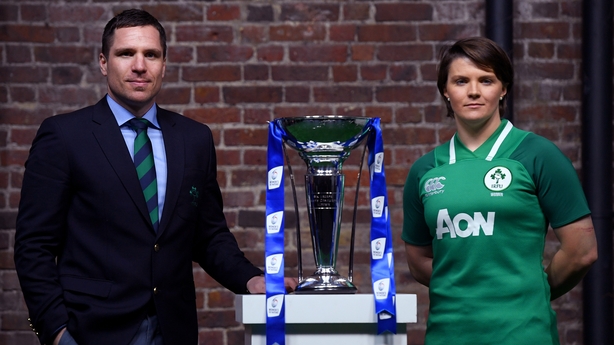 Ireland start the tournament with consecutive home games against Scotland and Wales which offers a possibility to build momentum if that early advantage is harnessed.
A third home game against Italy will come in Round 4 on 8 March.
"Just looking at the teams and where they're placed, those three home games are games that they can and should be winning," said Coghlan.
"Whatever about England or France home or away - they're currently at a different level than Ireland are, so those three home games are must-win games to put themselves in the right position to be for qualification for the World Cup competition."
But any progress at international level will need to be underpinned by improvements to the structures around the women's game.
But can the club scene currently provide an adequate platform for prospective international players?
"The AIL is a significant drop-down. So are the inter-pros," said Coghlan.
"In fairness, they've looked at the inter-pros and they're trying to do home and away this year.
"So an increased number of games, trying to improve the standard and the positioning of it at the start of the season allows coaches more time with players to develop them.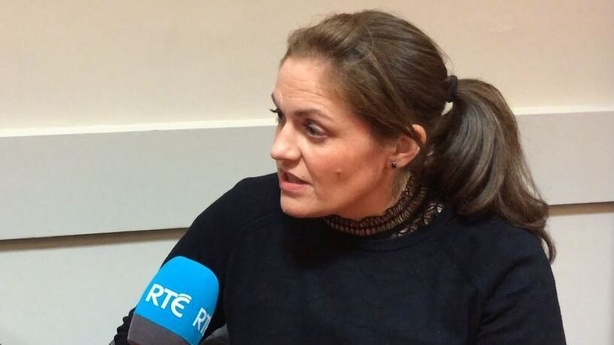 "They're really structuring the AIL at the moment as well which is only going to be a good thing. More teams coming in and hopefully raise the standard of it for teams and clubs that want to be in it and want to develop it.
"And you have certain frameworks around the level of coaching and support that the team needs.
"In fairness, it needs to happen if you want to keep up with the likes of England who have professional teams but also a Tyrrells Premiership which is a really strong competition which has huge numbers and huge exposure and good standard.
"That's where we need to get to and again, it's brilliant to see young girls playing which never happened in the past.
"It's great. There's minis, there's schools and clubs underage. I think that's going to stand to Ireland as it develops but unfortunately we need it to happen at a quicker pace because the pace of women's international rugby is just accelerating at a rate of knots."
We need your consent to load this YouTube contentWe use YouTube to manage extra content that can set cookies on your device and collect data about your activity. Please review their details and accept them to load the content.Manage Preferences
Another issue that has occasionally caused friction is the Rugby Sevens versus 15s debate and the releasing of players to play the former version of the sport.
Back in 2014, Coghlan as captain and other team members met with the IRFU to insist on the 15s receiving prioritization in a World Cup year.
"There's no problem Sevens girls coming back in. But they have to be in training," she said.
"If you look at the Sevens girls currently, they've been away January and they're away at the moment.
"They haven't been in training. I'm not saying that they're not skillful enough or not good enough.
"But they're not going to be on the same page. While they might be able to turn the game on a counter-attack or something, I just don't think that's good cohesiveness for a squad to have people dropping in and dropping out.
"People who haven't trained with them and taken their spot who's been there training, I don't think it gels, I don't think it works so I would rather that they don't come back in."
RTÉ2 and RTÉ Player will have live coverage of all of Ireland Women's Six Nations matches in what is a crucial campaign for the team as they try to build momentum towards qualification for the 2021 World Cup in New Zealand.
Coverage begins on Sunday 2 February with Ireland v Scotland live from Energia Park (12.30pm, RTÉ2 and RTÉ Player) when Niamh Briggs and Fiona Steed will join presenter Daire O'Brien alongside Eddie O'Sullivan while Fiona Coghlan joins Des Curran on commentary.
RTÉ Player will carry live coverage of all the other games in the Women's Six Nations kicking off this Sunday (2 February) with Wales v Italy and France v England. Full details here.