Max Deegan says Leinster are fiercely determined to complete one of their season goals next week and secure top seeding for the Heineken Champions Cup quarter-finals.
Number eight Deegan was a try scorer and the man of the match in Leinster's 42-14 bonus-point win over Lyon at the RDS.
The already-confirmed Pool One winners have won all 15 of their games in all competitions so far this season.
Virgile Bruni and Hendrik Roodt both touched down for Lyon, leaving them just 21-14 down at half-time.
However, tries from Deegan, Sean Cronin and Andrew Porter after the break supplemented a Dave Kearney brace and a Josh Van Der Flier effort to put the result beyond doubt.
With Leinster currently in the number-one seed position ahead of next Saturday's trip to Treviso, Deegan said afterwards: "We've always been looking for the top seeding in the competition since day one. We knew if we were going to get that top seeding that we'd have to win every game, so we'll be looking to do the same next week.
"We'll be focusing on a short week this week and hitting the ground running. It's been a great block there just gone (including the three inter-provincial derby victories) and we just need to finish it off next week."
The 23-year-old Ireland hopeful added: "Lyon had a big physical side out there today and it showed in the early passages of play. They were really coming at us hard. For their second try, really physical running onto the ball. Tough game, they really put it up to us.
"It looked like we were on top in the first half but they were only one score behind us. We knew if we didn't come out strong in the second half that this game could change completely and it could be out of our hands.
"All the players focused on a fast start, a really accurate start, and the fact that we didn't concede anything in that second half was really pleasing from a players' point of view."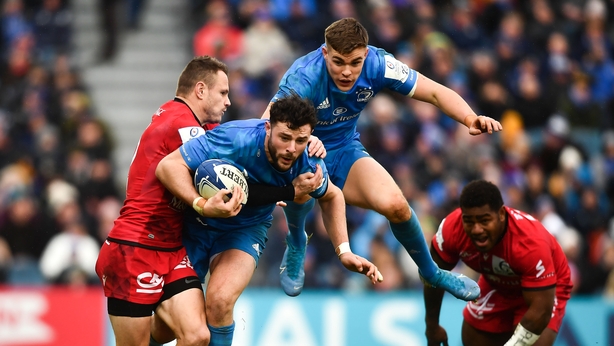 Meanwhile, Leinster head coach Leo Cullen highlighted that strong second-half spell when his side got away from Lyon, who were shown three yellow cards.
"It was a tricky game," he admitted. "Lyon got a bit of a rumble on to make it 21-14 and we looked a bit edgy in the dressing room at half-time. So I thought at the start of the second half the players applied themselves well and put a lot more pressure on Lyon.
"We were a bit more accurate in everything we were doing. Lyon gave away a lot of penalties at that stage, and there were a lot of stoppages in the game, so we never got any real rhythm, but that period at the start of the second half was much better and then we get in for a few more tries and get the job done."