Connacht head coach Andy Friend says he wants to see his team do more than just learn from defeats after their 21-7 loss to Toulouse.
The result ended any hopes of Connacht reaching the Heineken Champions Cup quarter-finals.
After the game, Friend told RTÉ Sport of his frustration at Connacht's struggles to execute effectively.
"I'm really disappointed. I thought we worked hard out there but we certainly weren't clinical," he said.
"We put pressure on but way too quickly and easily, we released that through poor execution.
"So out of the Champions Cup, not where we wanted to be. But probably a fair reflection on where we are at the moment."
The Australian coach credited Toulouse for their display but added that results are paramount rather than settling for just learning from defeats.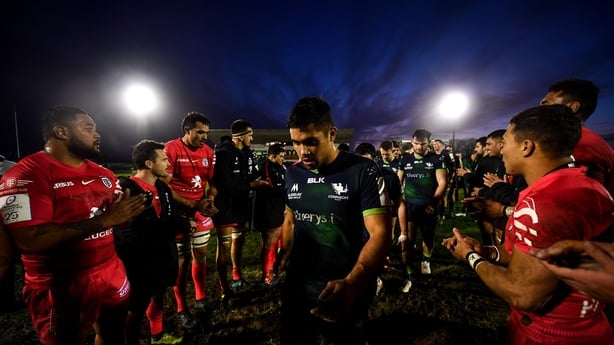 "They're a good side. We've faced a few good sides over the last three or four weeks. But for us to be where we want to be, we want to be playing against those sides - good sides," he said.
"We've got to be doing better than that so they're good learnings for us. But I'm getting sick of learning now and we need to start getting some results."
He also admitted that a recent dip in confidence due to a downturn in results didn't help matters.
"You can't help but drop your head a little bit because you're a human being," he said.
"These things do hurt and you do start to ask questions. But that's our job now as a collective and I'm the leader of that there to try and change that and make sure we get that confidence back.
"We're out of Champions Cup, we're aware of that, but we've got Pro14 though which is still a massive goal for us and we want to get into a home quarter-final."
Connacht's final Champions Cup pool game is on 19 January against Montpellier.