Munster senior coach Stephen Larkham says they're not dwelling on the large-scale brawl which marred last Saturday's Champions Cup clash with Saracens in Allianz Park and adds that both parties involved in triggering the incident had apologised.
The Munster head of medical Dr Jamie Kearns apologised after the game to England hooker Jamie George and Saracens coach Mark McCall for a comment made during the second half, which sparked the touchline melee.
EPCR confirmed on Sunday that they would be investigating the incident but Larkham said the issue hadn't been raised internally.
"We haven't thought about it. It's all been dealt with. We've had a couple of good days of training and are focused on the game this weekend.
"Both parties have apologised for what went on. We're trying to move past it now. I agree it's not something that was a great spectacle. We're certainly moving on.
"Everyone's apologised and we're moving forward."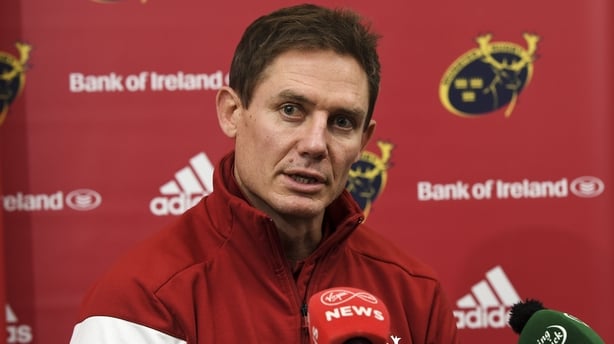 Larkham admitted there was huge disappointment within the squad following Saturday's loss.
Munster were lauded for their defensive display for the first hour against the defending champions, and they led 6-3 as the game ticked into the final quarter.
However, late tries from Sean Maitland and Mako Vunipola saw the hosts claim a 15-6 victory.
"We took it pretty hard," he revealed.
"There was fair emotion in the changing room after the game. It was a game that I felt we'd prepped really well for, having beaten them the week before.
"Having put in a fairly strong performance for the majority of that game, the boys were bitterly disappointed. It's going to be difficult for us now in Europe but we certainly know what we need to do to get the finals, which is basically win every game from here on. Which is what we thought we were up against at the start of the season anyway, so nothing's really changed in terms of that."
Munster might have scraped a losing bonus point in the closing minutes, but opted to kick for the corner rather than attempt to land the three-pointer - a decision which may have been influenced by out-half JJ Hanrahan's miss earlier in the second half.
Larkham said they'd discussed this decision a great deal after the game, though he refrained from outlining their ultimate verdict on the call.
"We had a good chat about that," he added.
"That's a joint decision. It's not just one person, there are multiple people involved in that, including coaches on the sideline. We had a chat around the reasons around it and what we'd do in the future."