Felix Jones has spoken of his deep affection for Munster but said he "does not know what the future holds" when quizzed on a potential return to the province.
Jones left his role on the coaching ticket at the end of last season, subsequently taking up a post with Rassie Erasmus's South Africa, who went on to lift the Rugby World Cup.
The 32-year-old linked up with Boks at the end of August, reuniting with Erasmus, who left Munster to lead his native country in 2017. Jones's brief was to identify weaknesses in opponents' defences.
Erasmus took defence coach Jacques Nienaber and fitness coach Aled Walters with him when he left Munster so there were familiar faces waiting for Jones in the dressing room.
In the aftermath of their World Cup glory in Japan, the four were filmed singing Munster anthem Stand Up And Fight. It was a heartfelt tribute to their former club.
"We're all unbelievably fond of the place," Jones told RTÉ'S Game On.
"I know Rassie and Jacques... they're constantly talking about it, asking how everyone is. It's given me everything. I fell in love with Munster the moment I walked in.
"Everything about the club spoke to what I believed in.
"All I can say is, it's somewhere I really hold dear," he added when asked about a possible return in some capacity.
"I'll always be a Munster supporter. I want to see them down the line winning European Cups and being consistently at the top table. I honestly don't know what the future holds for me."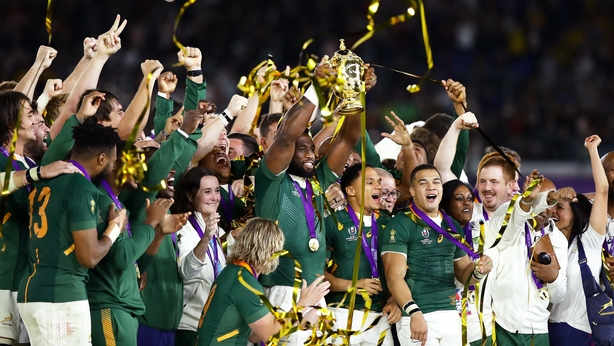 Jones had a whirlwind few months with the Boks. He met the squad in Japan and had to hit the ground running. There was simply not time to dwell on how quickly things were happening.
"It was just a crazy couple of weeks and a crazy couple of months," he said.
"I met them out in Japan two weeks before the competition started because there was a warm-up game organised. It's all been pretty insane, pretty surreal."
Erasmus's men got stringer as the tournament progressed, ultimately squeezing the life out of England -who'd beaten the All Blacks in the semis - in a 32-12 final victory. It was a success that sparked enormous celebrations in South Africa.
"The defence coach Jacques, probably the best coach in the world, he would have put in a huge amount of time to make sure the players were well prepped for what was coming (against England)," Jones reflected.
"We'd a six-day turnaround for the final.
"Sometimes emotion in rugby can dip... sometimes it can be hard to maintain it for four or five really tough games. Obviously England, having played New Zealand the week before and having produced such a phenomenal performance... I think on the day our players pretty much all had nine, ten out of tens.
"The big momentum moments in the game went with South Africa.
"It's almost hard for an Irish person to fathom just how many people there are in South Africa. I think the official population is 57 million.
"There were literally millions (greeting us). Every airport, hotel, every time we got on the bus, there was just thousands and thousands of people the whole time. I've heard people say, 'what does this actually mean for South Africa?'
"I still don't think I fully understand it. It was incredible."