Former Ireland head coach Joe Schmidt has told his successor Andy Farrell to savour the good days because "the scars" of bad defeats cut deep.
Schmidt's reign ended after a hammering against New Zealand at the Rugby World Cup in October.
It was a hugely disappointing end to a silver-laden six years that delivered three Six Nations titles, including a Grand Slam. Before that, the Kiwi won two Heineken Cups with Leinster, but it's the memories of the bad days that linger more, he told RTÉ 2fm's Game On.
"I'd give Andy advice that I never took - I'd say keep the balance and enjoy the special moments," said Schmidt.
"They're not as deep as the scars. The scars tend to last longer. They're the ones that unfortunately embed themselves a little bit deeper.
"I really rate Andy as a coach and as a person, and the rest of the coaching staff. I think they are going to have some of them special days. I'd just say, look, enjoy them."
Schmidt admitted that he was finding it hard to shrug off Ireland's underwhelming showing in Japan.
A surprise defeat to the host nation meant they finished second in the pool and were paired with the All Blacks in the last eight. Schmidt's men were swatted aside 46-14 and his time at the helm ended with a whimper.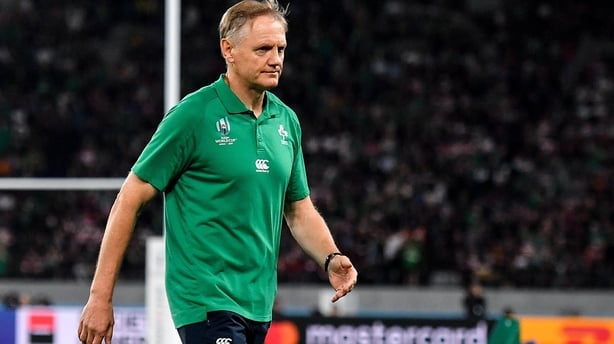 "It was a bit of a rollercoaster through the World Cup and then unfortunately we were on the downswing at the wrong time," he said.
"Usually you can pick the scab off and the scar recovers because you're straight into the Six Nations. I spent time with Andy Farrell, Simon Easterby and Richie Murphy and they're all looking forward, projecting towards the Six Nations.
"I'm still buried in the World Cup because that's where it all ends (for me). That's probably the hardest thing. It's harder to shake."
Schmidt did reflect on the good times too. Two memorable wins against New Zealand, in Chicago and Dublin, as well as those Six Nations triumphs and a historic victory on South African soil were all days to relish for Irish rugby supporters, with the 54-year-old reserving high praise for the passionate "diaspora".
"We go to Melbourne and it's like a home game," he added. "It must be tough for some opponents sometimes. We go places and it sounds like we're at home.
"It has been incredibly special for me and the players."