With a lot more of their stars to return and on the week before Champions Cup rugby graces our screens next week, Leinster have sent out yet another statement by taking Connacht apart at the Sportsground on Friday night.
With such a high score line and 6 tries, the perception is that Leinster are an all singing and all dancing team that score tries for fun with a back line that would rival most but it's actually their forward power that does most of the damage. Connacht couldn't live with the fire power in the pack despite a lot of younger players taking to the field for Leinster.
The first try of the game was a well worked set piece play where Luke McGrath played Ronan Kelleher on a switch down the short side of the ruck. His powerful carry and offload to Cian Healy was followed by a destructive run by Andrew Porter before he touched the ball down for the opening try of the game. The backs were barely seen and Leinster were seven points up.
The next two tries came from well worked mauls from Leinster and Kelleher did very well to score, especially with the first maul try. Leinster were chasing a bonus point early in the first half and it was their forward pack that did all the damage.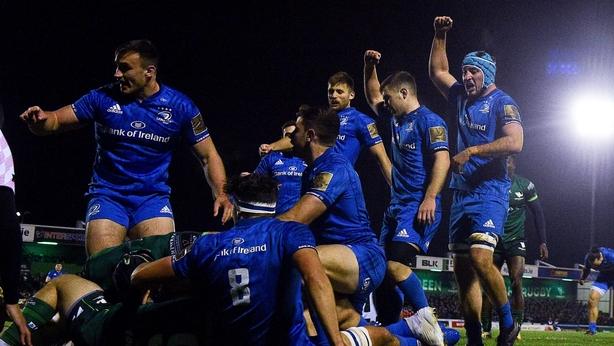 When we think of how Leinster play we think of Sexton, Ringrose, Lowe and others that are well able to score tries and cause trouble but it's the power of their pack that allows them to play like that.
Yes, they do cause trouble and get on the end of well worked tries but in reality we often see the Leinster pack powering over the gain line before either Sexton or Byrne pull the trigger and it's the efficiency of how they score in the corner that leads us to believe that they play a wide-wide game but that's not necessarily true.
They start the game with the basics and force teams onto the back foot before they do that.
They are ruthless when it comes to pulling the trigger and in fairness to their back line and decision makers they throw an extra pass compared to other teams at vital moments.
They shift the point of contact well with phase play moves from their back line which forces defences to move and make more decisions throughout the game but the interesting thing about last weekend is that they didn't throw anywhere near as many passes as Connacht.
Despite having slightly more possession, they threw only two-thirds of the passes that Connacht threw. The difference was that Leinster made twice as many gain line carries as what Connacht did. Going forward is an undeniable advantage in rugby that allows every game plan to work.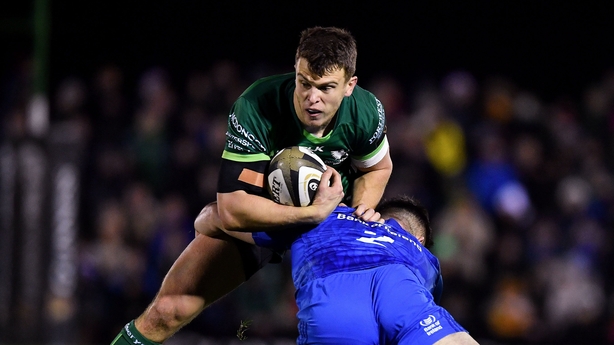 You can have the best game plan in the world but if you can't win the physical battles and put teams on the back foot, scrambling to make decisions in defence, then you're not going to come out on top most of the time.
Munster vs Ulster was played in similarly difficult conditions at the weekend but it was riddled in mistakes. Munster came out on top scoring three tries against Ulster's one and it was Andrew Conway that took the limelight after the game with his searing pace to run in under the posts to open the game up.
He took an inside ball from Tyler Bleyendaal, shrugged off a tackle and upped a few gears to go under the Ulster posts. I'm not sure how much more he can do to improve his game. He keeps performing no matter what jersey he has on.
All he can do from here is keep backing it up like he has been doing and hope that Farrell picks his six nations squad on form. Despite Rory Scannell being the hero for Munster, scoring a try and saving the 4 points with a last ditch tackle on McCloskey, it was Conway that stole the show at the end.
CJ Stander had been on the receiving end of some negativity because of the way he plays the game but his carry to score his try in the first half of the game shows that stats don't tell you the whole story when it comes to the effectiveness of the carry.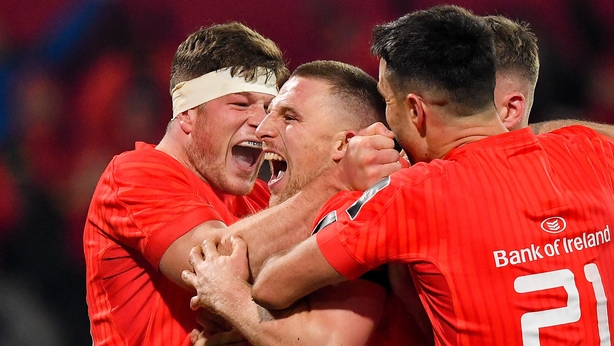 He brought a couple of Ulstermen over the line with him in the act of scoring and regularly takes on ball that others don't want into a brick wall of the defence. He takes a lot of punishment for his team when the ball becomes slow and it can't be underestimated. We didn't get to see the CJ and Jack Conan battle play out because of an unfortunate injury to Conan but a lot of the dirty work that Stander does shouldn't go unnoticed.
Munster now face into a Champions Cup game away to a struggling Ospreys side who will be welcoming back some of their talent from the Welsh squad. A key part of this will be how Ospreys reintegrate their internationals into the team.
Munster have already been through some of the steps to integration which can be a difficult thing to do. Timings can be out in terms of lineout and attack play, some combinations may not have time to get on the same wave length and it can cause some disruption to the flow of the game. It will make for tough selections to try to get the balance right and some of the Welsh players may still be fatigued from the World Cup so it'll be interesting to see what happens.
While Leinster have one of the easier home games, Connacht welcome a star studded Montpellier and Ulster are away to Bath. It won't be an easy weekend for Irish rugby in general but they should come out on top in at least two of these fixtures which will do Irish confidence no harm when it comes to getting back to business in the six nations after Christmas.
But for now the Champions Cup is back and we'll all welcome a change from the World Cup analysis.