Connacht coach Andy Friend admitted his side were outplayed and overpowered in a 42-11 Guinness Pro14 victory for Leinster at the Sportsground on Friday night.
The home side seemed shell-shocked as Leinster surged forward from the outset and had no answer to blue waves of pressure until after the interval.
"It wasn't a pretty night, on many fronts," Friend told RTÉ Sport.
"We copped a few more injuries and we met a quality Leinster side.
"We always knew they were going to be quality, but they dominated us in the first 40 minutes and they went in to the break 29 points up.
"I suppose the only saving grace is that we showed a fair bit of spirit in the second half and fought hard and it was one try apiece, but the damage was done.
"We talked at half-time.
"You have to get your body in front, it's a desire thing.
"We didn't show it in the first 40 minutes, but in the second 40 minutes we started to."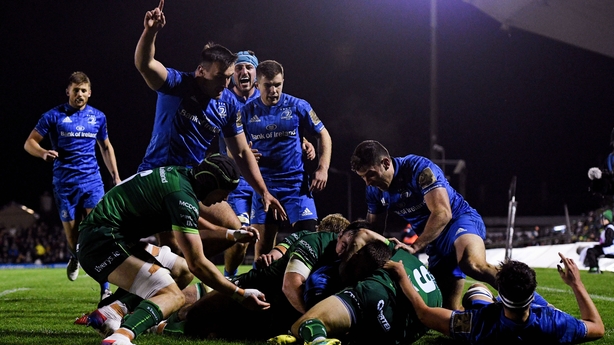 Connacht's campaign to date has been characterised by a mean defence - one that seemed to go missing against their provincial rivals - but a magnanimous Friend was keen to heap praise on his rivals when pressed on his side's frailties at the back.    
"I suppose that's a reflection of the quality of the Leinster side," Friend said. "They carried with real intent. 
"They had multiple options out there and every collision was a genuine contest, which they dominated more than we did. 
"We've got to learn from that, but they're Pro14 champions for a reason and last year's Champions Cup finalists for a reason. 
"We want to be that team, so we've got to be better." 
Connacht's next assignment will come against Montpellier in the Heineken Champions Cup, but they'll almost certainly have to face that challenge shorn of a number of players, including Sean O'Brien, who was forced off with a shoulder problem in the first half having only returned from injury.