Rassie Erasmus divided opinion among many Munster supporters on both his arrival to and departure from the province.
When he arrived in the summer of 2016 he came in as director of rugby above the much-loved legend Anthony Foley.
While pure rugby heads would have known of his Springbok pedigree and technical coaching ability, he was still very much unheralded and somewhat of an unknown in the Northern Hemisphere.
When he departed some 18 months later, the province had begun to find its feet after the most difficult of previous seasons and the manner in which Erasmus had conducted himself and orchestrated the team both on and, more importantly at the time, off the pitch meant that his departure was again the subject of some debate and differing opinions.
While most totally respected that a chance to become director of rugby of his home nation was something that could not and should not be turned down there was still a sense that a contract was a contract and the province would once again be starting over.
On Saturday Rassie Erasmus played a significant role in uniting a nation.
In the 18 months that he had been both director of rugby and head coach he had helped transform the struggling team into world-beaters.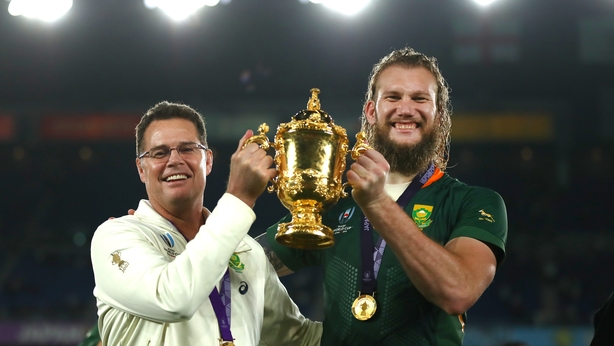 Munster fans again may have mixed emotions and thoughts of what might have been but also can feel rightly proud that perhaps a little bit of what Rassie learned in Munster was taken back to his homeland, adapted, adjusted, added to and perfected.
South Africa have nearly always played a forwards-dominated game based on set-piece dominance, with strong athletic, hard nosed forwards doing the basics very well but now they have a level of intensity and aggression that the previously unstoppable England could not cope with.
Now breathe easy non-Munster fans, I am not necessarily saying that it is identical to Munster, no, what I am suggesting is that a forwards-dominated game plan with the backs patiently waiting for their chance to shine is something we would have been used to.
He of course took Aled Waters, Munster's strength and condition coach with him along with his long time friend Jacques Nienaber as physio turned defence coach.
The icing on the cake for Munster fans eking out a connection to the success was the sight of Felix Jones with a World Cup medal around his neck.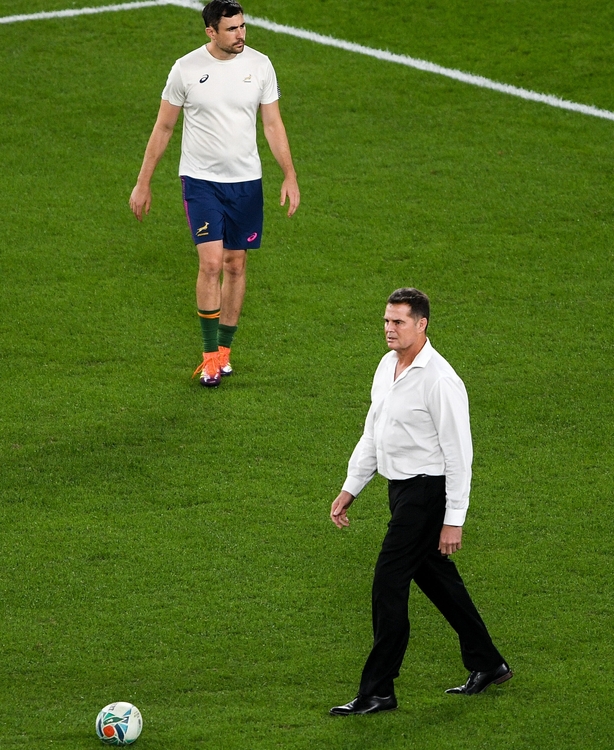 Felix will know more than most about patiently waiting for your chance to shine while the forwards battle on.
How fabulous to see both Mapimpi and Kolbe score two brilliant tries towards the end of the match.
We sat watching as Kolbe turned Joe Marler inside out, stepped Owen Farrell and dotted down past a flailing Billy Vunipola. He gives hope to so many, hope that if you are good enough it doesn't matter what size you are or what colour you are.
It would also appear that Munster will once again benefit from some South African influence in their playing ranks with the rumoured signings of the hugely influential and powerful centre Damian de Allende and the 24-year-old second row RG Snyman.
Felix, Rassie and co must indeed have painted a shining light on the Munster experience. The only downside will be the long wait for their proposed arrivals next summer.
Obviously one of the most iconic pictures of the whole World Cup was the sight of Siya Kolisi lifting the Webb Ellis trophy.
His story is well documented and well read at this stage and his post-match interview should be played over and over again to adults and children of all ages.
As with all the matches we watched them with our three children and if you have been reading these articles you will know that Bill, our seven-year-old has been fascinated by it all.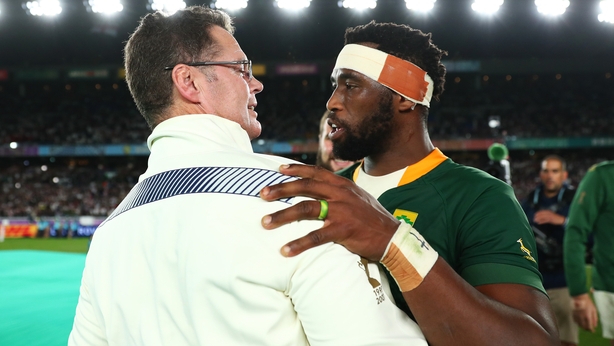 He came out to me after the presentation to ask why was everyone saying that Kolisi was the first black man to lift the trophy and why was it important?
He then went though all the teams that had won since 1987 to see if anyone had a black captain. I explained that in South Africa black people are not always treated the same as white people so it was really special that he was the captain.
To my innocent boy the colour of Kolisi's skin had no relevance, the fact that "people would be mean to people" because they were black was something he just couldn't get his head around.
Bill has learned a lot during this World Cup. He has improved his memory skills no end.
He has learned to write scores into small boxes but not very neatly. He has learned that wanting and believing your team will win is not enough. He has learned that the favourites don't always win and that Japan is actually good at rugby.
He is already making plans for France 2023. He has declared that himself and myself are going.
It's just the two of us mind as I have brought Sally to three World Cups already (2007, 2014, 2017) and Roisin to two (2014 and 2017). He has told them that it doesn't matter that 2014 and 2017 were women's World Cups because they still count and they got to go and he didn't.
In this house rugby is rugby and we will head to the pitches of Bruff, Scarriff, Nenagh and UCD this weekend playing a bit of rugby with friends, making memories and dreaming of bigger things that may come.
On Sunday myself and the girls (Bill has a blitz and is raging he can't go too) head to UCD to support the Irish women's team as they make their competitive start to a busy 10 months that will hopefully end in World Cup qualification next September.
Go well, girls.