Johnny Sexton says Saracens current problems don't detract from the Champions Cup successes over the last four years.
The London club beat Leinster in last season's final and also claimed the top prize in 2016 and 2017.
But the holders have been hit with a fine of over £5million and have been docked 35 points in the Premiership for breaching that competition's salary cap rules.
They intend to appeal that ruling but declined to send representatives to this morning's Champions Cup launch in Cardiff.
Director of Rugby Mark McCall and captain Brad Barritt were due to speak to the media in Cardiff this morning but did not turn up.
A statement from the organisers European Professional Club Rugby said: "EPCR is disappointed to learn of Saracens' decision to make their club representatives unavailable for today's official 2019/20 Season Launch of the Heineken Champions Cup and Challenge Cup in Cardiff.
"EPCR will now consider what action is appropriate in this instance and will be making no further comment at this time."
Asked by RTÉ Sport's Damien O'Meara if he felt that their dealings affected the outcome on the pitch last May, Ireland captain Sexton said: "Not from a European point of view, I think they are European champions three times in the last four years and rightly so.
"They can't have anybody judge them on the salary cap because there is no salary cap in European rugby.
"They can deal with their Premiership stuff away from us. It's nothing to do with us.
"Obviously, the Premiership teams, they can ...I don't even know the ins and outs of it.
"It's so far from what we care about, yeah they are European champions and no one can take that away from them."
All four Irish provinces are in attendance with Leo Cullen and Sexton, the coach and captain of last year's beaten finalists Leinster present.
Johann van Graan and Rory Scannell from Munster, Dan McFarland and Iain Henderson from Ulster and Connacht's Andy Friend and Jarrad Butler, who has just signed a new two-year deal with the club, are also in the Principality Stadium.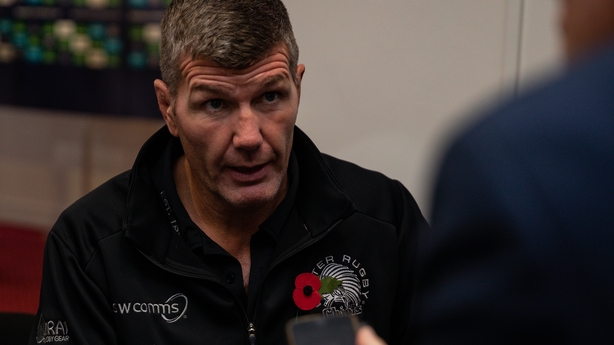 Speaking at the launch, the director of rugby at beaten Premiership finalists in 2018 and 2019 Rob Baxter (above) said: "If this is upheld it's pretty obvious those titles have been won unfairly.
"If you're asking me would I like to walk into Sandy Park and see three Premiership trophies there, I would love to.
"In reality do I see that happening? No. There are too many other factors that come into play.
"I believe the way we played in the final last year would have beaten any other team in the Premiership.
"But the whole truth is if Saracens had been operating with a different group of players last season they may not have got to the final and if a different team had been there they might have outperformed us on the day.
"It would be ridiculous for me to say they were givens. How many results could have been different in the course of a season and the top four could have been created differently.
"Every one of the games, semi-finals and finals would have been different. To sit here and say 'we should have been given the title' is a little bit like a shortcut when the season is what you do as whole."