The two semi-finals of the World Cup showed us the best and worst of rugby, contrasting a ferociously paced contest with offloads and an attacking flair versus a kicking stalemate with very slow ball.
England have been on the rise since beating Ireland in Dublin back in February. Eddie Jones was spot on tactically but, crucially, his players were so fired up and fearless going into their semi-final against the back-to-back champions the All Blacks.
They came out of the blocks fast and were 7-0 up after just a couple of minutes showing their intent.
They spread the ball wide, offloaded when the time was right, forcing New Zealand backwards until Manu Tuilagi picked the ball with a yard to go and put his team in front - an aggressive attacking strategy if you've ever seen one.
There were murmurs that England would have to stifle the All Blacks' game but it looked like no one in the English camp paid any heed to that. They went out to do a job and put it up to New Zealand very early on.
George Ford was the link between the backs and the forwards. The out-half of a team usually is.
We're used to seeing him take the ball to the line and make very good decisions to play others into space but I was impressed by his support lines from plays that looked like it would be a forward to carry to try to create quick ball. The attack didn't just stop there though.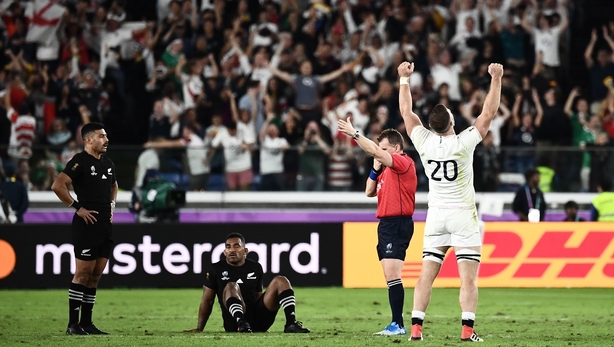 England kept the ball alive with Ford offering the vehicle to shift it again before the ruck was formed.
Sam Underhill and Tom Curry stole the show with a defensive masterclass. New Zealand didn't actually create a scoring opportunity. Their only try came from an uncharacteristic overthrow at the lineout from Jamie George just five metres from his own line and Ardie Savea was the beneficiary.
Underhill took all the credit after the match for his 16 tackles, all executed with textbook technique, one of which he landed on All Blacks captain Kieran Reid and another at a vital stage to turn the momentum after Jordie Barrett thought he would run the ball out of his own 22.
It wasn't just Underhill that was fired up. Farrell and Ford, both sons of defence coaches, landed 15 tackles each as an out-half and first centre.
Along with the English tactics, Jones clearly instilled the bite of an underdog throughout the team and built that up beyond the realms of reality. They were never huge underdogs but they played as such with a major chip on their shoulder.
The first half finished 7-0 to England sparking thoughts that they may have left this one behind them because they didn't convert all that energy and disruption into points.
They came out of the blocks again in the second half and had a second try disallowed. The score may not read like an attacking masterclass but two ruled out tries on top of their 19 points against the All Blacks displayed their ambition.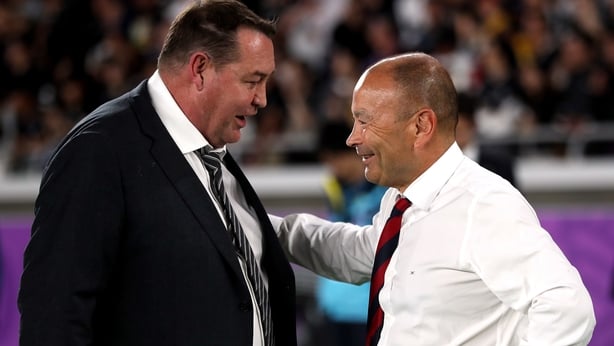 Maro Itoje won the man-of-the-match award for his 15 tackles and non-acceptance of the New Zealand set-piece platform which gave England back possession at critical moments.
English pressure squeezed 11 penalties from New Zealand, which isn't out of character. They gave away 13 against Ireland so it's pretty much the norm for them.
Other teams can't afford to give away that much possession and territory and it certainly caught up with them here. England were 5/6 from the tee, four from Ford, one from Farrell and a missed long-range effort from Elliot Daly.
It finished 19-7 to England in the end and despite the 19-16 scoreline in the other semi-final, all the rugby was played on Saturday. Wales' loss to South Africa on Sunday was a different ball game.
There were 80 kicks from hand in total in the second game. None of the two teams backed their attack although Wales did find some space on the left touchline on a few occasions.
It was almost like they were afraid to increase the tempo against South Africa because there were a number of times that Gareth Davies was missing from the scrum-half position and nobody else got the ball moving despite the line break and fast ball. They allowed the Springboks defence to set and slow the game to a halt.
There was a total of four offloads between the two teams compared to the other semi-final which boasted 23.
South Africa actually only passed the ball 67 times in the whole game and if you consider the scrum-half usually passes the ball from a ruck or set piece to allow the game to flow then there weren't too many passes left over for the rest of the team.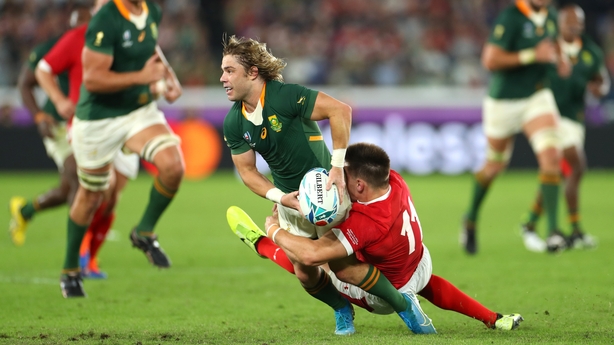 The game centred around Faf de Clerk. He kicked the ball 19 times on his own. Despite his dominant play-making role it was actually Handre Pollard that provided the spark for quick ball that resulted in a Damian De Allende try to open the game up after 56 minutes.
Wales were brave enough to come back at South Africa to draw the game with a try of their own from a scrum which fed Josh Adams down the left hand side.
Before that they allowed South Africa to defend them for about 30 phases on their line because they showed very little variation other than a pick and go with another forward trying to drive the ball carrier through a hole.
This isn't enough in a semi-final of a World Cup. The defence isn't going to be beaten on their line by a one-out carry; there's too much pride at that stage of a tournament and given Rassie Erasmus' mentality of 'you vs him' in defence they were never going to give up the yard on the tackle line without having to make a decision about who they should hit.
There were still 66 kicks in the English semi-final but both teams combined to throw 395 passes versus just 182 in the second fixture. It was possible that the weather conditions were worse in Yokohama the second time round but it can't be blamed for some of the stifling tactics of the Springboks.
The fear is now that they will attempt to stifle the English attack this weekend. With one day less in terms of recovery they will face a bruising English pack and it could prove to be a tough turnaround for South Africa.
It is one just more hurdle for a team that was written off just a few years ago however.
Both of these teams have timed their charge to the World Cup final expertly yet only one can peak at the most important time.
This Saturday will be a physical and tight affair once again but rugby itself might need England to come out on top.