Former Ireland scrum-half Tomas O'Leary has argued the team's regimented structure under the coaching of Joe Schmidt may have negatively impacted upon the players' skill levels.
After almost six-and-a-half years in charge, Schmidt departs as Ireland's most successful ever coach, having won three Six Nations titles, including a Grand Slam, and amassed a 72% win ratio.
However, after a glorious 2018, which represented the high-water mark of Schmidt's time of charge, the team's form dipped drastically in 2019, with Ireland's attacking game in particular drawing ire for its increasing predictability.
O'Leary, who won a Grand Slam with Ireland in 2009, suggests that one of Schmidt's greatest strengths, his meticulous attention to detail, could actually have contributed to the malaise that's afflicted the team in 2019.
"The most disappointing aspect of this Irish team over the last 24 months is the lack of skill level and the lack of ambition they've shown," O'Leary said on Saturday Sport on RTE Radio 1.
"Under Schmidt, he's a very demanding coach. Like he said, he's lived this for the last six years.
"He created a very regimented structure for these players to play under. Even in terms of the amount of time they spent on analysis and analysing their own performances and other teams.
"One criticism coming from camp is that it was probably too structured. Some players probably craved that and almost became dependent on it.
"That's probably why our skill levels didn't progress. Players were probably not free - or didn't feel free enough - to make decisions on the go. Maybe they felt a little pressured by the structure that Schmidt created.
"Obviously, when you have basic knock-ons or your kicking isn't up to standard, that can't be attributed to the coach.
"But over the last 18 months, the ambition hasn't been evident. We haven't been pushing the pen to try and be more expansive or get more passes on the ball. It's been very regimented."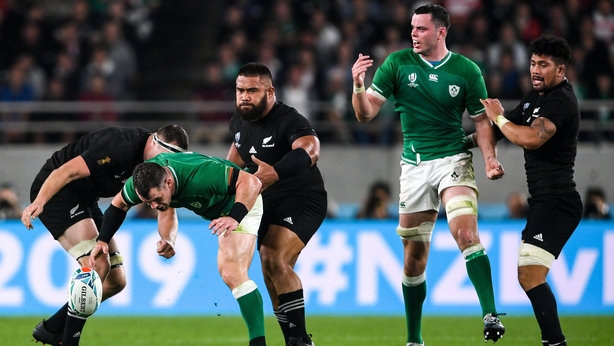 O'Leary noted that the Leinster team who won successive Heineken Cups under Schmidt in 2011 and 2012 were one of the most skillful and expansive teams in Europe.
Ireland, under Schmidt's direction, have been dramatically more conservative, which has been attributed to the lack of time a coach enjoys with the players at international level.
Japan and New Zealand, O'Leary says, give lie to the theory that international teams haven't the time to develop expansive and creative gameplans. The ex-Munster scrum-half feels Schmidt hit upon a formula for success - a conservative formula - in the Six Nations and opted to stick with it.
"There's an almost direct dichotomy between Schmidt when he coached Leinster and the style of play they had - and they were well renowned for having the ambition of being the best passing team in Europe - and the style of play that this current Irish team has.
"That's interesting in that both teams were both under Schmidt's control. Maybe, it's the fact that international rugby doesn't give the space and time.
"But then the likes of Japan and New Zealand are demonstrating that you can play with that ambition and that skill level.
"I think we've missed a trick. We've had success in the Six Nations under Schmidt and he's just said we'll drive on and we'll keep going because this has given us success. That is the most disappointing thing about this Irish team - the lack of ambition and skill level they've shown."
As for the players, O'Leary insists that the raw material is there in the back plan to play a more flair-based game.
"You look at our back three, the likes of Keith Earls and Larmour coming on today, Stockdale's try-scoring record is unbelievable.
"Even going forward, James Lowe will qualify for Ireland. Garry Ringrose is one of the most exciting players with ball in hand."