Ireland may still be reeling from the shock defeat inflicted on them by Japan in Shizuoka on Saturday, but Russia assistant coach Mark McDermott has described the prospect of facing a whole host of familiar faces on Thursday morning as "daunting".
McDermott, who played for both Leinster and Munster before embarking on his coaching career, will even face his own nephew, with Andrew Conway set to start for Ireland in Kobe.
Explaining how he ended up coaching with the Bears, who qualified after World Rugby announced that Romania had been found guilty of fielding ineligible players during the European qualifying tournament, McDermott told RTÉ Sport: "The journey with Russia began three years ago.
"I was sticking my toe in the water to see how I like it and how they liked me.
"Then we went on a bit of a rollercoaster - we didn't qualify for the World Cup but then circumstances beyond our control lead us to qualify for the World Cup.
"We've had 11 months to prepare for the World Cup, but it's brilliant."
The 48-year-old had been approached previously by the Rugby Union of Russia, but circumstances dictated that the offer had to be rebuffed, at least initially.
"I got a phone call, out of the blue, from a gentleman called Howard Thomas, who was working with the Russian Rugby Union at the time," McDermott explained.
"I'd been recommended to him by Conor O'Shea and Stephen Aboud, who used to work in the IRFU.
"At the time, it didn't fit my schedule, but six months later circumstances changed, so I said 'sure I'll give this guy a call back again'.
"I said I'd come over and have a look and the first trip was to Siberia - Krasnoyarsk - 24 1/2 hours door to door. I'd a quick shower breakfast and I was out on a rugby pitch.
"I struck it off with a guy from Krasnoyarsk, who at the time was the Russia head coach.
"After three years with him, he kind of liked me, I kind of liked him, and he said 'will you come on board with the national team?' And here we are."
While expectations were muted heading into the tournament, Russia were well beaten in their pool openers by Japan (30-10) and Samoa (34-9), with their coach lamenting some naive defending and dubious refereeing decisions.
"We're two matches into the tournament now," McDermott said.
"Prior to it, and for me, I thought we had the ability to win a game. That ship has sailed now.
"Japan, who we knew a bit about because we played them in November and we were very close to them in November, we probably leaked 14 points there that we shouldn't have. That might have put a different complexion on it.
"Then we had Samoa, who I thought was probably our biggest opportunity, because leading into the World Cup they hadn't been the Samoa of old.
"Like Russia, they have their own internal problems, in terms of participation in the competition.
"But the four-day turnaround, which is not an excuse, it's a reality, was a problem. And possibly two suspect decisions didn't go our way."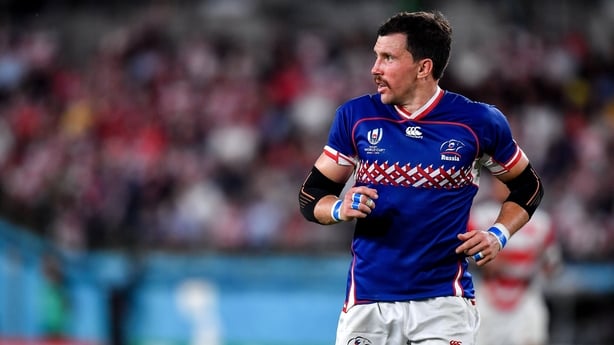 The connection to Ireland doesn't end with McDermott, Blackrock alumnus and former UCD and Northmapton star Vasily Artemyev is Russia's talisman.
"He's the lifeblood of the team," his coach enthused.
"Leadership on a rugby pitch is not something that comes naturally to Russian players. They're a product of their environment. When they're back in their club environment, they're told what to do and they just do it, irrespective of whether that's right or wrong. Sometimes you don't get too many guys challenging you. They're quite happy to accept things.
"Vasily, I suppose, is different because he's had that experience outside of Russia, alongside one or two of the other players.
"He's looked up to by a lot of the players for what he's achieved in the game, both outside Russia and also within Russia."
Like many viewers, McDermott couldn't quite believe his eyes on Saturday as Japan rallied from behind to record a deserved win over Ireland.
"I kind of sat in disbelief as the second half evolved, because for those first 20 minutes they were so comfortable," he said.
"They were exploiting where Japan are weak; putting the ball up in the air and getting huge returns from that, and then something changed.
"None of us can quite put our finger on it, but the Japanese are a resilient side, they're very well drilled, they do exactly what it says on the tin and they do it at 100mph."
"I sent him a little message today to take it easy on us, but the response wasn't what I was hoping to hear!"
With Ireland heading into the encounter realising that a bonus-point win is a must, McDermott finds himself facing a stronger starting line-up than he would have anticipated last week.
"The side that they've selected is a particularly strong side, there are some fresh legs coming into it," he said.
"There are some collective units that are very, very powerful - you've a whole Munster front five playing.
"Johnny Sexton is playing at 10 and captaining the side. That is going to bring a different edge to them, so it's daunting. "
Munster winger Andrew Conway is unlikely to offer his uncle any respite on Thursday, with McDermott admitting: "I sent him a little message today to take it easy on us, but the response wasn't what I was hoping to hear!
"I think he did very well in the lead-up to the World Cup, his selection for the squad was merited and he proved that in the first game."
Follow Ireland v Russia on Thursday (kick-off 11.15am) via the live blog on RTÉ.ie/Sport and the News Now App, watch live on RTÉ2 from 10.30am or listen to live match commentary on RTÉ Radio 1 from 11am.