For a full three minutes and 36 seconds Ireland believed.
Unfolding in front of a passionate and disbelieving Lansdowne Road crowd, a major shock was on the cards.
The trusty boot of Ralph Keyes had kept Ireland in touch with Australia and Gordon Hamilton's converted try was worth a three-point lead with just over four minutes to play.
Then came Michael Lynagh, in the corner. Silence.
Little did we know back then that 28 years later Ireland would never come closer to a World Cup semi-final spot.
In the six attempts since the national team have never failed better.
Hamilton won 10 Ireland caps in a flurry, nine in a ten-month spell in 1991 and the last in October 1992.
He was 26 when he won his first cap in the 21-13 Five Nations loss to France in Dublin.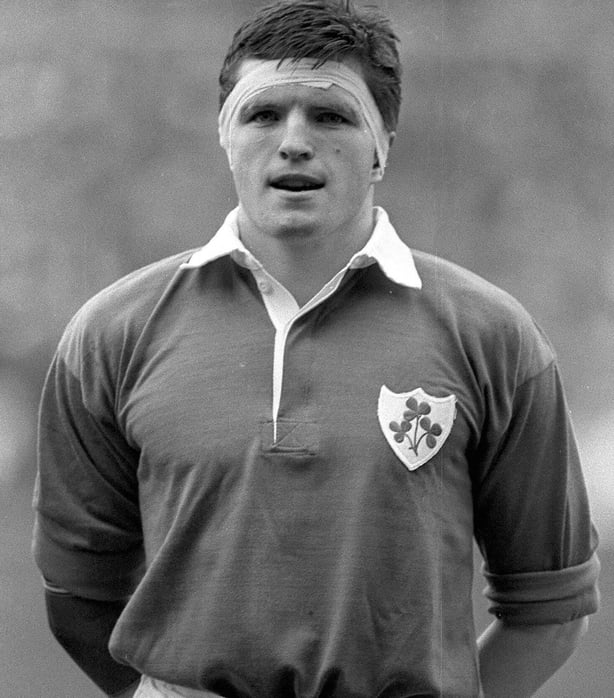 "I was a late runner, I'd been in university in Scotland and down in London for a while and I wasn't on the radar," Hamilton tells RTÉ Sport.
"I came back to Belfast in '87 and played with NIFC and took a couple of seasons to get on the Ulster team.
"Following on from a B game against Scotland in Christmas 1990 I got picked for Ireland.
"I was considered small and I was always disappointed in that because I thought I was big enough.
"I was mobile, not afraid of contact and I had a bit of pace, I enjoyed getting the ball in a bit of space."
They were lean days and Ireland only avoided the Wooden Spoon courtesy of a better scoring difference than Wales, with whom they had shared a draw.
Despite that, and an away loss to Namibia that summer, Hamilton says a team spirit that belied the results existed.
"The senior players, Phillip Matthews, Donal Lenihan. Dessie Fitzgerald, Brendan Mullin always felt that we were good enough," recalls Hamilton.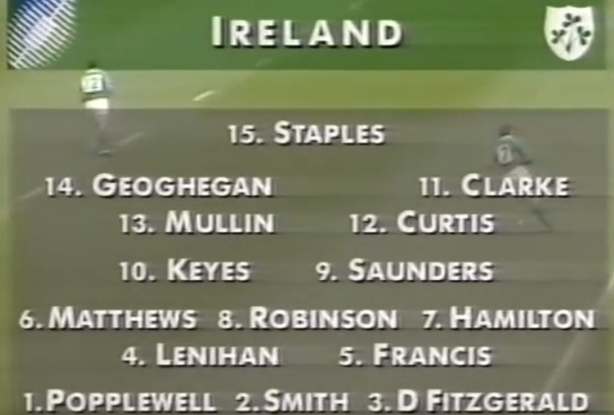 "We felt we were better than the results and we weren't afraid of a contest. The Five Nations or the warm-up wasn't great either but the core was good.
"The longer we spent together the fitter and more cohesive we got. We went in determined and the senior guys made the younger guys feel that way, that we were good enough for anyone."
If Ireland began to get grips with professionalism in the early noughties, back in 1991 it was blood and thunder, kick and clap, and tactics, as far as Hamilton could make out, were not high on the agenda.
Careful not to come across as a bad student, he recalls: "If I said there was very little talk of tactics I would worry that I hadn't been listening.
"You might have talked about individuals on the other sides, their strengths and weaknesses, who to chase and who to avoid, how to keep the ball from an English pack or how to run the legs off someone.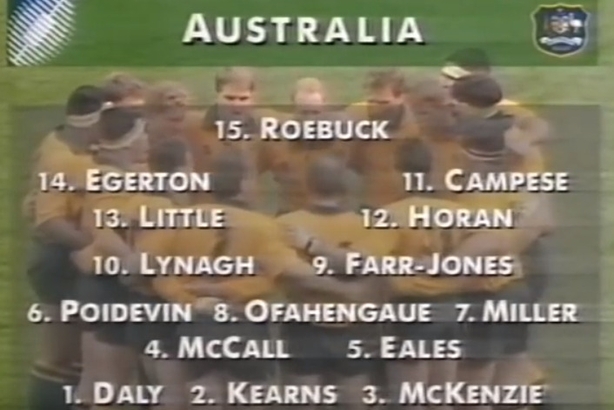 "Maybe the senior players spent more time on how you might approach the game but I don't remember being told much more than to get the basics right: chase hard, tackle hard and support and know the calls.
"There was an element of preparation but nowhere near what goes into it today. The Australians were much more advanced in terms of game plan and individual thinking."
Ireland beat Zimbabwe (55-11) and Japan (32-16) in their opening two games to qualify for the quarter-final and had a date with Scotland in Edinburgh to decide who topped the pool. The winner would meet Western Samoa in the quarters.
"I remember the Japanese being quite hard work at various stages," he says.
"Getting the points on the board against those guys was important in terms of building confidence. We were on top against Scotland for a large part of it and those wins were important for momentum and we did quite well against Scotland.
"There were individuals on that team, Finlay Calder, John Jeffrey, Gary Armstrong, who won that game for them at the end."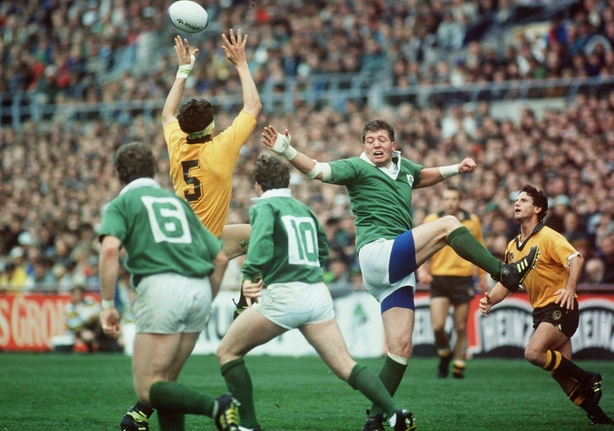 The two wins and the performance against the Scots had given the team a new "belief".
"The fact that we'd been on tour and together here for four or five weeks, there was a good buzz around the place and I can't remember fretting too much about Australia being full of stars.
"We knew they were good but video analysis was fairly non-existent in those days. We got stuck into them
"The old hands were very good at reminding us that we were right in there. There was no letting up. By the standards of the day we were pretty fit and up for the 80 minutes."
Trailing 15-12 Jim Staples put boot to ball close to Ireland's own 10m line, Jack Clarke gave chase and beat David Campese, who had scored two tries already, to the pick-up.
The Aussie winger snagged Clarke on the other 10m line but had Hamilton in support.
We need your consent to load this YouTube contentWe use YouTube to manage extra content that can set cookies on your device and collect data about your activity. Please review their details and accept them to load the content.Manage Preferences
"I still remember getting the ball in my hand with space in front of me, which was always hard to get," says the ex-flanker.
"I liked getting out wide in support and getting the ball in hand. At that level that year no sooner did you get the ball than you were cut down by someone.
"It was so much harder to find space. That was the first time in the year that I'd got space.
"I also remember expecting to be hauled down sooner than I was; the line came up quicker than I thought it would.
"At the time I didn't expect to get that far. I was concerned about keeping the ball alive; you can see me looking around a bit to see where the next guy in green was. I only just got there, a foot less would have been a foot too short."
Ireland led and Australia were running out of time.
But they worked a scrum inside the Ireland 22 and then got the ball wide. Campese was stopped two yards short and the ball somehow bobbled back perfectly for the supporting Lynagh.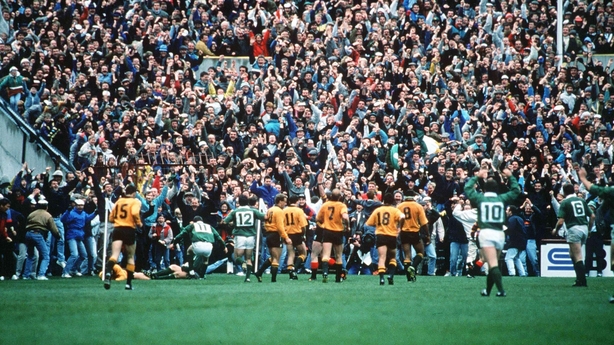 "It was a lucky bounce," he says.
"Our defence wasn't very clever in those days. A good schoolboy team would probably do better than we did then but they were a very good attacking side and had that mental awareness, mental strength to go right to the end like you see all professional teams do now.
"They were ahead of their time in so many ways, thankfully good enough to go on and win it.
"It was more of a resignation on our part than a case of thinking we should have cut that out. There were just a much better attacking side than we were a defending side."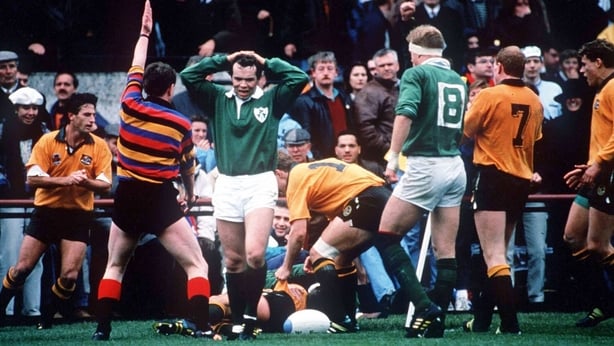 Had Ciaran Fitzgerald's side managed to hold on, Hamilton's try would now be an iconic sporting moment in Irish history, on a par with the best soccer, boxing and golfing achievements. Now it is a Reeling in the Years staple.
But Hamilton, who now runs a small investment firm in Belfast, has fond memories of that day but just hopes that Ireland can go one better this time.
"I look back on it as a really good moment in a totally different generation."
Ireland have never come closer to a #RWC semi-final spot than in 1991 - Gordon Hamilton walks down memory lane with @micilglennon #rterugby https://t.co/H6N7UmAXDm pic.twitter.com/MgTT5t9n9Q

— RTÉ Sport (@RTEsport) September 17, 2019
Follow Ireland v Scotland on Sunday (kick-off 8.45am) via the live blog on RTÉ.ie/Sport and the News Now App, watch live on RTÉ2 from 8am or listen to live match commentary on RTÉ Radio 1.