Irish rugby should not consider itself any different when it comes to doping risks, according to Brian O'Driscoll.
The former Ireland and Lions captain says that young players in the schools system are in a "danger zone."
While the IRFU works with Sport Ireland, which puts rugby in a high risk category, to carry out an anti-doping programme that covers "provincial and academy players, All Ireland League (AIL) and young players on a pathway to professional/elite rugby, i.e. provincial & national panels Under-18, Under-19 & Under-20 squads", the schools system is not currently in their jurisdiction.
Just five of the Ireland squad currently in Japan preparing for Sunday's opening World Cup match against Scotland did not play schools rugby in Ireland. Rhys Ruddock, Bundee Aki, CJ Stander and Jean Kleyn all moved here after school age, while Tadhg Furlong joined Leinster's academy from New Ross RFC.
"Rugby players now...are absolutely susceptible to the pressures that come with team selection," O'Driscoll told RTE Sport.
"When you bring money and livelihoods into a game, you're naturally going to have people wanting to push the boundaries and potentially cheat.
"If you can discourage anyone of any group to not give in to the temptations of what might help their future career, that's very, very important and if that's 15 or 16-year-olds, so be it.
"I have to say I think that's where the issue potentially lies because I know and I've had conversations with people and I understand the pressure that kids are under.
"I've had conversations with people and I understand the pressure that kids are under"
"Also, you can be persuaded a little bit.
"It's easier than with someone with a little bit more experience and know-how of life [to say no]
"If you are told as a younger kid, and I'm not talking specifically of Ireland but the world over, as a 15 or 16-year-old that you are not going to make the cut because you are not big enough, that's the worrying age profile.
"I would be a believer in [testing] because I do think that that is a danger zone or a danger age."
The topic of doping risks came up after O'Driscoll, speaking at a Guinness Belief event, had tweeted a picture of the bare-chested South Africa team, who are a potential quarter-final opponent for Joe Schmidt's side in Japan.
The ex-Leinster centre was eager to point out that he was making absolutely no connection between their fitness levels and doping.
But South Africa rugby has been in the headlines recently with 13-cap Springbok Aphiwe Dyantyi, World Rugby's Breakthrough Player of the Year in 2018, charged with a doping offence after testing positive for "multiple anabolic steroids and metabolites".
"We've seen it, players have been caught out. Dyantyi a few weeks ago," said O'Driscoll.
"It's not like there's just question marks, we're seeing that there are hot cases"
"It's not like there's just question marks, we're seeing that there are hot cases happening.
"We have to be extremely vigilant and always on the look-out. In any financial gain situation, you have people trying to push the boundaries."
Former Munster player Gerbrandt Grobler had served a two-year ban for doping while playing in South Africa.
More worryingly, at last year's Craven Week, a prestigious annual schoolboys rugby tournament in South Africa , six players from 122 tested returned positive results with one parent admitting to injecting her son with steroids.
Asked last year about his experience, former South Africa U20s captain and current Ireland international CJ Stander told RTE Sport: "Luckily I was in the sticks in schools.
"The only thing I got was some good eggs, that was the only protein we got.
"The area I was from there was nothing like that, even when I moved to the Bulls [in 2009]. If it did happen I was probably raised in a house not to do stuff like that. I am not going to say it did not happen but if it did I've never seen anything like that."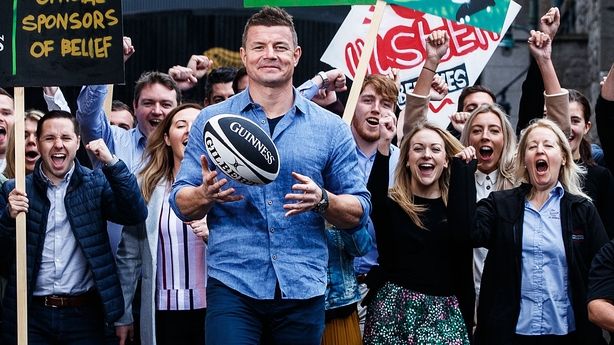 O'Driscoll was keen to stress that any complacency based on Ireland's good record would be foolish and called upon the relevant authorities to be proactive.
"We are absolutely not [any] different," said the former Blackrock College student.
"I'm certainly not pointing any fingers specifically at one nation - far from it.
"As professional rugby finds its feet 25 years since the advent of it, it's an increasingly likely issue coming down the line unless we take grip of it.
"I would absolutely encourage Sport Ireland or any governing body to be able to discourage kids from 15 or 16 from doing that because they have testing."
The IRFU and Leinster Rugby have been contacted for comment.
Follow Ireland v Scotland on Sunday (kick-off 8.45am) via the live blog on RTÉ.ie/Sport and the News Now App, watch live on RTÉ2 from 8am or listen to live match commentary on RTÉ Radio 1.