Joe Schmidt said Ireland's display against Wales had restored 'self-confidence' to the team after the heavy loss in Twickenham last weekend. 
Under the closed roof of the Principality Stadium, Ireland registered their first win at the Cardiff venue since the World Cup warm-up game in August 2015. 
Two first half Jacob Stockdale tries and a 60th minute penalty try saw the visitors establish a commanding 22-3 lead. Wales, with substitute Rhys Patchell pulling the strings, mounted a late surge but Ireland held on to win. 
The nature of the loss in London had triggered a wave of concern among supporters, fearful of another 2007-style letdown. 
Speaking to reporters afterwards, Schmidt acknowledged the England game had "created a lot of angst" outside the group but stressed that the team were vulnerable after the Portugal training camp. 
"I knew we were very heavy legged last week. I know we created a lot of angst for people outside the environment.
"We knew how hard we worked in Portugal. We knew we would be a bit vulnerable. 
"But as I said during the week, it was still unacceptable to fall off the number of tackles as we did and to be as far behind the game as we were.
"I think we restored a bit of self confidence this week as much as anything.
"We got to make sure we build on that. There'll be a number of changes next week."
The Ireland coach was especially pleased by the defensive display, which was greatly improved after the error-ridden debacle of seven days ago. 
"It was really solid," Schmidt told RTÉ Sport. "We didn't have a huge amount of territory or possession in the first half, as much as we built a lead. 
"But our tackle accuracy was so much better. I think we only slipped off four or five in the first half.
"That makes a massive difference because it allowed us to keep pressure on them. When they did spill the ball, we made the most of it a couple of times.
"We only had a third of the ball. Our dominance was more our defensive dominance. But if you get that, it gives you a lot of confidence. We made a couple of half chances and maybe squandered one or two as well. One in the first half and the one where Andrew Conway scored in the first half, I thought it was a pretty tough call to be a forward pass. 
Midway through the second half, Ireland appeared set for a handsome victory, one which, remarkably, would have carried them to the top of the world rankings. 
Schmidt said there was room for improvement in how Ireland's defence managed the closing stages but stressed that he wasn't that bothered by the margin of victory. 
"You've got to say it's a good day at the office when you come here and win. Because it's a very tough place to come and win.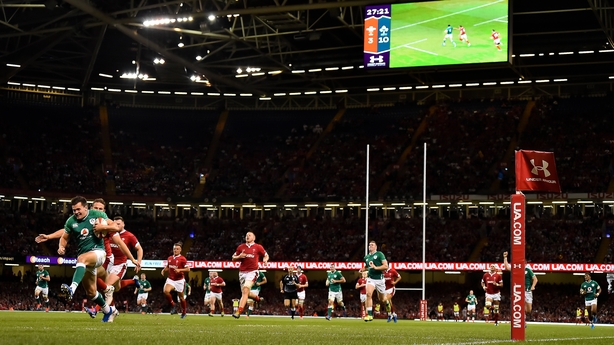 "Any margin is good here. When we got away and had kept them try-less, that was really important for us. At about 22-3, we were delighted. They obviously scored those two tries in the last 20 minutes. 
"I think it was a good defensive workout for us. We actually kept them off our line really well. It was disappointing, we slipped off a couple of tackles near the line when you're a bit desperate. 
"We'll have a look at that and how we can solve that. Because we're going to have to defend those areas of the pitch against other teams. We're going to need to be accurate enough to do it and deny them those scoring opportunities they got today."
Both sides were relatively experimental and stacked with fringe players - especially Wales - with Schmidt saying this was part of an agreement with Warren Gatland beforehand that they would use the game in that fashion. 
"I talked to Gats a couple of weeks. We were very conscious of providing an opportunity for each other to give some players' game time.
"So, there some pre-conceived replacement timings and it worked out reasonably well for us."
The Ireland coach confirmed they had emerged from the encounter without picking up any injuries and the coach's attention will now turn to the finalisation of the squad in the next couple of days.  
"There's not clear-cut lines between some players. There's going to be some very tight decisions. And when those tight decisions are made, someone who is very close to going is going to miss out and someone who is just ahead is going to be on the plane. 
"We'll have a look at it tonight. We'll get together possibly Sunday evening/Monday morning. All the coaches will have a look at it. We'll get some feedback on injuries. I don't think we've anything too major. There was a few guys with cramp out there. It was very humid and there was a little bit of moisture on the ball just from sweat. A little bit of cramp was hopefully all we've encountered injury-wise. 
"I have no discourse with the 31 (players selected). They get an email and an assembly time.
"The other guys, I'll have a conversation with if I can get to them. And grab a coffee with them and chat through how we made the decision and what the rationale for our decision was.
"I'll certainly have a conversation with them, if it has to be by telephone. Because then we splinter off and that will be that.
"It's a big day tomorrow - and it's a tough day tomorrow. Tough day for the players today and it's a tough day for the coaches tomorrow."