Conor Murray takes the bad news pretty well.
If, going by what Joe Schmidt said yesterday about players having decided not to partake in commercial gigs in the week ahead of internationals, then it's a watching brief against Wales on Saturday for the scrum-half.
It may have been the plan to rest the Lions number nine for this outing but that's not to say he wouldn't love to get back out on the field, having lasted just half of the brutal defeat to England and missed ten minutes of that for a Head Injury Assessment.
"So that's me dropped so, is it?" the Limerick man, a late replacement for Tadhg Furlong at an Aviva event, says with a smile.
Schmidt knows what the 30-year-old can do and how central he is to making an impact at the World Cup, notwithstanding that Ireland have beaten both England and New Zealand without his services in recent years.
Getting to a first-ever semi-final in Japan is the priority but Murray admits that his World Cup hopes flashed before his eyes in the moments after colliding with Jonny May's elbow in the 20th minute of the thrashing by England last Saturday.
It looked bad in real time, it looked worse on the replays.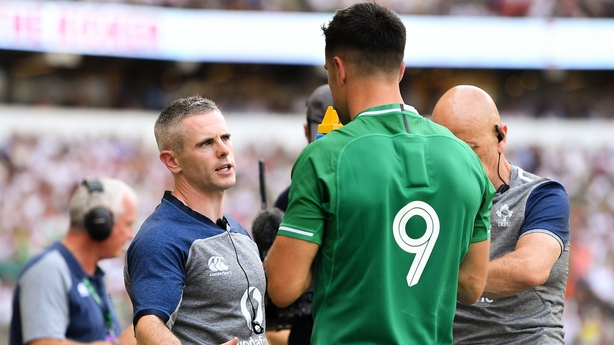 "I got a bit of a scare to be honest," said Murray, who has 73 Ireland caps and a history of neck problems.
"I just got my head on the wrong side of a tackle. It's hard. For me especially, it's a work on.
"Just trying to get my head and feet right. It's tough in the wider channels when you're thinking someone like Jonny May who is really quick and you don't want to get beaten on the outside and he steps back inside.
"I just got a bit of a bang, passed everything, passed the HIA and stuff, thankfully.
"After we chatted at half-time that was the decision we made as a group really.
"In other games where I came back on and I was fine, I just wore it a little. It was a big enough impact so maybe wiser to take your beating and come back and fight another day.
"I'm not saying that a Test match against England isn't important, but it was just wiser to take the precaution and come off. I trained fully Monday and yesterday.
"I presume anyone who gets a bang between now and when the plane sets off is going to be worried about it because it's such a big thing."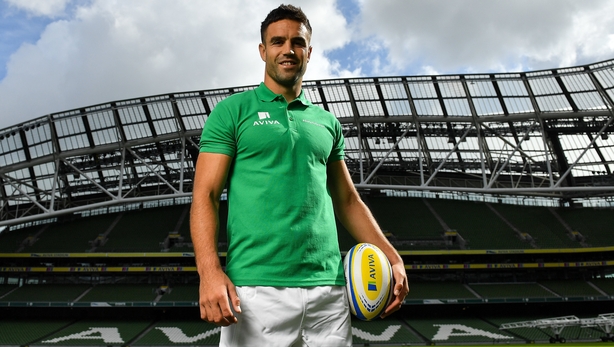 On the manner of the loss, a 57-15 record defeat to England, Murray refused to lay any blame on management's door, insisting that the players must take responsibility.
Asked if they were correctly primed for Eddie Jones' match-hardened juggernaut, Murray said: "Absolutely. What you are asking, there's a 100% confidence in the coaching set-up.
"They give us more than enough during the week and a more than detailed plan of what we are going to do and the players drive that.
"The week flowed really well and then you go into a game, you miss first-up tackles and skill-execution isn't there, the coaches can't control that.
"The onus is on the players to get that right. There was nothing wrong with our plan in the first 20 it was going quite well. We found a bit of space behind and we were getting gain-line.
"Our kicking game was quite good and then the last 60 was terrible but it's definitely down to the players.
"A coach can't control someone throwing a pass along the ground or missing a tackle or not scanning, things that we've done all week.
"That's why it was so frustrating because it was unlike what we were supposed to do and what was expected of us."
Follow Wales v Ireland via our live blog on RTÉ.ie and the News Now app, or listen to commentary on RTÉ Radio 1's Saturday Sport.
Aviva are giving 20 U10 boys' and U12 girls' teams the chance to fulfil their dreams by playing on the same pitch as their heroes on September 22 while Conor and the team are up against Scotland in Japan. See aviva.ie/safetodream or Aviva Ireland social channels using #SafeToDream for details