Wallabies great Stephen Larkham said he's keen to develop Munster's attacking game as he begins his new role as the province's senior coach.
Larkham, a celebrated Australian out-half and a central figure on the 1999 World Cup winning team, left Michael Cheika's backroom team in February, disclosing that the pair had very different philosophies on how the game should be played.
Shortly afterwards, Munster head coach Johann Van Graan contacted Larkham and enticed him north.
As a player, Larkham, always a non-kicking out-half, was famed for his ability to unlock defences and ignite his backline, and he has targeted 'line-breaks' as one area where Munster have room for improvement.
"If you look at the attack last year, it's a pretty good record. I think we averaged seven tries per game in Cork and maybe 26 points a game was our average over the two competitions, so it's a pretty good record.
"But there's little bit of detail listening to the presentation before. Probably, we didn't create enough line-breaks. We didn't beat enough players one-on-one. So, we're looking at a bit of that detail at the moment.
"We want to maintain what we've had over the last couple of years and what we've been working towards.
"Last year was probably a step up in terms of attack, so maintaining that and then putting a bit of detail around other areas of the attack."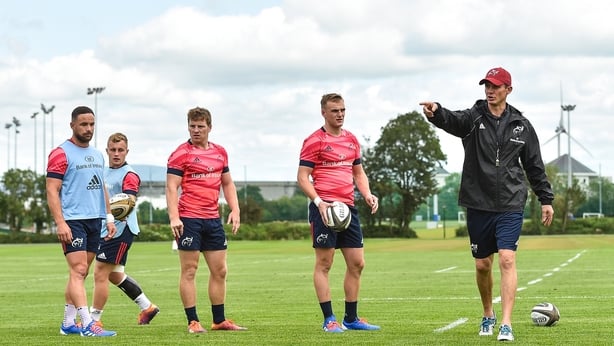 Larkham is enthused by the personnel he'll be able to call upon in the backline, though he did joke that if the national team's form from the weekend holds, he may have longer to work with them than he anticipates.
"Well, it's an Irish backline. If you look at the form of Ireland on Saturday, maybe they won't be away too long! Maybe they'll be back early! But hopefully they're there for a fair period and Ireland actually do okay.
"Conor (Murray), Joey (Carbery), Chris (Farrell), Andy (Conway), Keith (Earls) and Mike (Haley), then add the other guys who are here in the set-up and it's a pretty impressive backline.
"Go through the forwards, I don't know all their names at the moment, still getting my head around that. I'm pretty good with the backline as I've spent time with them but not so good on the forwards.
"At the top level, when we get those players back, we've got a really competitive team that can beat any other team in the competition.
"In the meantime, some of the results last year with guys who were probably new to the set-up, fantastic results, so there's good depth here as well. At the moment, we're training with 45 guys and we haven't got the internationals back yet."
It's Larkham's first foray into Northern hemisphere rugby. He pointed out that he typically only headed north in November as part of touring sides.
The former out-half admitted that he didn't respect the northern game enough as a player, saying he and his fellow players were invariably preoccupied with New Zealand.
However, he says that's changed the more he's learned as a coach.
"I didn't respect the Northern hemisphere teams enough, nor the competition up here enough. Obviously, so engrossed with the Tri Nations, Super Rugby and the Bledisloe Cup. My biggest rival growing up was the All Blacks so it was all about beating the All Blacks.
"But there's a whole other world over here if I look at the game at the weekend. It was amazing to watch the raw power of England and the way Ireland battled through that game.
"There's some amazing rugby being played up here in tough conditions. You got to respect it. As a player, I didn't respect it enough. Now, as a coach, I'm learning to respect it better."