Cian Healy hobbled off late in the first half of Ireland's Rugby World Cup warm-up match with England. 
The prop looked uncomfortable and clasped his ankle while receiving on-field treatment but managed to walk off the pitch. 
The Leinster prop was later shown with an ice pack on his ankle on the sideline. 
Just prior to that, in the 30th minute, Conor Murray passed a Head Injury Assessment but was subsequently replaced at half-time. 
The scrum-half was injured as he attempted to tackle England's Jonny May with TV footage showing Murray's head making contact with the winger's elbow before the Munster man fell to the ground.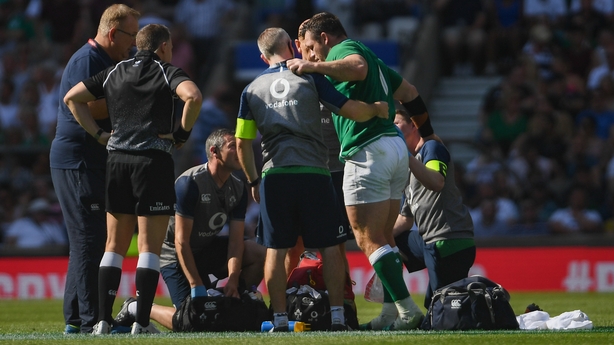 However, he returned for the final minutes of the first period after which Ireland trailed 22-10 but did not emerge at the start of the second half with Luke McGrath taking his place. 
Afterwards, Joe Schmidt told Sky Sports: "Conor, he passed HIA, he was fine.
"We had a bit of a breakdown in communication. I wasn't going to put him back on so that was a slip-up on our behalf so we got him off."
Regarding Healy's injury the coach was more downbeat.
He told RTÉ Sport's Michael Corcoran: "Cian, his x-ray is normal but obviously there's a bit more to look at with him spraining that ankle but what was more promising than Joey was that he was at least able to walk from the pitch.
"He's sore now but if we can keep the swelling down and get a decent look at it hopefully he'll be back in a shorter time-frame than Joey."
Ireland open their RWC 2019 against Scotland in 29 days' time.