London Irish have no choice but to back summer signing Paddy Jackson, but former Ireland international Bernard Jackman says it is a 'difficult' situation for all parties.
Yesterday head coach Les Kiss insisted the majority of Exiles fans support the decision to sign Jackson, who continues to rebuild his career after his Ireland and Ulster contracts were terminated.
Along with team-mate Stuart Olding, the 27-year-old was acquitted of rape in March last year following a nine-week trial during which it was revealed the provincial colleagues exchanged lewd text messages that were derogatory towards women.
An outcry from women's rights organisations ensued and some London Irish fans have vowed to boycott the Madejski Stadium in opposition at his arrival, while long-standing sponsor Diageo has ended its sponsorship of the club.
"The bottom line is that if you look at everything, I think there is more support than not. That's my view," Kiss said.
They must have genuine feedback that this is accepted by the majority
Speaking on 2fm's Game On, the former Dragons head coach says such a statement was unlikely to have been made without supporting evidence.
"They obviously feel like they do have the backing of the majority of the fans," he said. "They must have genuine feedback that this is accepted by the majority.
"From Les' point of view, he has to back Paddy now. They have made the decision to sign him. It looks like they will try and move on and attack the season."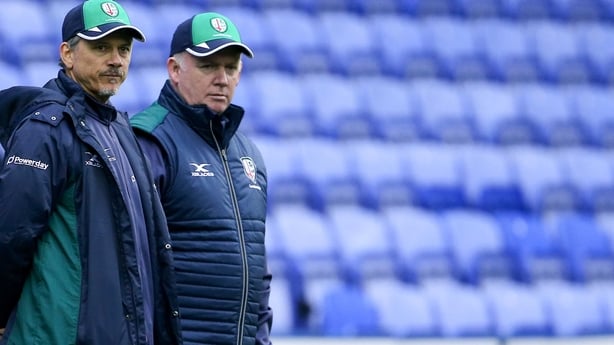 With Australian internationals Nick Phipps, Curtis Rona, Sean O'Brien and Scotland prop Allan Dell all moving to the club, London Irish hope the heavy investment will pay dividends back in the top-flight, but Jackman cautions that it will be a tall order for the newly-formed squad.
"It looks really ambitious. The challenge for Declan Kidney and Les Kiss is to gel the squad and gather cohesion.
"They are fighting to stay up. If they do that, it will be a successful season, but it will be difficult to do that."