Ireland rugby international Leah Lyons understands better than most the influence a female athlete can have on the next generation.
Lyons is one of the 15 World Rugby ambassadors involved in the new women's campaign 'Try and Stop Us', aimed at driving increased participation and engagement among fans, audiences, players and investors in the game.
With a 28% increase in female registered players since 2017 and the biggest ever representation of women on the World Rugby Council with 17 members in position, improvements are being seen both on and off the pitch.
The global campaign, launched in Dublin today, highlighted that for the second year running, more young girls have become involved in rugby globally.
Lyons, who completed her first season with Harlequins Ladies in the Tyrrells Premier 15s, England's new domestic women's club rugby competition, knows full well the far-reaching impact female players can have on the next generation.
The first ever female game she went to was an Ireland - England international, and she sought out Irish international Marie Barrett for an autograph.
"I gave her a flag to go sign," she told RTÉ Sport. "She went and came back with a signed jersey."
I had never owned an Irish jersey until I played for Ireland
The gesture by her Munster underage coach and future Munster Ladies coach had far-reaching consequences.
"It was, 'this is what I want, I want to play for Ireland'. From then on I decided I wouldn't buy myself an Irish jersey, I'm going to earn an Irish jersey. I had never owned an Irish jersey until I played for Ireland. That was my thing."
Not that it was a straight-forward path for a budding player in Ballyhooly, Co. Cork. Her sports-mad dad brought her and her twin brother to matches and training, but U13 level was the cut-off point for girls playing with boys on the rugby field.
There was just the small issue of not having a girls team.
"Dad said he'd set up a team. He set-up Fermoy Lionesses and I played with them up to senior level and moved my way up through the stages."
After her contract as girls' participation officer with Munster Rugby finished in May, Lyons decided on a fresh challenge. Emails were sent and she found herself in London. Quins lost just twice in the regular season to advance to the final against Saracens, where a 33-17 defeat was her lot.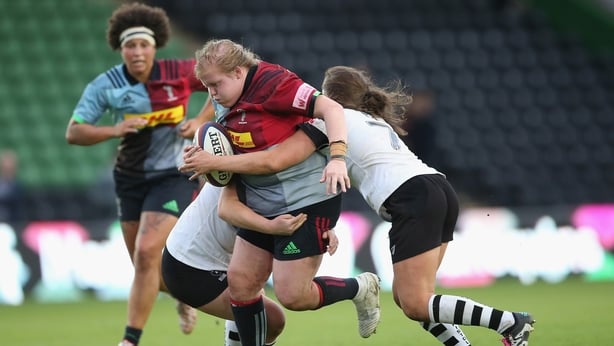 It was in the midst of the season where she first became aware of the 'Try and Stop Us' campaign, one which she didn't hesitate to get involved with.
"For these girls to come see us at matches, they get to see us on TV, they see us on a bigger platform. Every kid is on social media. If they can see us on that being a positive influence, they might be like, 'maybe one day I can do this one day and I can achieve'."
Her time at London has been a learning curve and sharing a dressing room with English, Australian, Swedish and Scottish players has given a different perspective.
For us become professional, it's probably not there yet
Does she see a path to professionalism for female players in this country?
"A lot of our girls work 40 hours a week and train on top of that. For us to become professional, it's probably not there yet.
"It could be on the way. The IRFU are doing what they can at the moment to get to that stage. I might not see it, but I'd be hopeful of seeing it for the younger generations."
World Rugby chairman Bill Beaumont said the work being done for the women's game is likely to have a significant impact.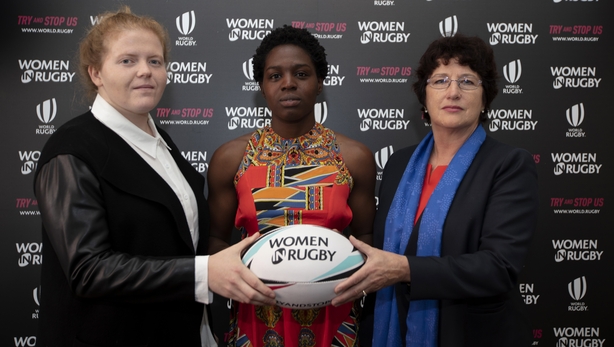 "We firmly believe that the development of women in rugby is the single biggest opportunity for our sports to grow in the next decade," he said.
"From the highest levels of the sport's governance to grassroots participation, we are wholly committed to driving gender-balance and ensuring that women have equal opportunities both on and off the field."