Some speculated that Leinster were in danger of going into their Heineken Champions Cup semi-final clash with Toulouse a little undercooked, given the extent of their rotation in the weeks building up to the Aviva Stadium showdown.
Johnny Sexton made his first start this year for the province, and hadn't played at all since Ireland's chastening Six Nations defeat to Wales.
Robbie Henshaw and Devin Toner returned, while the mercurial James Lowe was stationed on the wing.
"In the preparation for this game now they made 13 changes against Benetton, 11 changes against Glasgow... so they are under-cooked again by any metric," fretted Eddie O'Sullivan ahead of the game.
He need not have worried.
Leinster brushed past the French outfit 30-12 to march into the decider against Saracens in style. The returning men were hungry, not rusty, fresh rather than being a little off.
"They performed really well because they were fit and healthy and ready to train," said scrum coach John Fogarty on Tuesday.
"Johnny was amazing last week in how he led the team through the week; the same with Robbie. Robbie is a quiet guy but he gives so much confidence to people around him; with Devin in the lineout it's the same.
"They really committed hard to training, bought into a plan and they were also ready for a game of that magnitude. They were rested and had lots of juice in the tank. It was a mix of all those things: fresh, fit, really good prep with lots of energy through the week, and then we got a performance at the end of the week. That's how it played out."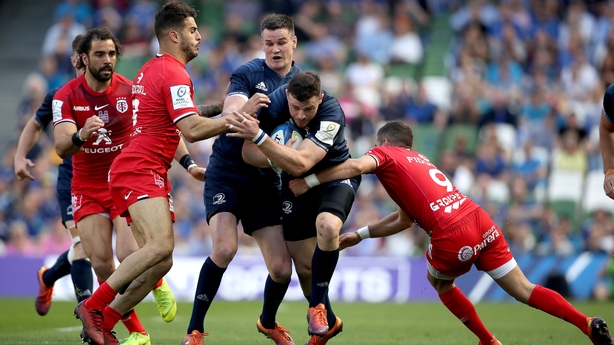 Fogarty paid special tribute to Sexton, who looked like his old self in a controlled and confident performance.
"Johnny is an unbelievably competitive person. He had such an influence on us during the week and then such a positive influence in that first half in particular. I thought he was amazing.
"We're lucky we have these guys in the building. And we're lucky they are so hungry. We've lots of confidence in the group."
Another man to sparkle at Lansdowne Road was Lowe, who really put his hand up for a starting berth in the final with another show-stopping turn.
"He's such a handful, I've said it before," added Fogarty.
"The play leading up to his try was excellent from the team, but the finish was equally excellent. I'm not sure who else could have scored that try. He's so much energy on that wing.
"James is important. He takes a shot. Saracens are such a good defensive team, they can put you under so much pressure without the ball. It's very difficult to attack against a team like that. The likes of Jack Conan, using his footwork like he did against Toulouse, will become very important.
"And obviously someone like James Lowe could offer us a lot of energy on the wing. It will all be taken into consideration."
Fogarty has been linked with the Ireland scrum coach to replace the Japan-bound Greg Feek, but when asked if a move was in the works, he laughed: "I'm not willing to comment on that one!"