Former Ireland captain Donal Lenihan condemned the actions of the Munster supporter who confronted Billy Vunipola after Saturday's semi-final but said the Saracens number eight had brought much trouble on himself and had to expect some of the hostile reaction.
Vunipola had been at the centre of controversy during the week after he 'liked' and defended an Instagram post by Israel Folau in which the Australian full back made homophobic remarks.
The number eight, who was awarded the Man of the Match award after Saracens' victory in Coventry, was booed throughout the match by Munster supporters and was confronted by a spectator at the end of the match.
Speaking on 2fm's Game On, Lenihan condemned the pitch invading fan and admitted his personal distaste for targeted booing but said that Vunipola's views "did not sit well with the values of rugby" and that the player had been the architect of his own difficulties.
"There's no place for any fan coming out of the stand and running onto the pitch. I think Munster will deal with that. They've already said he's not a member of the supporters' club so I'm not quite sure what action they can take.
"Personally, I don't like to see a player get booed from the stands but, that said, he has attracted this. Billy Vunipola is a very high-profile player. He has his views but look, there's a time and a place for that.
"I think he was totally offside in his homophobic comments last week. He's got to expect there's going to be some reaction to that.
"From what we could see on the TV cameras, he did seem to use the booing as personal motivation.
"I don't like to see fans booing individual players but Billy Vunipola was the architect of his own downfall. His views have no place in the game and they don't sit well with the values of rugby.
"It's a difficult one but he's brought all that on himself."
Following Saturday's defeat, Munster have now lost their last seven European Cup semi-finals, a run which commenced with their famous loss to Leinster in Croke Park in 2009, a watershed game which ultimately shifted the balance of power in provincial rugby.
For Lenihan, Munster have shown admirable consistency to reach this stage so regularly over the past decade but there's no mystery why they keep falling at this hurdle.
They're continually meeting sides who are too strong for them.
"Munster have done well to make the last-four in the past three seasons but they've come up against teams in all those semi-finals who were stronger, had more to their game and were better all-round teams.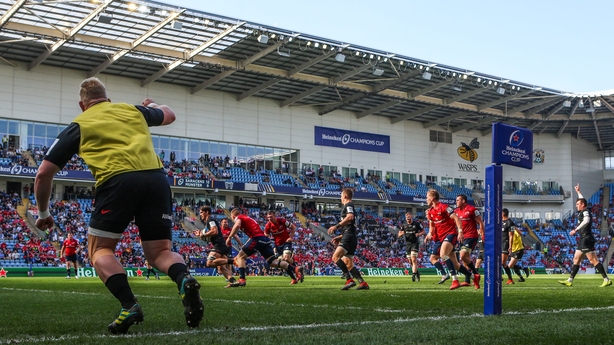 "I thought it was very much reminiscent of the semi-final in the Aviva Stadium two years ago when Saracens kind of sized up Munster in the first half. There was only a three-point differential at half-time in both games (2017 and 2019 semi-finals).
"It's no mean feat to be a top-four side in Europe with the consistency they've shown. But they just don't have the all-round game to make the final step at the moment."
The former Munster and Ireland lock said Munster's primary issue was down to resources, noting that they are unlikely to greatly strengthen their playing staff in the summer.
Therefore, the focus may fall on the wider coaching team, with Lenihan suggesting that a fresh voice could be introduced to help develop their attacking game.
"They don't have the resources to make the final step in the playing sphere. Nick McCarthy in Leinster is the only addition to the squad for next year.
"They're going to have to look at themselves from a structure and organisational point of view. Are they getting the best out of the players they have?
"I think, by and large, they are. But their capacity to stress the best defences - it just hasn't happened at this level of rugby.
"They just don't seem to have the creativity that the likes of Leinster, Saracens, Racing and Toulouse have. And that's an issue because once you get to this stage of the tournament, you're not going to bully teams up front the way that Munster do in the pool stages.
"You're going to have to get other strings to your bow. If the playing staff isn't going to change, you're going to have to look at whether you're getting the best out of your management group.
"They just don't seem to have the creativity that the likes of Leinster, Saracens, Racing and Toulouse have.
"Do they need to look at the attacking side of it? Ronan O'Gara's name has been mentioned but I don't see Ronan coming back to get involved in provincial coaching here yet. He has one or two more boxes to tick before he goes down that road.
"There's hope that Felix Jones is going to be involved next year and hopefully he is because he's added a lot. But I do think that they might need to look at things differently from an attacking perspective.
"And maybe an overseas attacking coach could add something different that's missing at the moment. The bottom line is that something has to change if you want a different outcome."