Rob Kearney gave the impression he felt Munster's pain on Saturday.
The 2006 and 2008 Heineken Cup champions fell under a hail of Saracens bombs as the English champions dominated the aerial duel during their 32-16 win.
They kicked 27 times from hand, many of which were batted back by the chasers who decided not to attempt clean catches, instead preferring to take their chances mopping up whatever breaking ball came their way.
More often than not, it worked, and Kearney can expect more of the same when Leinster and Sarries meet in next month's Heineken Champions Cup final in Newcastle
"Their kicking game was superb," full-back Kearney told RTÉ Sport after their 30-12 win over Toulouse.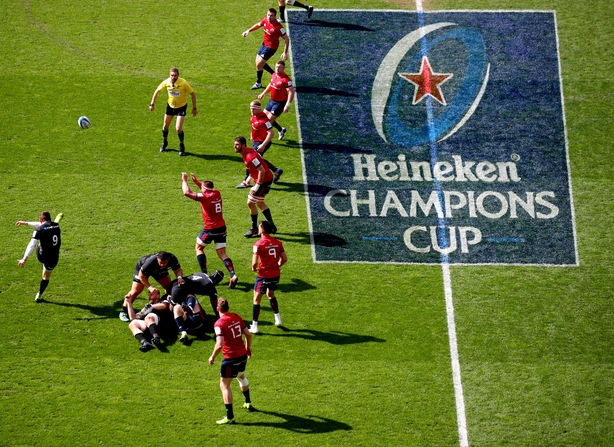 "I felt a little bit bad for the Munster back-three at times because Sarries were going up just to break ball and if a man is going up to do that, it's very hard to take a clean catch.
"We've seen a little bit of an insight into their exit strategy and it's something we're going to have to work on in the next couple of weeks.
"Obviously, our strategy will change a little bit depending on the opposition we're playing.
"It'll be a little bit of both [sticking with what Leinster do well and containing Sarries].
"They've got a big pack, some big runners. There is a big game-plan there of physicality and go-forward which we're going to need to contain."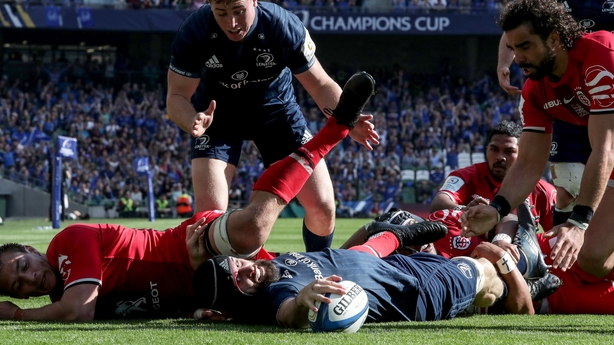 This time last year Leo Cullen's team charged into the final on the back of impressive wins over Saracens in the quarter-final and Scarlets in the semi.
But this season they struggled to get past Ulster, while Kearney admitted that they expected a better showing from the Top 14 leaders.
Asked how he would compare Leinster of this season to the team from 12 months ago, the 33-year-old Louth man said: "I'd like to think we've got a little bit more squad depth.
"We've lost a couple of players and we've had a few injuries this year but today we were very comfortable out there.
"Guys were very sure in each other's ability and we never looked over under-pressure.
"They had their purple patches but I'm still trying to weigh up if Toulouse didn't really play their best game today or if we didn't let them do it.
"It's probably a combination of both."
Meanwhile, despite the obvious frustration at losing to Leinster in such comprehensive fashion, Toulouse skipper Jerome Kaino was doing his best to remain upbeat.
With a place in the Top 14 Championship's knock-out stages already assured, the former New Zealand international believes they need to take the positives from their European adventure, which showed they are a resurgent force.
"I think our young group can take a lot of experience from that game," he said. "It's disappointing we couldn't get the result, but I think we still have another challenge ahead of us in the Top 14.
"We'll take a lot of experience, a lot of positives, from our European Cup campaign.
"I think they [Leinster] were able to build on their momentum. We defended well at times, but we weren't able to build on our momentum when we did get forward."