Johnny Sexton may not have lined out in blue since last December but that doesn't mean he wasn't working hard behind the scenes.
February and March were taken up with Six Nations duty and a campaign to be forgotten but that seems to have driven the Leinster captain on.
The out-half was back to his controlling best as the Heineken Champions Cup holders booked a date with Saracens in next month's final, as the two most recent winners go head to head in Newcastle on 11 May.
Without the 33-year-old at the controls Leinster managed to secure top spot in their Guinness Pro14 conference but they are a different machine under his steady hand.
The man of the match in the 30-12 semi-final win over Toulouse kicked 12 points, made 31 metres from nine runs, while racking up seven tackles.
"It's great to have Johnny back in the team," gushed Leo Cullen about the man sitting beside him at the post-match press conference.
"Behind the scenes he's always working hard to drive standards in the group.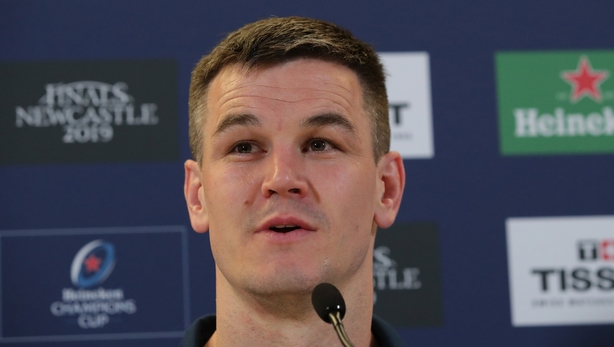 "That's an amazing quality, there's never an end point to it so even if we think we are doing things well he'll find other things that we can get better at. That's what we need in the group.
"All the teams are heavily loaded and everyone is gearing up to try and win the big games so the standard that Johnny sets for himself is exceptional and it rubs off on everyone else."
Sexton had revealed on Saturday that he was close to getting some game time against Glasgow last week but felt it wasn't worth the risk as he recovered from a quad issue.
"During the week it felt like I was cramming for a big exam," he said.
"I was trying to fit everything in, probably did a little bit too much as times. You'd think you'd learn with experience not to do that.
"But in such a big game and you haven't been on the pitch for a few weeks, it's different when you don't have that week in, week out, match-fitness, it's tough.
"It weights heavily on you but it's better to be fully fit than under-cooked, than to be playing every week and carrying injuries and niggles. It's good to get the body right and hopefully I can stay right for the rest of the season."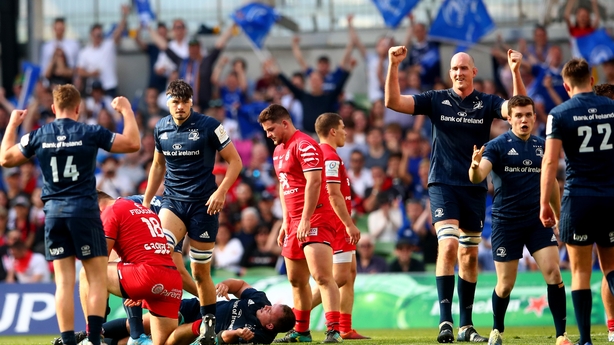 It's true that Toulouse didn't play to their potential but there was a job to be done as Leinster sought out a fifth final. Room for improvement, certainly.
"At times we played really well and in the semi-final there's always going to be periods where the other team has a purple patch and they had a few and we managed to hang in there," said Sexton.
"Other times we dominated those phases of play when they didn't have the ball but there were times when we got on top for a couple of phases and then switched off slightly and let them counter-attack.
"It was very pleasing to hold them try-less, it was an exceptional effort by everyone, it wasn't perfect but it was a great effort because they have been scoring tries for fun lately."
The current champs have three weeks to prepare for the St James' Park clash, a venue that they have never played at before.
Sexton says they will be pushed harder than ever before and that Mark McCall's team will have extra motivation after their 30-19 quarter-final defeat last season.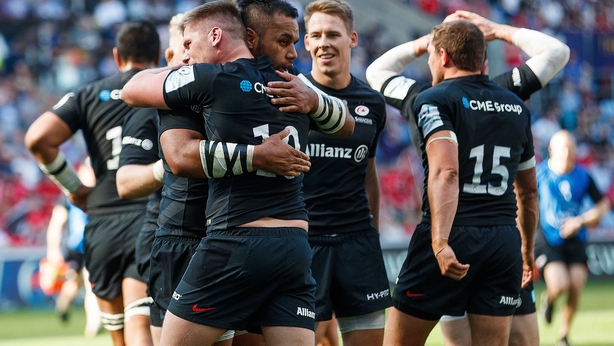 Asked why he expected it to be his side's toughest battle, Sexton replied: "Did you see the game [against Munster] yesterday? It was pretty physical and they are an outstanding side.
"I've heard them reference our game last year as a real turning point for them in terms of they didn't turn up on the day or fire as many punches as they wanted to.
"They probably felt they didn't perform as well on the day, that's what they say.
"Billy Vunipola didn't play last year, he'll be back, he's a huge player for them.
"You flip the switch straight away and you start thinking about them and I think it's going to be the toughest game for this group."