Johnny Sexton and Devin Toner will be given every chance to prove their fitness ahead of this weekend's Pro14 clash with Bennetton Rugby.
Both players missed last Heineken Champions Cup win over Ulster at Aviva Stadium, but both could be in the reckoning to return this weekend.
Sexton was withdrawn from the team to face Ulster as a precautionary measure with a tightness in his quad, while Toner continues to recover from ankle surgery.
Leinster scrum coach John Fogarty revealed: "With Johnny it wasn't a huge injury with his quad but enough to keep him out.
"Devin's returning from a longer injury, so both on them have to hit their markers in terms of this week, it's very difficult to say whether they will or not.
"They're in a position now where they're 'available' once they hit their bits during the week, so that's what we're looking for now, is to see how they get on throughout the week."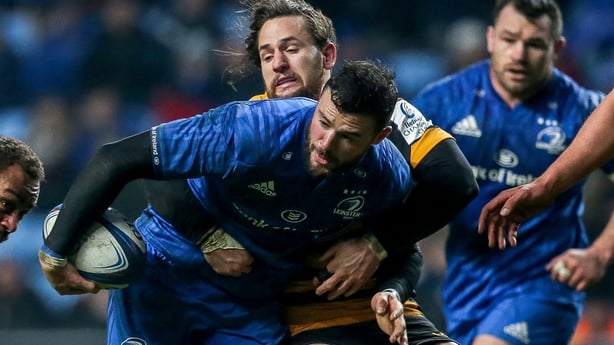 Meanwhile Robbie Henshaw is also nearing a return to action.
Henshaw has been sidelined since picking up a muscular injury in his leg against England in the Six Nations and it has taken longer than expected to heal.
Nevertheless, the Leinster centre and fullback, is finally beginning to see light at the end of the tunnel and Fogarty confirmed that he's closing in on a return to fitness.
"He's really, really frustrated with his injury. He initially thought that he'd be back sooner but it's dragged out," he said.
"Again he's stepping up his recovery this week and he's going to be assessed further. He's dying to get back, he's so important to us in finals rugby and with Ireland.
"The role he plays, he can make thing work in that backline and defensively he's excellent.
"He's someone that we'd like to see get back on the field and hopefully he hits all his bits this week and he's back."