Dan Leavy says missing out on the World Cup is haunting his thoughts but has vowed to return.
The Leinster and Ireland flanker suffered a serious knee injury during the province's Heineken Champions Cup win over Ulster on Saturday and will be in recovery until some stage next season.
Writing on his Instagram page, the 24-year-old said: "Struggling to put into words how devastated I am with the injury.
"Firstly, to miss the business end of the season with my Leinster brothers and our opportunity to pursue another European and league title.
"Secondly, to miss an opportunity to play in a World Cup in Japan is haunting my thoughts.
"All I have ever aimed for in my career is the opportunity to shine on the world stage for my country and do the nation and my family proud.
"I fully back the Ireland boys to make a little bit of history as they always do and will watch on as number one supporter.
"I have been blown away by the messages of support and encouragement I've received already. I am blessed to have the family and friends I do and thank everyone for their well wishes.
"Looking forward to starting the road to recovery soon. I will be back."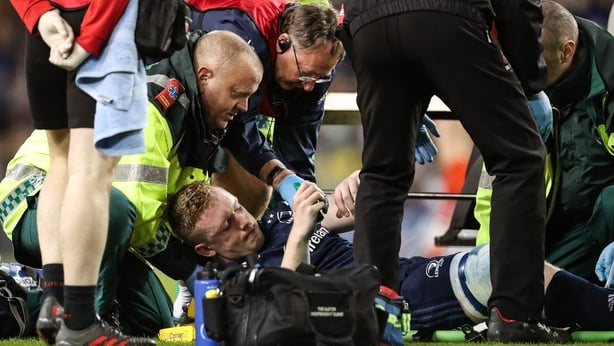 Team-mate Luke McGrath, who missed the Six Nations with a knee injury, also revealed that the injury to his friend has had an effect on the squad.
"Lads are feeling for poor Dan as well," said the scrum-half.
"It's a little bit of a mixed mood but it's important that we do park this.
"[We're] absolutely gutted for him, I really, really feel for him. I met up with him yesterday, his spirits, as you can imagine, are fairly low.
"It's just such a long time out of the game now that he has to spend but it's really challenging but it's important for us here that we support him as much as possible and try and stay positive with him because it's a long-term injury."
Scrum coach John Fogarty added: "He offers so much, gives the team a lot of confidence and both sides of the ball is such a threat.
"It's a massive loss and hopefully, he can get through the next few weeks and make a plan to get himself back."