Munster were made to work for their win against Zebre at the weekend and had a 'new old' face to thank partly for the win.
Munster were put under a lot of pressure in the first half where it took them the whole 40 minutes to finally cross the line for a score. Zebre were lively and unpredictable under Michael Bradley but it wasn't just loose, hopeful play. They moved Munster's defence around with clever offloading condensing the defensive line and a mixture between intelligent running lines and disruption at the ruck put Munster under pressure for their first score out wide.
Jack O'Donoghue was a standout performer early on despite Munster's stuttering first half. He carried ferociously and put himself about, he's almost like a new signing for Munster after having a long lay-off with a knee injury.
Jack was called into the academy at a young age during my time and was brought down to earth quickly in a collision with James Cronin but he's a genuinely tough guy with a work ethic and will hopefully have more involvement in the next few weeks.
The introduction of Tyler Bleyendaal and the return of a few internationals in the second half meant that Munster looked after the ball a bit more and made less unforced errors. The game becomes a lot less complicated when you go forward and don't turn over the ball, a somewhat oversimplified version of a rugby game plan but it stands for a lot.
A few crisp passes from Chris Farrell, an exquisite left-footed kick to the corner and a line break connecting with Bleyandaal both from Rory Scannell caused some chaos in the Zebre defensive line and Munster were able to take their chances. A hard-fought bonus point win in the end.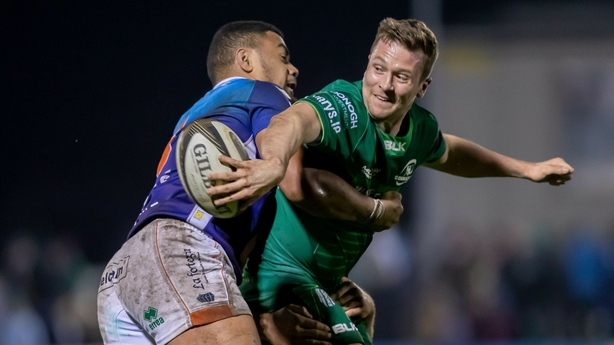 Tyler might have grasped the 10 jersey away from JJ Hanrahan in the second half and will probably wear it in Edinburgh next weekend if Joey Carbery fails to step up his rehab in training this week. He is expected to be fit but it's a welcome boost for Munster and the competition will be fully loaded in an important position.
Between an injury to Joey Carbery and Ross Byrne not holding a starting position with his province, Jack Carty's stock has risen quite a bit since the start of the Guinness Six Nations. I had wondered for a while what Carty had to do to get his chance but all of a sudden he's looking like a very capable back up for Johnny Sexton in the World Cup.
Jack kept me out of the Irish Youths back in 2008. He wasn't the only one but he was the starting out-half and he turned up to those underage camps a year younger than me and still oozed confidence and personality. He has come a long way since then to become Connacht's leading point scorer, fighting through some difficulties, which stands for a lot in terms of reliability going forward.
It's very interesting to watch how players develop at different times. It's something that I would have been conscious of in my own situation too because I was never someone that stormed through the academy and straight into the senior side. Jack played in the 2008 FIRA competition with some current pros and internationals.
If Leinster gel early on it could be a long Saturday evening for their visitors who are reporting more injury worries this week
Kieran Marmion was his half-back partner back then and Tadhg Furlong was as destructive as ever, but from the other side of the scrum. Marmion and Furlong both have many internationals caps at this stage but other players have to fight a little bit harder to get opportunities. It takes a lot of self-belief and resilience to keep going when teammates around you are getting their opportunities.
In Ireland we now have a lot of out-halves under Johnny Sexton that are proving capable of stepping up. That's without considering two former internationals exiled in England and France. We're not exactly in poor health in the position, which is not only promising with the World Cup on the horizon but far beyond that as well.
The AIL is taking a break this weekend, the last break before the 18 rounds of league games finish up and the standings will be confirmed. Luckily we have a semi-final to look forward to so a lot to play for still. The break will give me more time as a supporter to watch the European games this weekend and I'm looking forward to seeing how it pans out.
Munster have a great chance of progressing despite being away from home against Edinburgh. I'm sure it's something they won't fear. Ulster are up against it, away to a rebounding Leinster side that will be boosted by many returning internationals.
If Leinster gel early on it could be a long Saturday evening for their visitors who are reporting more injury worries this week.
Either way we'll have at least one Irish team contesting the semi-finals which is positive for Irish rugby.