It has been a mainly respectful yet highly competitive rivalry between Joe Schmidt and Warren Gatland, so it is fitting that the pair's time in opposition concludes with one final Six Nations shoot-out.
The teams will meet twice in August as part of the World Cup warm-up series, but that pales into insignificance in many ways with title and Grand Slam ambitions on the line in Cardiff on Saturday.
With 19 Six Nations campaigns and six titles between them, the New Zealanders will pit their wits against each other with plenty on the line.
A Welsh win would secure a third grand slam since Gatland succeeded Gareth Jenkins and a fourth title would edge him one ahead of Schmidt.
The Ireland head coach would have hoped to sign off in Cardiff with a Slam of his own, but the opportunity to spoil the party in Cardiff is an enticing one, not least to right one particular wrong.
In what will be his fourth time in charge of Ireland in Cardiff, Schmidt is seeking his first win. Indeed in the two Six Nations encounters there, his team are still awaiting their first try from open play.
So what sets the men apart?
Head to Head
Gatland won just two of his first Six Nations games against Ireland, but since Schmidt's arrival in the international arena, things have been more evenly split.
The ex-Clermont coach took the bragging rights when they first crossed paths in 2014, but the record now reads 4-2 to Gatland, though two of those were 2015 World Cup warm-up games. There is also the 16-16 draw three years ago thrown into the mix.
Wales' win in Cardiff two years ago was under the watch of Rob Howley and Robyn McBride, with Gatland preparing for the upcoming British and Irish Lions tour.
Schmidt has a better winning record against New Zealand (50%) than Wales (43%) and trips to the Principality Stadium have tested his tactical approach.
In his two Six Nations visits, the Welsh defence hasn't been breached from open play – just the penalty try in 2015 to show for their attacking endeavours – and two years ago were very much second best in a 22-9 loss.
Style
Asked last year about the traits of both coaches, Peter O'Mahony was at his diplomatic best. "They are different," was about as far as he ventured having worked with both in the Test arena.
The flanker was perfecting the art of the understatement.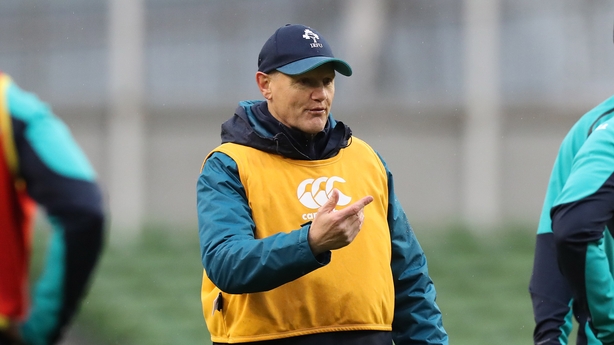 Schmidt is the ultimate hands-on coach.
While he has great trust in his coaching team, the 53-year-old is alive on the training pitch, going through drills with fine detail. The video analysis has gained almost mystical status, but the training sessions are his natural habitat.
"At times you are driven demented with him"
Things are cranked up a notch when things aren't going to plan; practice makes right and repetition is the order of the day.
"At times you are driven demented with him, but you know he is doing it for a reason – putting pressure on you in training, at meetings, to make sure on Saturday every box is ticked," Johnny Sexton said in the past.
Gatland on the other hand prefers a more director of rugby-type approach.
"He is not a tracksuit coach so to speak," former Wales and Lions prop Adam Jones said this week. "He is a good man-manager, doesn't say a lot. He would come up, give me a nudge in the side and say, 'ah, you're looking very fit.'"
While 'Warrenball' has been a term somewhat resented by the Kiwi for its simplicity, the mantra of bigger, faster, stronger has been the cornerstone of his time in charge. From a side that limped out of the 2007 World Cup, he has built teams from grizzled front rows, combative back-rows and some of the most physically imposing backs in the game.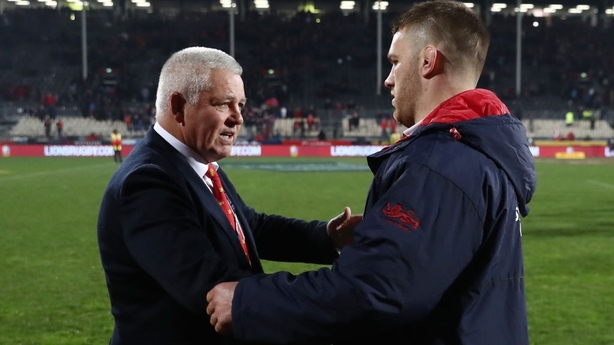 Not that everyone agrees with the philosophy.
Seán O'Brien caused something of a stir when he suggested that the Lions overtrained in the lead-up to the second Lions Test in New Zealand. Following rest days at the start of the week, a "triple-day" training session was held on the Thursday before the 15-15 draw in Auckland.
"You can't do that," he would say later. "If you're playing a game with Tullow, we wouldn't do that."
Regardless it was the first time the visitors had avoided a series defeat in New Zealand since 1971 and followed on from victory on Australian soil four years previous.
Schmidt's main focus of attention has centred around the development of players' skill sets, magnifying strengths and minimising weaknesses.
"It was like I had a little Joe Schmidt on my right shoulder yelling at me, mentally, so that if I messed up a clear-out, I could hear him yelling at me," former international Mike Ross said when explaining Schmidt's impact on his game.
Rivalry
As Schmidt alluded to this week, their opposition began back in their respective playing days.
"I've been a rival on the pitch, when he was playing for Waikato and I was playing for Manawatu," he said.
"I've played with him in a schools selection. I've played a fair bit with his brother-in-law Clifton Shaw, Trudi's brother.
"So I've gotten to know him over the years and we would have a pretty friendly relationship. He's probably more outspoken than I am and it doesn't worry me really."
The competitive edge between the pair has always been a sub-plot to the intense rivalry that exists in this fixture.
Both men have landed three titles each and while Gatland is just 80 minutes away from an unprecedented third grand slam, he has yet to add to his silverware collection since Schmidt arrived on the scene.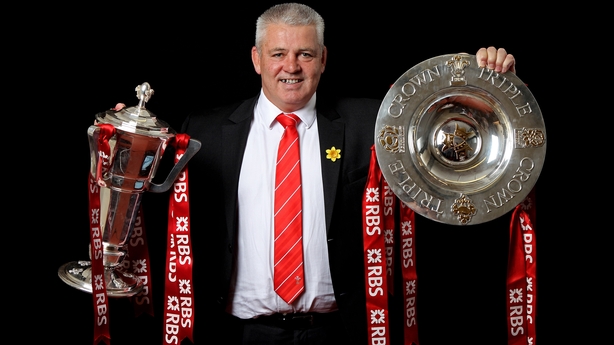 Gatland has always used media interaction as a means of spicing things up before battle, starting as he meant to go on ahead of their first meeting, claiming Ireland "kicked the leather" off the ball in a 26-3 victory.
"I don't think Ireland play a lot of rugby"
The following year he turned it up a notch when Wales won out 23-16 in a game that witnessed two tries, one from Scott Williams and a penalty try for the visitors.
"I don't think Ireland play a lot of rugby. When they played with ball in hand, we didn't feel like we were under a huge amount of pressure" he said.
Schmidt has generally kept his counsel, but speaking ahead of last year's clash, admitted that Gatland's public musings have shaped the characterisation of his team.
"Sometimes it is frustrating, because one opposition coach has tried to create that story and people have picked it up without doing their own analysis. I think there is a degree of frustration from our players."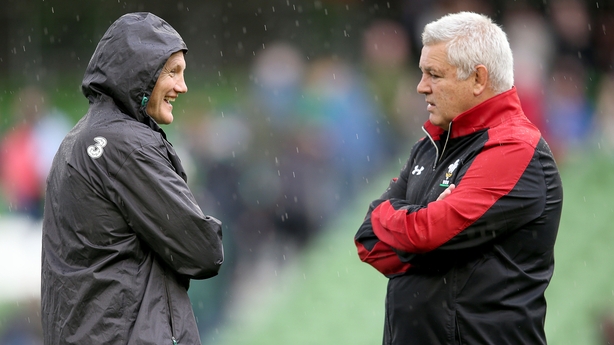 That been said, there is a clear level of respect between the men.
Schmidt did turn down the opportunity to assist Gatland on the 2017 Lions tour and speaking earlier this year, the Wales head coach said he always enjoyed pitting his wits against his fellow countryman when asked what he would miss in his final Six Nations campaign.
The bigger picture is the World Cup, and there is every chance the two teams could meet in the knockout stages if things fall into place.
That will be very much to the background on Saturday afternoon, however, as both men look to sign off on Six Nations duty with something they have done so well with both countries; collecting silverware.
Follow Wales v Ireland on Saturday (kick-off 2.45pm) via the live blog on RTÉ.ie/Sport and the News Now App, or listen live on RTÉ 2fm, with commentary from Michael Corcoran and Donal Lenihan.