Never mind which France will turn up, which Ireland team will rock up to the Aviva tomorrow is the more pertinent question.
The side that swept all before them in 2018, or the one that's failed to spark in this year's championship?
There is certainly no need to panic at this stage but just taking the results into account and declaring that one loss and two away wins show there's nothing to see here would be disingenuous.
As has been hammered home, it's the manner of the performances that is the cause for concern.
While we may all sneer at the French frolics, the mystery about what happened to Ireland between beating New Zealand, with one of the most complete performances in memory, and being hammered by England has deepened after the failings of the Scottish game were replicated against Italy. The "cohesion" they craved never materialised.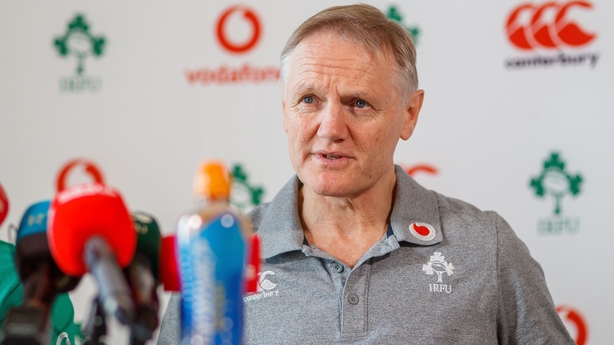 "I was really happy with a lot of what happened in the Scottish match," said Joe Schmidt on Friday when asked if the performance in Rome had thrown up new issues or if the same questions that were posed post-Scotland were being asked in camp.
"We could have been more accurate. It was a little bit the same in Italy."
As much as the head coach gives nothing away you'd like to believe that shouting the same instructions a little bit louder at training is not going to solve problems.
He did say that it's part of their normal preparation to address the mental side of things but you would wonder if Enda McNulty, employed as a sports psychologist with the national team, has been busier than normal in the last fortnight.
The question about which Ireland team is going to turn up was put directly to Garry Ringrose, who missed the last two games with a hamstring injury.
"Hopefully not the one that lost against England last time we were in the Aviva," he told RTE Sport.
"It's all the one team really. Everyone is excited to get back and try to right that wrong against what's going to be an incredibly tough French side.
"An excited, motivated team is turning up, I think."
Jordan Larmour must have been asked a dozen times if he had time to take in what happened in 2018. Most of the time the answer would be along the lines of just taking it game by game and not looking back.
Similarly Peter O'Mahony said before the England game that in the aftermath of the win over New Zealand, they spent a lot of time thinking ahead to the next game.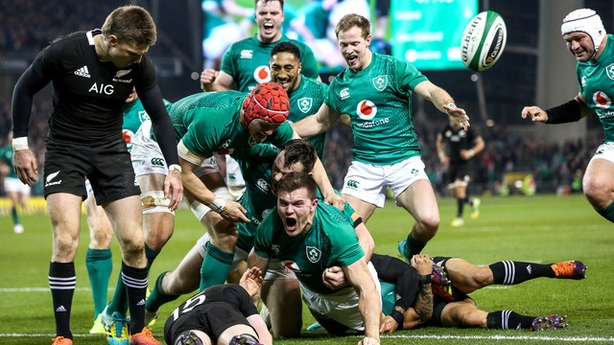 2018 was an outlier for Irish rugby, international and European success for the majority of the squad, unused to such sustained glory.
Did that take an emotional toll? How was it dealt with? How have they taken to being genuine Webb Ellis contenders?
"It's their turn [as the world's best] at the moment so we'll see how they cope with that," was Steve Hansen's prophetic quip in the aftermath of the November game when Ireland beat the number one ranked team.
Does the centre think that any of their recent performances can be explained by the pressure of being favorites?
"You probably wouldn't address it as intensely or as in-depth as that but everyone knows it's difficult to win back-to-back. It takes a great team to be able to do that."
The Ireland of 2018 showed themselves to be a great team but with that comes expectation. And before the last World Cup that expectation, on the back of successive championships, was also there.
Injury and suspension deprived Ireland of the chance of making a semi-final then but the 2007 comparison has been getting an airing.
For the Irish rugby fan who can remember what happened at that World Cup, just months after Ireland got pipped for the championship on points difference, the stuttering performances against Scotland and Italy may have stirred some repressed memories.
So when Shane Horgan, a mainstay of the Eddie O'Sullivan-era side, said after the Italy game that he was worried "because it just had a similar feeling, for me, to the 2007 World Cup, ears pricked up.
"Everything seemed to be fine, then a couple of things went wrong and we just couldn't right it again. I'm not saying those players are in the same situation, but there is a sense of that."
It was out there.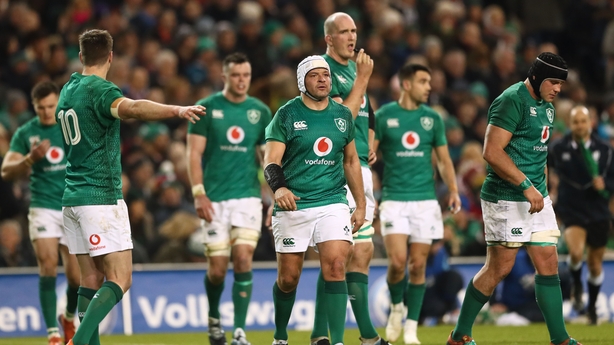 Other players from that squad have dismissed it, but that doesn't mean that Horgan's observation is wrong, just that the other haven't come to the same conclusion, or haven't wanted to say it out loud.
As for Schmidt, who would have been between New Zealand and France in that year, he would only go so far as to say that a 2007 comparison was "irrelevant", not inaccurate.
"We don't get too distracted by people making comparisons with a team 12 years ago," said Schmidt
What the fans remember is an almost perfect Six Nations campaign in 2007, the highlight being the oft-replayed win over England in Croke Park.
They would have been Grand Slam champions except for the concession of a late try to France.
This was the golden generation making a short trip to France to give it a real shot.
What happened next unfolded like a car crash in slow motion.
Unconvincing against Namibia, and a debated call away from defeat to Georgia: that was, on paper, two wins.
In the players' hearts and minds, they were fatal blows which left them listing before France and Argentina put them out of their misery.
Schmidt added: "It couldn't be more irrelevant to us, because for us some of what we try to do is very much in the moment, and it is for [the France game]. It's not looking back 12 years to see what we need to learn."
The big difference, of course, is that Ireland's stutter has come with time to make amends, but the clock is ticking.
"We are not as cohesive as we'd like to be at the moment, based on our last three performances probably, but I don't think that's going to effect what we deliver on Sunday," Schmidt said.
Ireland, the confident, cohesive, brave, accurate Ireland of 2018, simply have to turn up tomorrow.
Which @irishrugby team will turn up? 'Hopefully not the one that lost against England' - @Ringrose_G talks to @MicilGlennon ahead of #IREvFRA @SixNations #rterugby - More here https://t.co/aGREDG8VAb pic.twitter.com/UHF4CSnJ6G

— RTÉ Rugby (@RTErugby) March 9, 2019
Follow Ireland v France on Sunday (kick-off 3pm) via the live blog on RTÉ.ie/Sport and the News Now App, or listen live on RTÉ 2fm, with commentary from Michael Corcoran and Donal Lenihan.