Joe Schmidt's fastidiousness is the stuff of legend.
Whether it's reprimanding Andrew Trimble for mislaying his hotel key card, "You make mistakes off the pitch, you'll make mistakes on the pitch", stopping a video review session to ask Mike Ross which foot a winger steps off, or recalling the time of scrum penalties from games a year previous, the Ireland head coach's attention to detail is awe-inspiring.
But Cian Healy is at pains to stress that that doesn't mean the team have become a bunch of jaded rugby automatons.
"It's not hell in here, we do have fun together," he told RTÉ Sport. "I think there is a good understanding of how controlled it is, but we're not in meetings 24/7.
"We have a lot of meetings but we also have a bit of spare time when we sit around with each other and enjoy each other's company as well.
"We have enough downtime to enjoy each other. It's not a case of needing to go on the pints, we've had glasses of wine at dinner together. Chill out, enjoy each other's company.
"It's a good group of lads who all get on. There's nothing wrong there."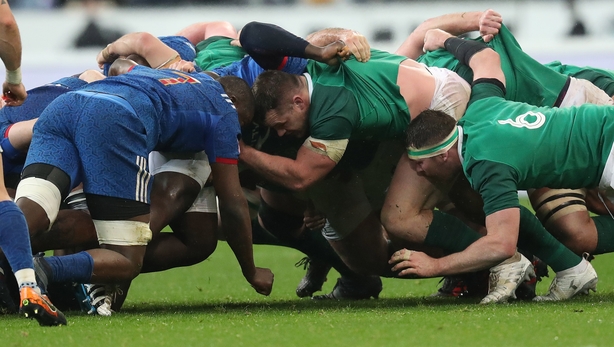 Ireland seem to have lost a bit of their sparkle this year but the Leinster prop is confident that they are in "a good place" ahead of Sunday's meeting with France at the Aviva.
"The mood is pretty good," he said. "A few tough sessions under our belt and we're starting to get some nice cohesion in what we're doing. 
"There are little bits in different areas of the pitch that have put us a little bit behind the play but we've put a lot of good things together, just a final pass or something that hasn't gone right. 
"Things happen. The drop of a ball or something and it's how we can deal with that and turn it into something that works for us or just chalk it off and get the next play ready. You don't want to back up a negative with a negative.
"Simple things like handling, to tackles, to breakdowns. Just reinforce everything and get people drilled on that. That extra bit of focus it might take."
Ireland's slim chances of retaining their Six Nations title rest on beating the French this weekend and Wales on 16 March - as well as hoping England slip up, in some fashion, against Italy or Scotland.
"The next two games are massive," accepts Healy. "It could come down to defining the whole tournament and we're aware of the importance of them and what it means to each other to put in good performances. And what it means to people outside.
"An unpredictable attack is the very dangerous thing that they (France) have. If you kick a loose ball to them or drop a ball they're gone and it's more than likely a try.

"So we have to be very careful about our plays and how we manage the ball to not give them easy access into the game."
Follow Ireland v France on Sunday (kick-off 3pm) via the live blog on RTÉ.ie/Sport and the News Now App, or listen live on RTÉ 2fm, with commentary from Michael Corcoran and Donal Lenihan