"Witnessing the birth of my niece, that was the moment of awakening for me."
Spend any length of time with Sene Nauopu, and her love for friends and family will be palpable. But she doesn't just value that ancestral bond, she cherishes it and is sustained by it.
Naoupu is a first generation New Zealand-born Samoan, and comes from the town of Omaru on the south island. She was raised by her mother, and was an early adopter of all things sport.  She spent a happy childhood in her back yard playing cricket, volleyball and touch rugby with her brother, sisters and cousins. 
She now lives in Ireland with her husband George, and her accomplishments are many. Naoupu was part of the 2015 Six Nations winning team, and has represented Ireland at both 15s and 7s, playing in a Rugby World Cup and extensively on the 7s circuit. She recently completed a Masters in Sports Management, and following an exhaustive research process, now has her own coach-matching business. 
This would-be 'blow-in' is driving change for girls in sport in Ireland, working alongside commercial partners and sporting organisations to promote female participation and leadership in sport. 
In 2017, The Irish Times listed Naoupu as one of the thirty most influential women in Ireland, but her path in life hasn't always been so immaculately paved, nor enjoyed with the sense of humble achievement she now exudes. 
Last year, she shared with the world, a crack in that pavement and one which she says now shapes who she is.
We need your consent to load this Instagram contentWe use Instagram to manage extra content that can set cookies on your device and collect data about your activity. Please review their details and accept them to load the content.Manage Preferences
Naoupu began playing rugby when she was 13, and by the age of 21 found herself in a New Zealand national training squad.  But her career with the Black Ferns, and an equally impressive background in elite basketball was cut short after she developed an eating disorder. She was later diagnosed with anorexia. 
Part of an Instagram post on 19 October last read:
"Bit of a TB (throwback) to when I was about a year or so into my decade-long recovery after being diagnosed with an eating disorder and depression in my early 20s. When my desire to be, do and have more in the world outweighed my desire to remain an unnatural, unhealthy silhouette with no energy or lust for life to express my true self and have any form of influence in the world."

A clinically depressed Naoupu lost her lust for life, her ability to play sport, and with it, her identity. She drifted from the world of athleticism, as if that part of her life had been a dream. Those days were dark. Naoupu admits she refused to engage with her struggle for a long time, but that buried deep down was a dormant awareness that she was destined for more than the life of self-loathing she had stumbled into.
Then, when she was at her weakest; hospitalised and suffering from Bradycardia, Naoupu's family saw an opportunity to draw on the love they knew was the one thing her body hadn't rid itself of; that of her family. 
Dozens of psychologists, psychotherapists, nutritionists and dieticians had worked with her over the course of two years, and she is hugely respectful of the work they do. 
You need to know that healing takes courage, and most of all, time
But Naoupu was in denial, and for too long she refused to get better until her body all but gave up. Then her sister gave birth in the same hospital that Naoupu had found herself wasting away in months earlier, and in a desperate plea with her sense of belonging, Naoupu's family decided that she should help with the baby's delivery.
"There were a couple of soft triggers, which included self help books, but the true awakening was the birth of my first niece. They (my family) initially just wanted me to be in the room, but it was a moment of grace, to be at my sister's leg, and to help deliver the baby.  And that literally turned my life around."
Was it witnessing the fragility of life that sparked her own turnaround? Perhaps. But for Sene, there is no doubting the debt she owes her family for understanding exactly what she needed, even if she didn't appreciate it herself at the time.
Since then, Naoupu has been transformed from a frail young girl to one of the most physically powerful centres in the bruising sport of International women's rugby. She captained Ireland against England in the Autumn Internationals 2018, is now vice-captain for Adam Grigg's Six Nations squad, and last Saturday, she picked up her 31st cap for Ireland.  
Post Six Nations, she will begin preparations for the Touch World Cup in Malaysia in April. It has, in her own words, been "a brutal but necessary healing process of self loathing to self loving.... a bloody difficult, non-linear psychological challenge".
Now, Naoupu coaches young girls, and spends every waking minute thinking about how to make the experience of sport more valuable, fulfilling and life affirming for them. Does the title 'role model' sit well with her? 
"Oh gosh, I don't know. It's an absolute privilege to even play sport, especially for a country that I wasn't born in. I absolutely love playing rugby, all forms of rugby, and other sports as well, so even just to be able to play sport is a real privilege"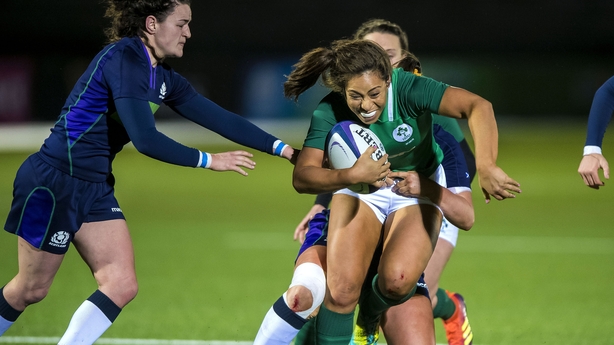 In that 19 October Instagram post, Naoupu also quoted American actor Denzel Washington.
"At the end of the day, it's not about what you have or even what you've accomplished. It's about what you've done with those accomplishments. It's about who you've lifted up, who you've made better. It about what you've given back" - Denzel Washington.
Equality, gender or otherwise, is all about opportunity, and for Naoupu that's where the body of work rests.  She says she didn't suffer any discrimination as a result of her gender during her career in sport, but concedes the potentially damaging nuances may be more subtle for girls than for boys. 
Naoupu now sits on the board of Bodywhys, the eating disorder charity in Ireland, and has very strong and personally informed opinions about what and how to tackle what she calls 'the disease'.  Part of her work will involve creating a set of guidelines for parents and coaches of young girls, because she says they are more likely to spot triggers than healthcare professionals.
Her words of compassion for those in the throes of an eating disorder have their origins in spirituality;
"For those struggling in the dark, know that you're totally worthy of discovering your infinite light. You really do have the power to heal. You need to know that and you need to be brave. You need to know that healing takes courage, and most of all, time. If courage is a value you hold, living your purpose is a consequence."
The guidance she offers young women and girls in sport is more direct, pragmatic, and offers a glimpse into the psyche of an elite athlete who expects a lot of herself and those around her.
"Be true to yourself, believe that you can do anything, and remember where you've come from. There's something you can do better than anyone else in the world, so always remember you have that special talent, because the world needs more of that."
Naoupu doesn't see herself as a poster girl for recovery.  Nor does she believe that her story will resonate only with those who have been down a similar path.  Every journey is unique, and not every crack in the pavement will shatter us. 
But feeling adequate and equal and valued and loved is what informs Naoupu's philosophy.  She is an advocate for young girls, particularly those involved in sport.  She's a role model, yes, but also a daughter, sister, wife and friend, just like any girl.
"You don't have to have been through something extreme to reawaken your soul. Just keep filling your life with purpose and meaning and people worthy of your love and respect."
Sene Naoupu is an Ambassador for Bodywhys, and was interviewed in advance of Eating Disorder Awareness Week, 25 February - 3 March.