Former Ireland coach Eddie O'Sullivan senses that Joe Schmidt's team are struggling to recover from the psychological effects of the Six Nations opening-day loss to England and that opposition sides have perhaps begun to figure out how to shut down Ireland's attack.
Ireland are still mathematically in the hunt for the 2019 Six Nations championship but have failed to replicate their 2018 form in the three games to date, falling to a decisive defeat against England before registering unconvincing wins over Scotland and Italy away from home.
Appearing on RTÉ's Against the Head alongside Brent Pope and Fiona Coghlan, O'Sullivan suggested that the team's body language is betraying their frustration.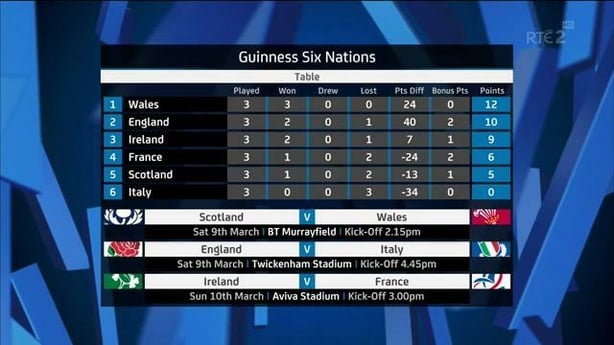 "The error count is the giveaway," he said. "The trademark of this team under Joe Schmidt has been accuracy and efficiency and execution. And we've been anything but that in the past three games. So, that's beginning to seep into the psyche.
"And we are getting shut down by other teams. Our returns from ball carrying are fairly paltry over the three games.
"What's happening now is the team is under pressure and they're making mistakes. And once we saw the first mistake, we saw the body language of the team change as time went on as they realised things weren't sticking for them.
"We're three games in and we haven't found our mojo yet and that's a big problem."
Brent Pope is concerned that teams may have worked out Ireland's game and the Irish ball carriers aren't breaking the gain line pic.twitter.com/QonyDfqVCw

— RTÉ Rugby (@RTErugby) February 25, 2019
Speaking earlier to Greg Allen on RTÉ Radio One's Drivetime, O'Sullivan pointed out that a team can lose its 'strut' and confidence very quickly and it can be a difficult thing to recover.

"I think the England game did a lot of damage psychologically. We knew it would be a tough game but I don't think we expected to be beaten so comprehensively. It wasn't even the scoreboard, it was the way we were beaten.
"That really rocked the team to their core. And I think we've been struggling to recover.
"We didn't fix it in Scotland. We were quite lucky in Scotland. And everyone said, we'll fix it in Rome, that'll be the ideal one. And it didn't happen in Rome.
"So, what's happening is, I think the team are struggling for confidence. That strut that we saw around the team last year has evaporated. And that's sport. It does evaporate. It happens very quickly. It's a nebulous enough thing and hard to pin down."
Former Ireland coach Eddie O'Sullivan reckons the defeat to England has done "huge damage to the team mentally" pic.twitter.com/qum2IMhogz

— RTÉ Rugby (@RTErugby) February 25, 2019
Much attention has centred on Ireland's celebrated out-half pairing, currently struggling for flow since Conor Murray's return from injury.
Were that duo to click, O'Sullivan says, Ireland may return to rude health very quickly. However, he cautions that there are other failings at play, notably the Irish attacking game, which may have been rumbled by opposition coaches.
"Our key leaders are not playing that well, our two half-backs, and they're the guys who might lead us out of it.
"Tactically, I think teams might have got our number. They're shutting us down fairly comfortably. The longer it goes on, the lower the confidence will ebb.
"When your two key players - who are world-class - are not playing at the level they can play at, it's frustrating for them. If they're playing well, they've a chance of bringing everyone with them.
"I think there are a couple of other issues. Our defence is working okay at the moment but I still think we're vulnerable on occasion. But I think the bigger issue is our attack has been found out in that sense in that we're being shut down. Teams are not giving us the leeway we were given last year in that department. They're doing their homework.
"There are fixes that can be made tactically and technically but it's very hard to do that when the team are quite low."
With France coming to Dublin in just under a fortnight's time, O'Sullivan reckons the start is key against a French side who have already relieved the worst of the pressure on them.
"The fact that France won last weekend will give them great energy and hope. But they're still not a great rugby team. If things click for them in Dublin, they could play very well. But if we put them back in their box early doors, I think they'll probably pack and go home.
"I think we have to start playing like the team we did last year. Find our energy and get into our groove a little bit."
How should Ireland approach the next fortnight? - 'Come up with the strategy where their lineout will function and where they can get over the gain line" pic.twitter.com/SOz8UDz7UO

— RTÉ Rugby (@RTErugby) February 25, 2019