Lock Iain Henderson insists that Ireland's chances of winning the Six Nations Championship remain very much alive despite a stuttering performance against Italy.
Ireland fell over the line in Rome, winning 26-16 to make it two wins out of three in the campaign so far.
Wales' dramatic victory over England in Cardiff on Saturday throws the title race wide open, with Joe Schmidt's side taking on France and then travelling to the Principality Stadium on the final two weekends of the competition.
Ireland will likely have to win both of those games and pick up a few bonus points along the way, but Henderson doesn't believe it's beyond them.
"We've been involved in championships before and it has come down to the last game, the dying minutes," said the Ulster second-row, who made his first appearance of the Six Nations in Rome, coming off the bench for the injured Ultan Dillane.
"With England losing, Wales are looking like a tough proposition, but all we can do is concentrate on our own game and produce to the best of our ability.
"We have to understand that the championship is a real possibility, but it's not going to come easy we're going to have to work hard for every single point we can get.
"One of the things that we've done well over the last few years is, as a team when we've been written off, put in performances.
"Sometimes we go into matches when we're favourites and maybe we're not dealing with that as well as we could – that can be a work-on for us. We have to stick to our game, continue doing what we know how to do and what we know how to do right."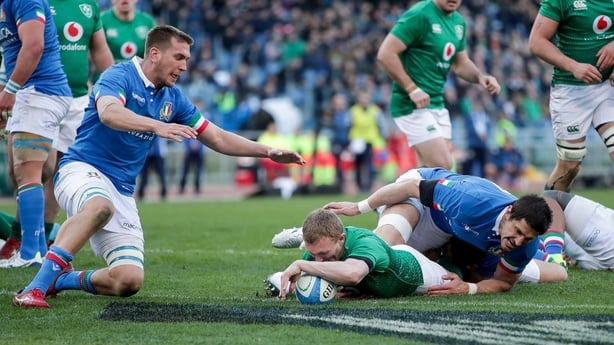 Henderson only made his return from injury in the days leading up to the trip to Rome for Ulster in the Pro14 and his presence is welcome given the problems Ireland have had in the second row this season.
He missed the opening day defeat to England and the unconvincing win over Scotland that followed.
The Ulster man was positive after victory over Italy, though he admits that the performance wasn't up to scratch.
"Any Six Nations game you come away with five points, especially away from home, is always a massive positive," he explained, speaking to RTÉ Sport.
"There were thing we need to go away and look at, but to imagine that you're going to come over here and get five points and to imagine it is going to be easy would be completely incorrect these days.
"Italy have been putting down performances, not only in the club game but also in the international game and I think five points is good for us and gives us a lot to think about going forward.
"We knew they were going to put pressure on us, knew they were going come off the line hard and we knew they were going to contest, not just in the set piece but in the backline as well.
"We need to just make sure we handle that and maybe we didn't handle that as well as we could. To have things to work on might not be a bad thing overall because it grounds us."