Conor O'Shea and Leonardo Ghiraldini walked into the post-match press conference after yet another defeat, the 20th such result in-a-row that the team have had in the Six Nations.
At first a small ripple of applause sounded around the auditorium underneath the magnificent Stadio Olimpico. Then, it seemed, like most of the Italian journalists joined in.
The Italy press officer said the first portion of the conference would be in Italian but the primary questioner wasn't having it, insisting on speaking English so that O'Shea, who speaks very good Italian, understood. He wanted to make sure there was no misunderstanding, there would be none.
"Conor," he said as he wound himself up. "We played against 16 men. We were 15, they were 16. We knew since Florence that [referee] Glen Jackson is unfit to referee at this level but I think today with Kearney against Tebaldi not penalised and seven penalties against Italy in the first half, he has reached the peak of his unability [sic], what do you think?"
It was clear how the Italians, who lost the penalty count 14-9 overall, felt.
O'Shea answered in Italian and wouldn't take the bait. "I'm not going to talk about the referee," he said, perhaps feeling that the question answered itself.
Italy were spirited and had they turned over Ireland for the first time since 2013, it would have been a fair result. But they still must look inward for the answers.
"We don't like pats on the back," he said. "Ireland are a team we haven't had a benchmark against. We felt we were beginning to climb in terms of the level of performance from the first couple of games.
"We want to go out there and play and create a habit in terms of the intensity, that's the reason you see some errors from both sides.
"We are trying to push the boundaries. We have to move on and focus, driving, driving, driving. We'll move on a get ready for Twickers (England at Twickenham)," said O'Shea.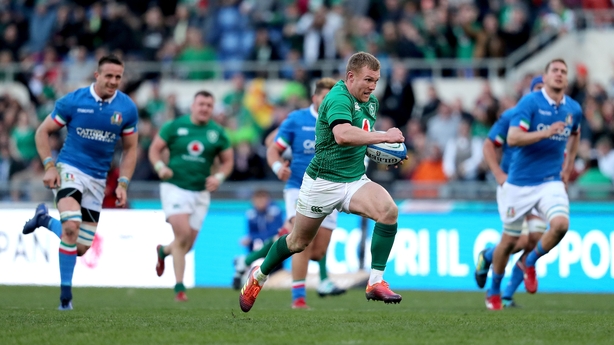 "It's another easy article for lazy people to write about Italy if they criticise heavily.
"I don't give a hoot what's happening to me, I just want to do the right things for Italy. We're pretty gutted about it but we'll keep on moving."
The former Ireland full-back felt his side played with plenty of intensity, but still lacked the consistency to match the top nations.
"We talked about playing with intensity and ambition, which we did. You saw heart and desire and we just needed a break or better execution at times against the second-best side in the world," he explained.
"It's another result and another statistic. We'll have to dust ourselves down and create a level of consistency of performance and, if we do, we'll climb our way back to where we want to be."