It's a cold day in February and John Muldoon is expertly placing cones along the end line of the pitch where the Bristol Bears are about to start training.
He's nine months into his role as defence coach with the Premiership side and he looks very much at home in his new set-up.
With the Irish contingent expanding at Bristol Bears, Against The Head's @mariecrowe took a trip across the water to catch up with some familiar faces #RTErugby pic.twitter.com/axWmrZxKj0

— RTÉ Rugby (@RTErugby) February 18, 2019
The former Connacht captain still has that infectious, inspiring presence that he was synonymous with during his playing days.
"It's brilliant, no one knows me here, I'm an absolute nobody," Muldoon tells RTÉ Sport.
"It's a big change from being in Galway, being in Ireland. I think Ireland has changed so much.
"Sports stars are put up on a pedestal, you come over here, I walk down the street and not one person knows who I am, it's brilliant.
"It's great for me and my family, we can do what we want, unfortunately if I'm going into the shop and coming out with bags of bad food it's probably a bad thing."
The Bristol Bears were promoted last year and are currently in tenth place in the table. It's been a steep learning curve for the man who played for Connacht 327 times but Muldoon is enjoying the new challenges.
"There are lots of things to get used to, like presentations, being organised, long days coming in here at in the morning, and not leaving until five or six in the evening.
"It's very different to being a player, the down time is different, dealing with the players, trying to keep that reality of that it's not that long ago I was a player.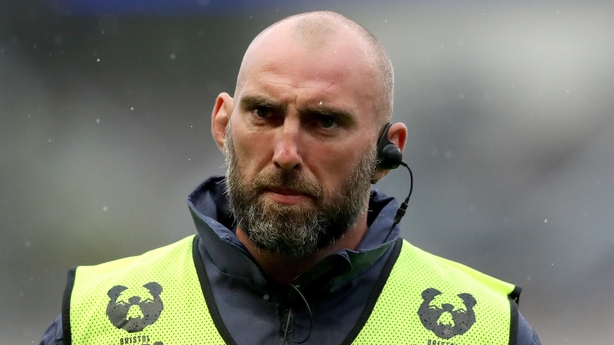 "Sometimes you have ideas in the coaching office and you come out here and they don't necessarily transfer.
"It's a learning curve; it's very hard to leave a job playing and to come into a job at the deep end like this. Those jobs are hard to come by and I'm very appreciative of it. I know I've a lot of learning to do going forward."
Only a short time ago Muldoon was the heart beat of the Connacht team, he very quickly has to adapt to his new role and adjust to not being a player any longer.
"It's very different being on the other side, it's about being able to hand over that control as a coach, making sure you ticked all the right boxes and you have everyone prepared and they know what to do when times are tough.
"As a coach it's setting people up, making sure they know everything and that you get your point across and they know that there is a clear plan and how to execute that.
"One of the biggest fear for all rugby players is life after rugby, being honest, I've always been a realist.
"I've understood my limitations as a player, to the detriment of myself almost, I am always beating myself up a bit.
"Rugby is a physical game, when I hit 30, each year I would play on longer I would think I'm getting a good livelihood here, I'm getting a good innings.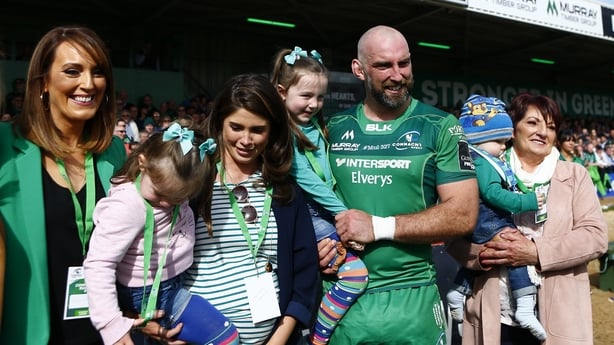 "To retire at 35 and go out when I wanted to do. Going out and coming into a job like this in a professional environment is probably what I wanted to do for a while.
"So it wasn't the same reality check as maybe a couple of players had and how hard they found it.
"You still miss those butterflies in the lead up to the game, but I have to say I'm enjoying the other side of it."
One of the first things Muldoon does after every game is check how Connacht got on in theirs. He tries to watch as much of his former team as possible. After 17 seasons it's hard to let go.
Bristol Bears head coach Pat Lam wasn't in the western province for as long as Muldoon but still has a deep connection to the club and has been following their progress since he departed in 2017.
He says: "I'm really please with Connacht, it is not just about the rugby, it's about the whole community and the five counties coming together. It's about the players and the more you put into the community the more they will back you.
"It's great to see what they are doing and the style of rugby they are playing. There is a good coaching group, good staff and players. I keep an eye on the results and still keep in touch with some players. I am really happy with where they are at."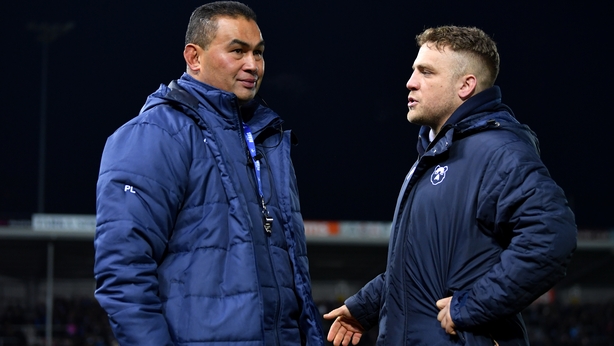 Lam is a former teacher and he when he is giving his presentation in clubhouse it's clear that his communication skills are excellent, having honed them in front of dozens of young children.
He knows how to maintain the players interest by involving them in several aspects of his review. Lam clearly knows how to get the best out of players and also is on hand to give them advice when needed.
One such player is Ian Madigan. The out-half relinquished his opportunity to play for Ireland when he moved to Bordeaux, after a year he ended up in Bristol but as it stands because he is not playing his rugby at home Joe Schmidt will not consider him for Ireland.
"The rules that they have are very clear, as I say to all the players, whether it's Ian or the Pacific Island boys, the only way you are going play for your country is performance and if you are playing week in and week out. It's out of your control as you control is your performance.
"Ian made a decision to come here via France and it's our responsibility to make sure we push him, challenge him and grow him as a player and a person. On the back of that if he performs outstandingly well that gives Joe an option but all he can do is play well."
Music blares out from the gym at the Bristol Bears base. Madigan is doing some box jumps in the middle of the busy facility as players around him complete their strength work.
He has taken Lam's advice and is working hard on performing week in week out and still has hopes of getting a call from Ireland.
"It was initially tough when I was in France and the first time the Autumn internationals came around, and the Six Nations came around," says Madigan.
"I was involved in the ones the previous year and you are watching it and you are certainly not supporting the other team far from it but you feel a bit numb.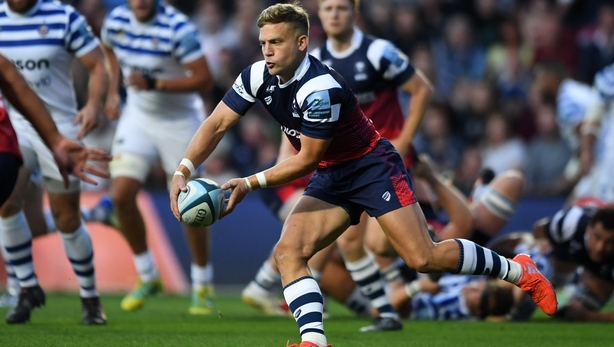 "That feeling wears off anytime Leinster or Ireland play I'm cheering on now as much as ever I still have aspirations of playing for the national team, I know that it will be tough to get back in.
"I hope to find form in the second half of the season and you never know what might happen.
"It's about coming in training as well as I can, when the games come around trying to play well and go back to back and try and put together four or five good performances.
"A week is a very long time in sport, we've seen that many a time in sport, I've got my long term goals laid out for me it's very much the process with that and the day to day work."
Conor McPhillips is also part of the coaching set-up in Bristol Bears, Lam brought him over from Connacht to be his assistant coach and he like the others is enjoying the experience but there are some differences to being involved with an Irish team.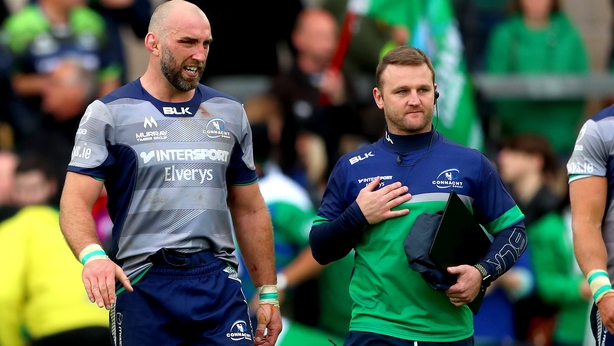 "The scary word that always comes up is relegation," says McPhillips.
"I think when you are in the PRO 14 there is a lot of young lads being given chances and there is a lot of free flowing rugby.
"When you come to the Premiership it is a ruthless place, teams are maybe slightly cautious about giving young players game time because there is so much pressure on promotion, relegation and top four."
Bristol Bears and the Irish cohort have a vision and a plan. They are in the early of what looks like a fascinating journey. Watch that space.