Rory Best says he felt something was wrong ahead of the loss to England but that there is an extra "edge" to training ahead of tomorrow's game against Scotland.
In the aftermath of last weekend's heavy defeat to England at the Aviva, Joe Schmidt said he got the feeling that all was not right in the camp, even sensing something off the day before.
What the boss saw in advance was plain to see for everyone else as Eddie Jones's men brought an intensity that Ireland, the Grand Slam champions, simply couldn't match.
Ulster hooker Best said he also got a strange feeling ahead of the game. "[With] hindsight, you can pick up on a couple of different things," the 36-year-old told RTÉ Sport.
"Sometimes you get so fixated with making sure that you know where to go that you actually almost become a little bit hesitant.
"You sensed it before the game, probably more so than the Friday. Friday is a strange day because there is a little bit of lightheartedness, there's a little bit of training. There was a little bit of giddiness because you are so close to a big game.
"It's hard sometimes to read something into that. Joe probably has a better handle of that from outside of the group when we are doing our captain's run but certainly before the game I thought we were quite quiet.
"We are a reasonably quiet bunch anyway bar Peter [O'Mahony], Johnny [Sexton] and myself are a wee bit more vocal than the rest.
"You don't necessarily always read into the quietness but just the fact that just when you look back now I thought they were a little bit hesitant in the warm-up, we made a few mistakes in the warm-up which is just very unlike us and we just didn't get the same buzz that we normally generate in warm-ups."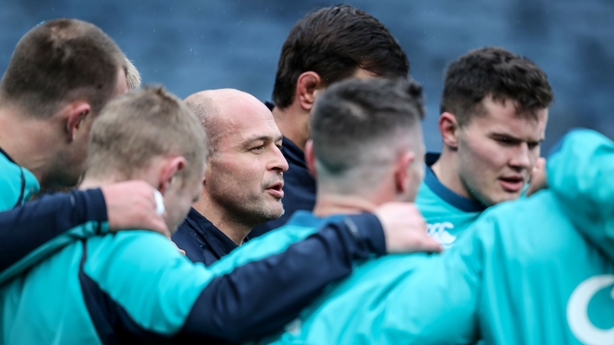 Ireland, like England, spent time in Portugal before the game.
As part of the postmortem on the 32-20 defeat, Best hinted that perhaps Ireland, who had never been beaten in a home Six Nations match under Schmidt, were under-cooked.
"We looked at a few things within the camp," he said.
"We've looked at, for example, England did basically full contact session for 60 minutes last Wednesday whereas we were very much trying to get ourselves recovered and ready after European games.
"You can pick on anything and you can read into things too much and for whatever reason we started a bit sluggish and against England we just weren't able to change it."
However, Best, who will win his 115th cap tomorrow, added that they won't be making the same mistake against Gregor Townsend's side, who beat Italy 33-20 last weekend.
He said: "You always strive to find out why and I think the preparation has been a lot better. There has been a bit more edge in training and that comes with learning from your mistakes but it also comes from being hurt and being a little bit frustrated with how you played and then your mini units, your actual units and then as a team."